On day three of our fishing vacation in Thailand we visited Bungsamran Lake. This place is likely the most well known fishing lake in Thailand, all the videos you see on YouTube and most of the pictures you've seen on the internet of a Mekong catfish on a dock are at this place. If you read my story of Palm Tree Lagoon I wrote you will know we needed a good day fishing after that experience the day before and man did we ever get one.
The giant Mekong catfish can grow up to several hundred pounds but rarely caught in the wild that size anymore. Nearly every fishing lake in Thailand has Mekongs in it but Bungsamran was built just for them and the very similar looking striped catfish which are a little more predatory and much smaller on avaerage.
We were the last people to ever fish the original Bungsamran due to it closing after some family disputes about land and money, basically what all family disputes are, everybody wants to be rich rather than just enjoy what you have and understand how lucky you are, but that's not my concern, all I know is there's giant fish and a bunch of them so get me started.
You pay to fish by the rod not the person, I asked John our guide if we needed to pay for another rod for Mary Ann and he grinned and said no there will be plenty fish for everybody, I believed him but had no idea it would be this many fish this big.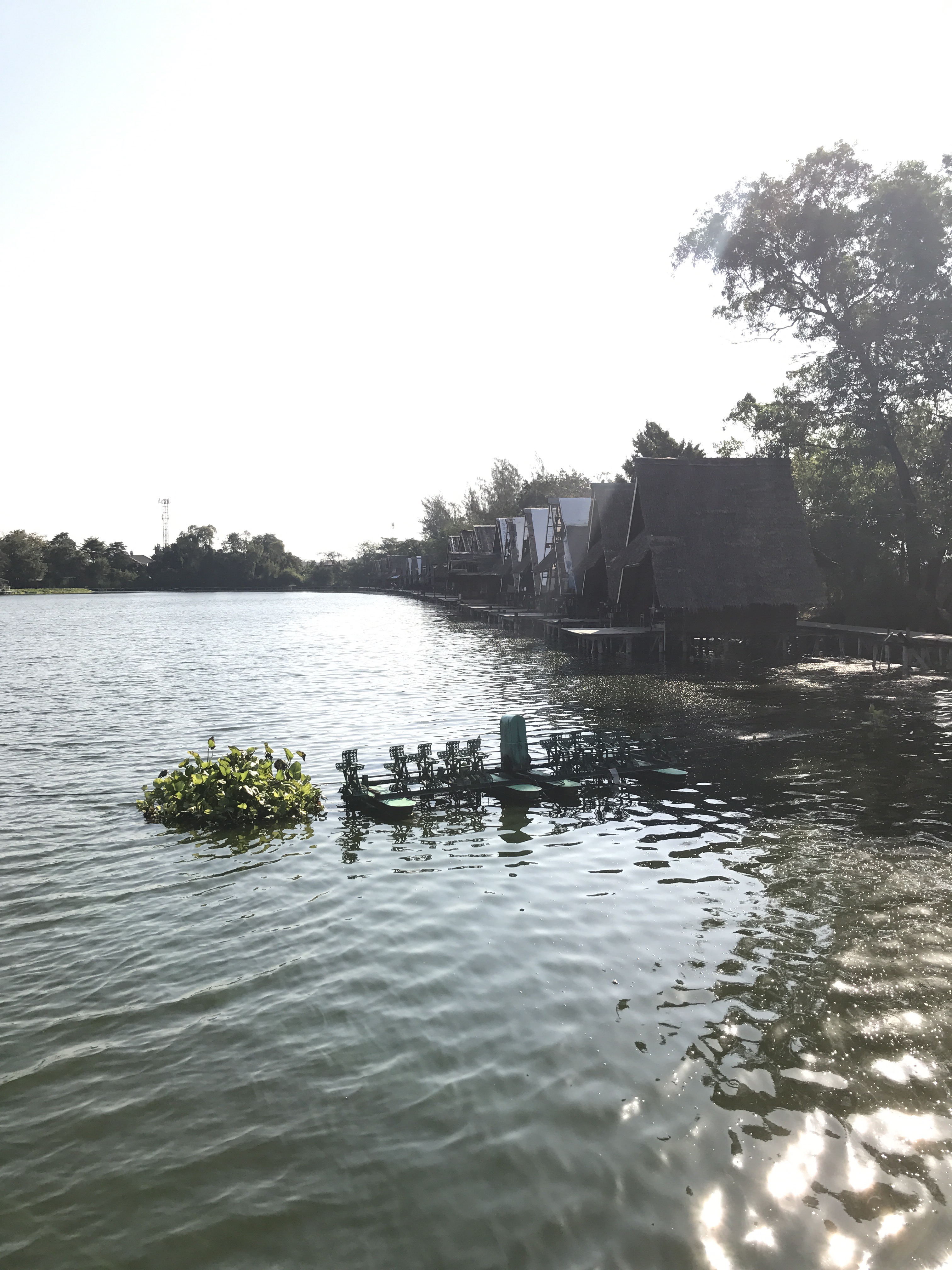 The lake was really big for Thailand and is lined with huts so that each group has their own hut for shade and eating or napping or whatever you want. There are even overnight packages which I would've enjoyed but we chose a day trip.
Like always we were assigned a net man and I really liked this guy. He was a little more "modern" I guess you could say than the others, not that I didn't like Aor our net man from IT Monster Lakes, I loved that guy. This guy worked hard and knew exactly what was gonna happen and when, he had no issue letting me cast or bait or whatever. The bait was 100% bread crust, only the crust in a huge barrel that we formed into a ball around a spring feeder and then the hook would get one folded piece on it, not at all different from what Aor did at the other lake except we used rice flour for the pack bait there. We added some scent to ours to help but I doubt it was needed.
We basically had the whole lake to ourselves because we were the last group, there were a few people across and a group two huts down but for the most part the lake was all but closed already.
The net man started packing crust on the feeder of our one rod and got us set up, I would go first then Mary Ann and we would alternate, at least that was the plan but soon after her second fish she started skipping her turn. These fish are big and powerful, not real fast just hard pulling, slow and steady.
We fished with a slip bobber set 6 feet or so and not long after it hit the water on our first cast we were off. I set the hook and the fight was on. The fish was heavy and strong and it felt good to be in a fight after sitting for 11 hours the day before with one fish to show for it.
Mekongs have several good runs in them, they let you fight them all the way to the dock then just when you think they are done they take back all the line and you start all over. At times they would be 20 yards out or so and just kind of quit and I would think the fight was over but the second they seen the poles of the dock they would make another huge run. It was very obvious that the net man knew this because more than once we would have a fish coming in and he wouldn't even move, I'm thinking hey man you wanna get this but he knew the fish would take off again and it did and he grinned and I cussed.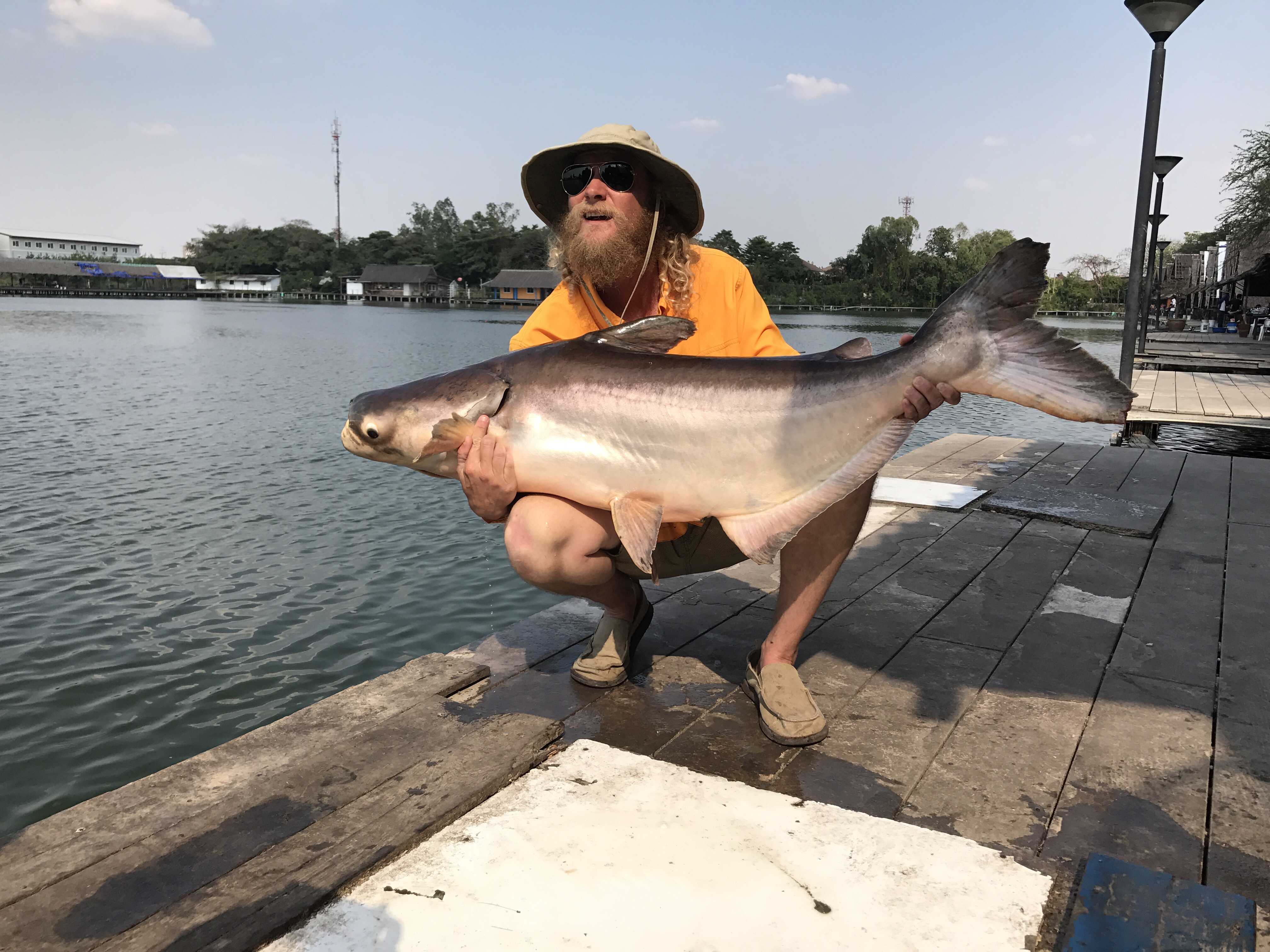 Fish after fish kept coming in, some huge Mekongs over 100 pounds some smaller striped catfish at 40 pounds but all very nice fish. I never thought I'd see the day we'd catch so many fish over 40 pounds that we quit taking pictures of them but we did. I honestly lost count on how many we caught, this was not happening for the other groups of fishermen. They were catching some fish but not like we were, I'm not sure if it was the scent or we just happened onto the best spot or the net man knew where to be or what but literally ever cast would get a bite, some we missed or the fish came off but for hours there was fishing action.
It started to become almost hard work fighting these fish, not that it wasn't fun because it was a blast but fighting that many big fish on medium size tackle is hard. Mary Ann used the fighting belt which I'm glad we had because once I had to grab the back of the belt and hold her because I was sure the fish had pulled her in, some of the fish in this lake weigh more than her and they have the leverage on her being in the water. She did great fighting the ones she fought and her biggest was around 75 pounds after that I would set the hook and if it was small she would fight it but anything that seemed like it would take more than about five minutes to land she let me have it. Here's a tip if ever you find yourself fishing for Mekongs off a slippery dock, don't wear flip flops, she almost got pulled out of her shoes a couple times.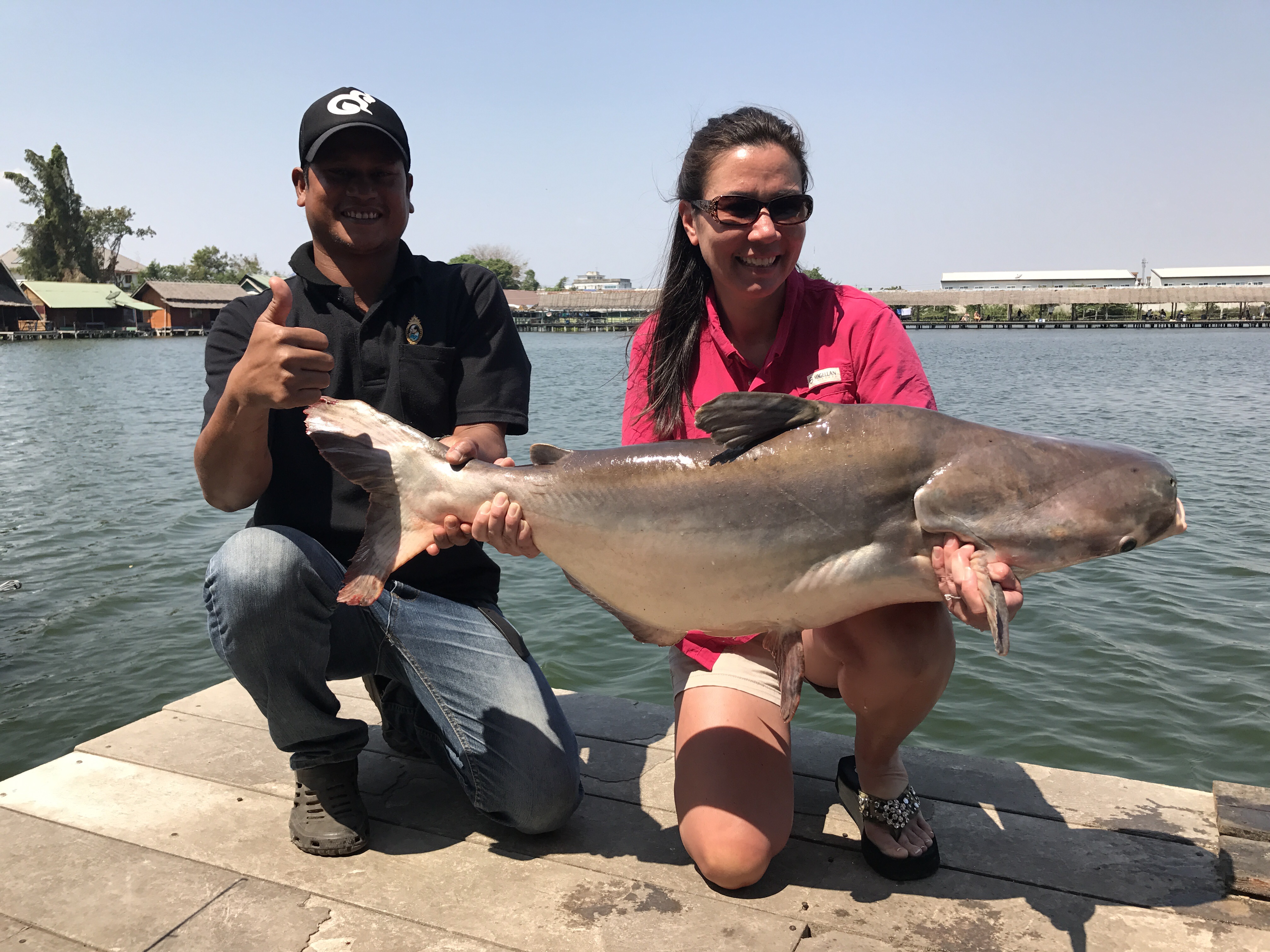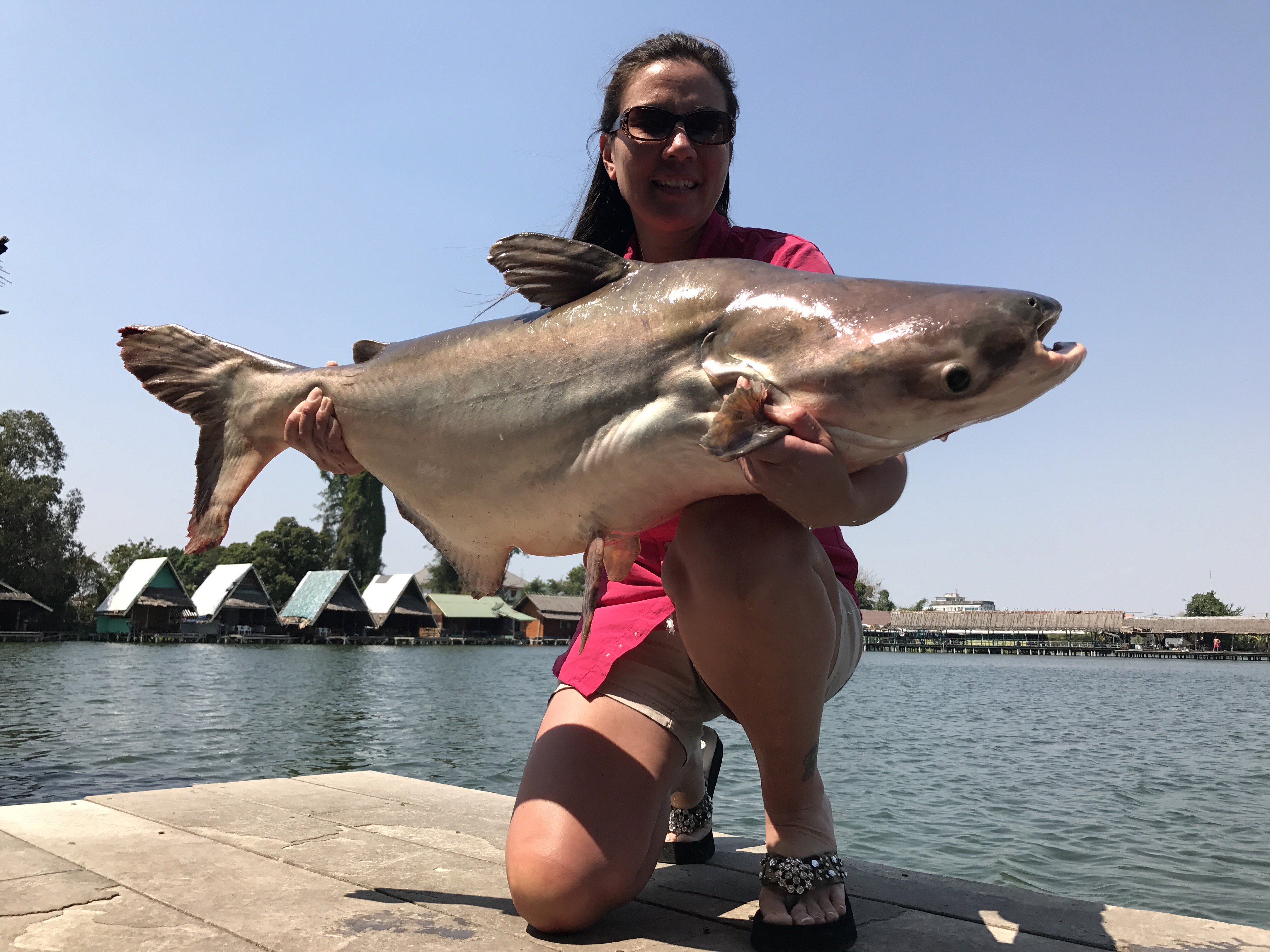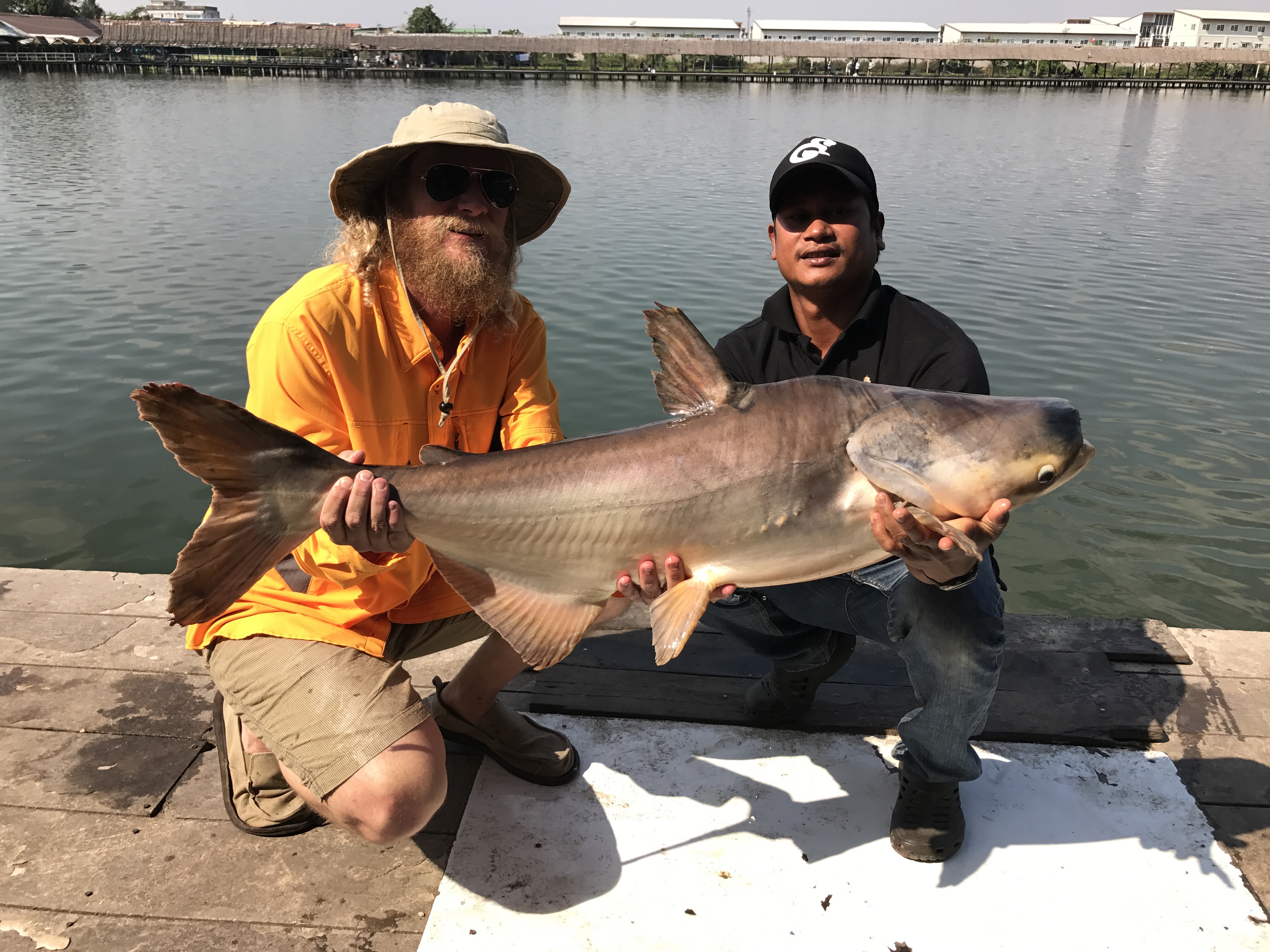 About mid morning a guy comes around on a bicycle and talks to the net man and writes a few things down and peddles down to the next group, turns out he was getting lunch orders. Now this is some fishing I can get used to, they take your order then bring back your food right to your hut. I had to reel the rod in to eat because it kept getting bites so we all just shut down for lunch and enjoyed a great great meal. Part way through I realized the net man wasn't around so I asked John where he went and he said outside the hut to eat. I told him come in here with us and have lunch but he refused, this bothered me because I felt like he had been told either by previous clients or lake management or maybe both that you don't eat with the fisherman. I felt bad but maybe he didn't want to eat with us I don't know but in just minutes he was back on the scene having already finished eating and was working again. I stopped him told him take a break, have a cigarette we are fine. We had already caught over a dozen big fish and we had a half day left I was in no big hurry.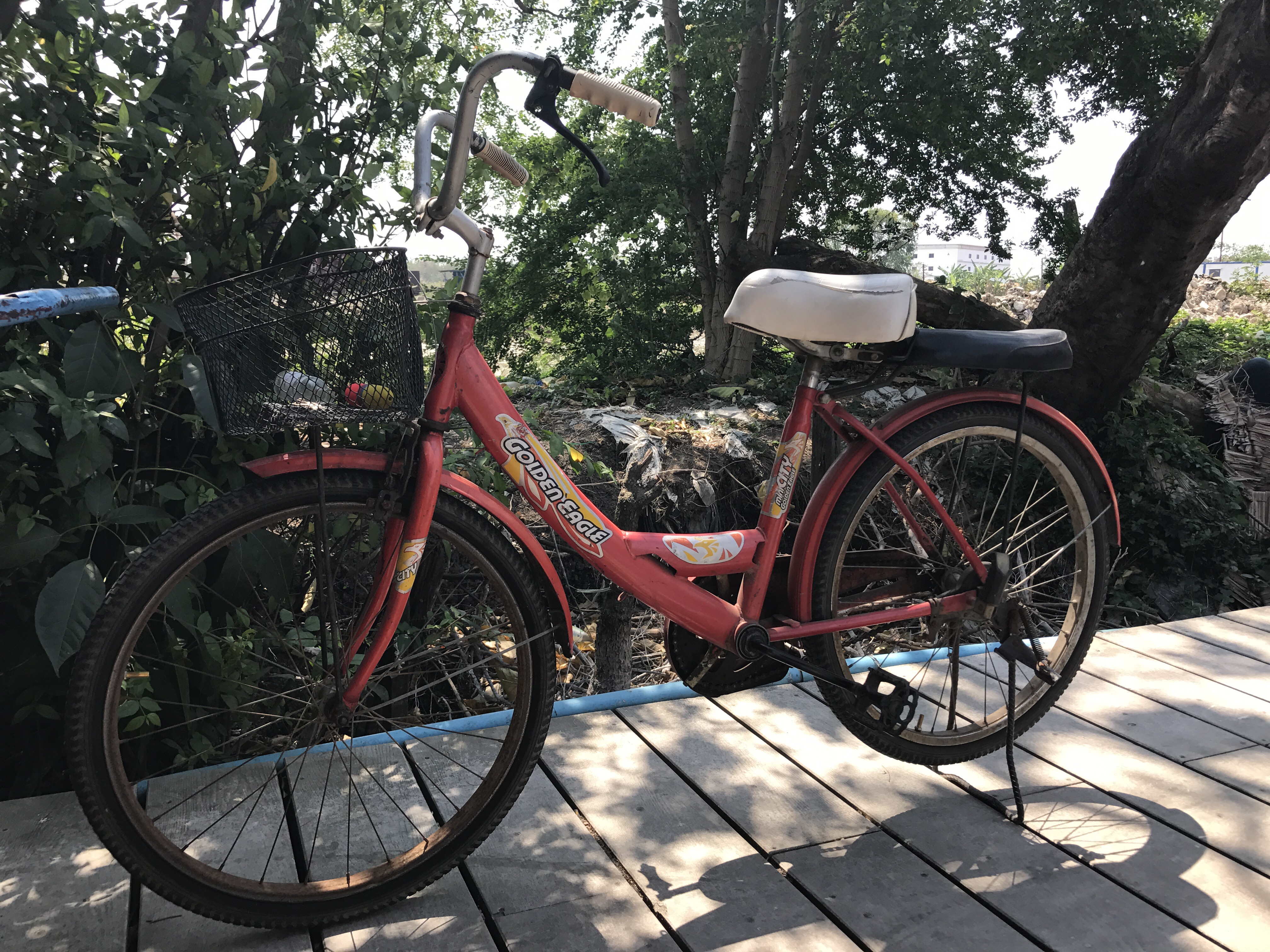 So he did but I watched him I noticed he picked up a line that was tied to the dock and it had a little hook on the end, he baited it with a small piece of bread crust and started hand line fishing and it wasn't long he was bringing up talapia. I really like this guy now, he loves to fish, any fish any way. Most of the fish were small but hey it was cool. Mary Ann seen this and thought this was more her style fishing so she got in on the action but wasn't having much success. I thought that I better show her how it was done but I sucked at it too. The net man was very good at it and caught several of them, there was even a lady that came by with a cart that was cleaning huts that stopped behind our hut and caught a few talapia and put them in a bucket and continued on cleaning. Mine and Mary Ann's total came to exactly zero, it was harder than it looked.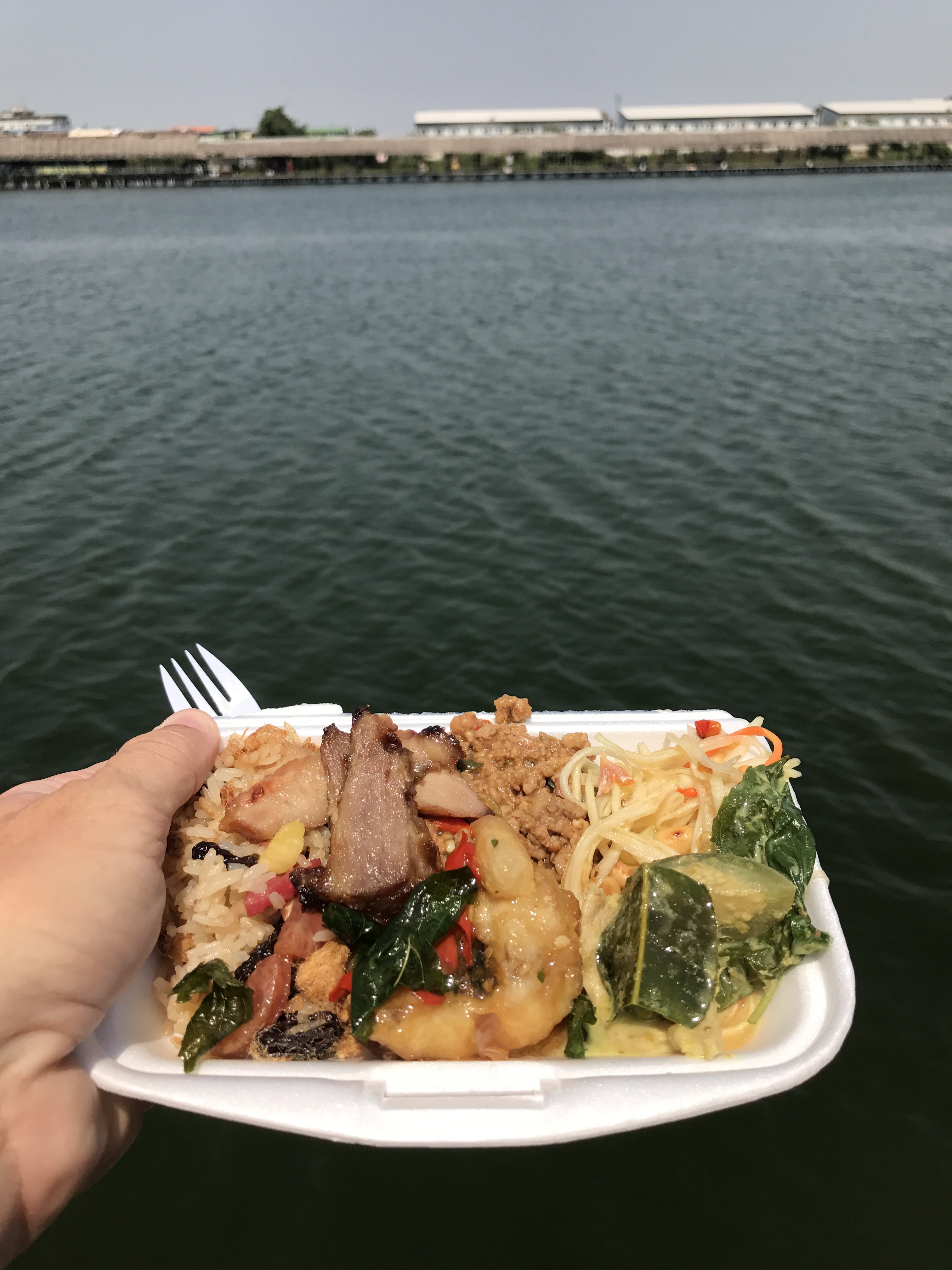 We actually had wifi here so as the fish kept coming we decided to do some Facebook live and Instagram live of us fighting fish. This was a blast, one of my favorite parts of the day even though because of time difference not many of our friends in the US were awake to see it, it was still a blast.
Late afternoon I hooked a fish that I thought was bigger than the rest but I was also tired so I thought maybe I had just gotten weaker than I usually am but I was right this fish was big and took quite an effort to get onto the dock but it was well worth it. We didn't weigh any of the fish but the net man knew his stuff so he would tell me about how much they weighed and it would be close to what I thought too. This fish broke 100 pounds pretty easy and I thought was around the size of the Chao Phraya catfish I caught which was guessed at 125-130. Any way about it when I held it up it was almost as long as me and was real heavy so a great great fish.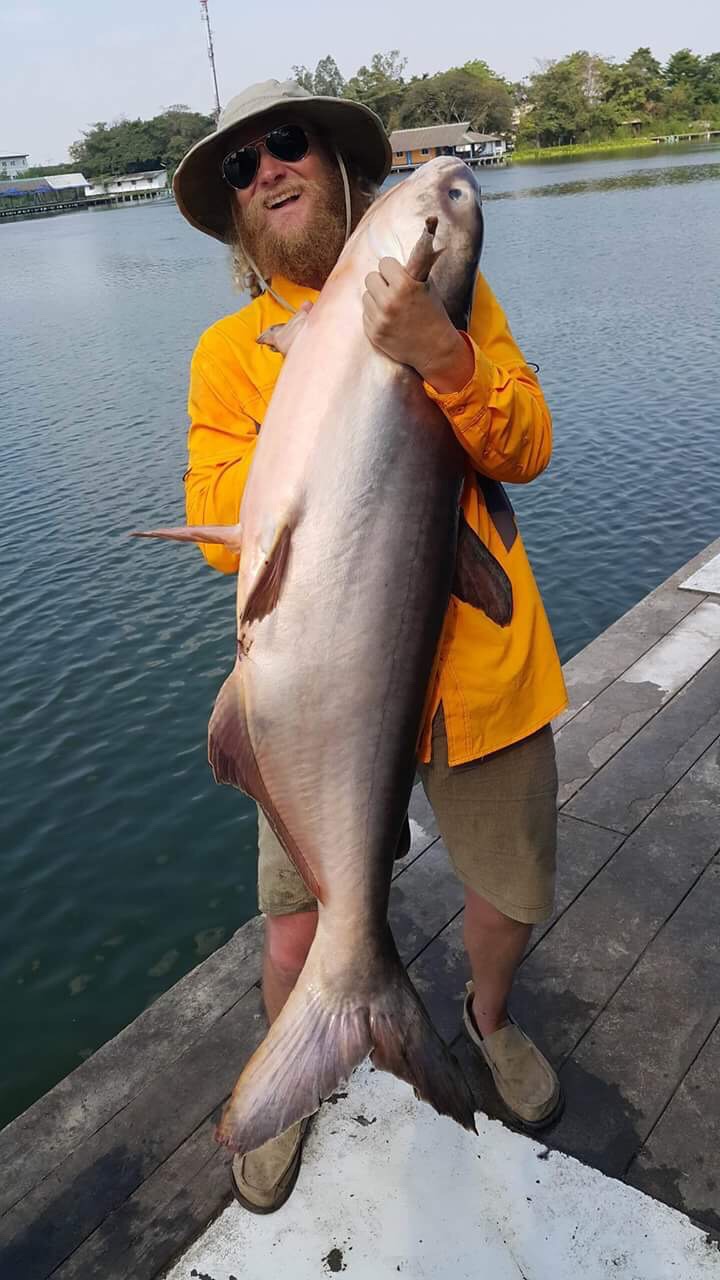 I had asked John to bring his wife along because Mary Ann had gifts for her so she spent the day with us and that was really nice. Such great people who enjoy fishing and food, that's always going to be a good time.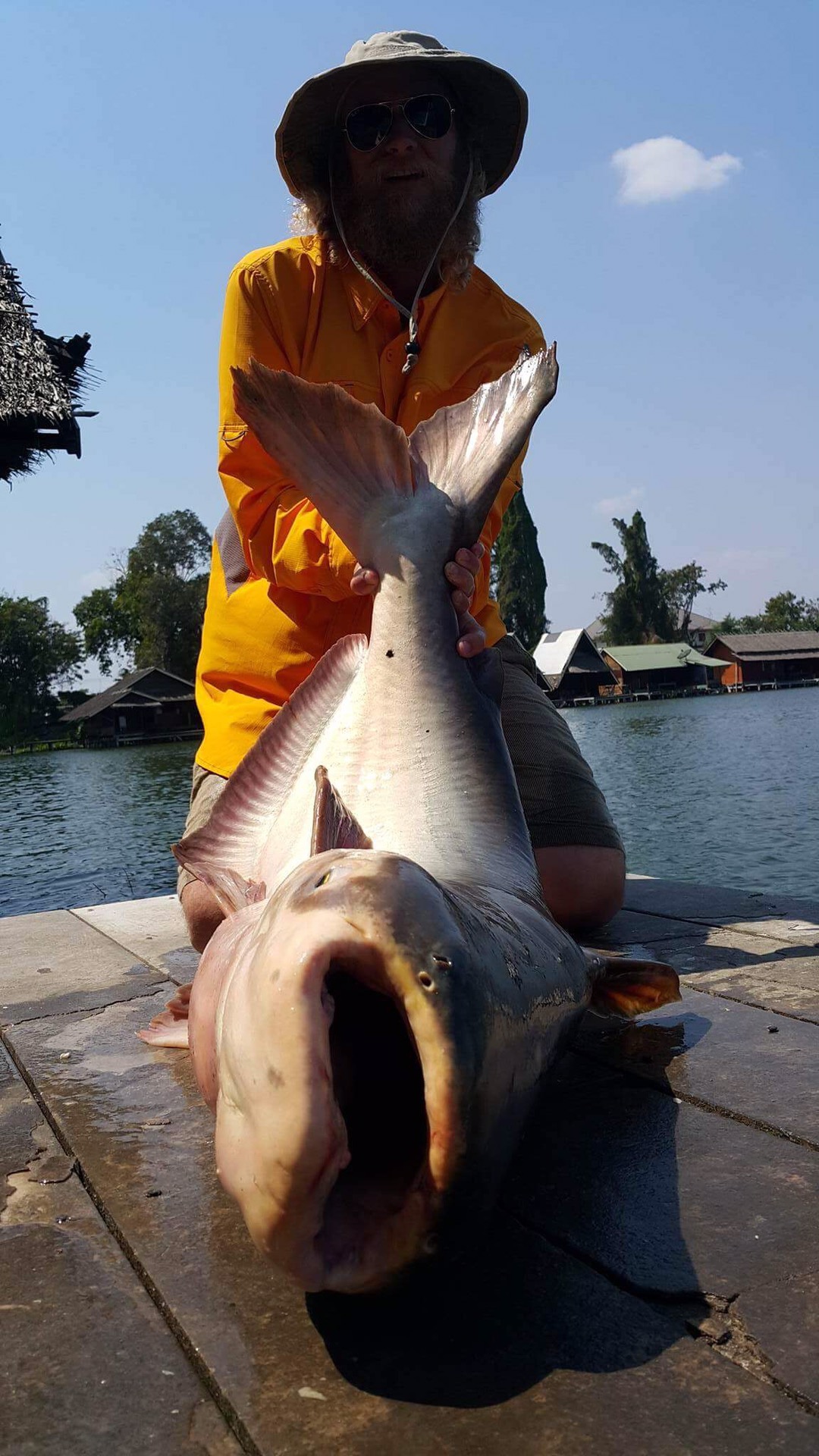 The bait bucket was running low and honestly so was my energy, Mary Ann had quit on me about 8 fish back and as much as I love fishing I was getting tired of reeling in fish so I made one last long cast with the last of the bait and of course got another bite and landed about a thirty pound striped catfish that ended the day. It was a great day and I can't wait to get back to fish the new Bungsamran 2 which I hear is bigger and better with even bigger fish. It's going to be a blast!!