We spent the 4th in Sargent Texas, a cool little fishing town on the coast that's built around the canals which lead to the intercoastal waterway which leads to Matagorda Bay which leads to the gulf. Although it would be a real long boat ride to get from the canal to the gulf it can be done. I really liked the fact that any size boat could fish in this area, if you only have a small boat you could stay in the canals and on calm days the bay but a big boat can also get through the canals to the gulf.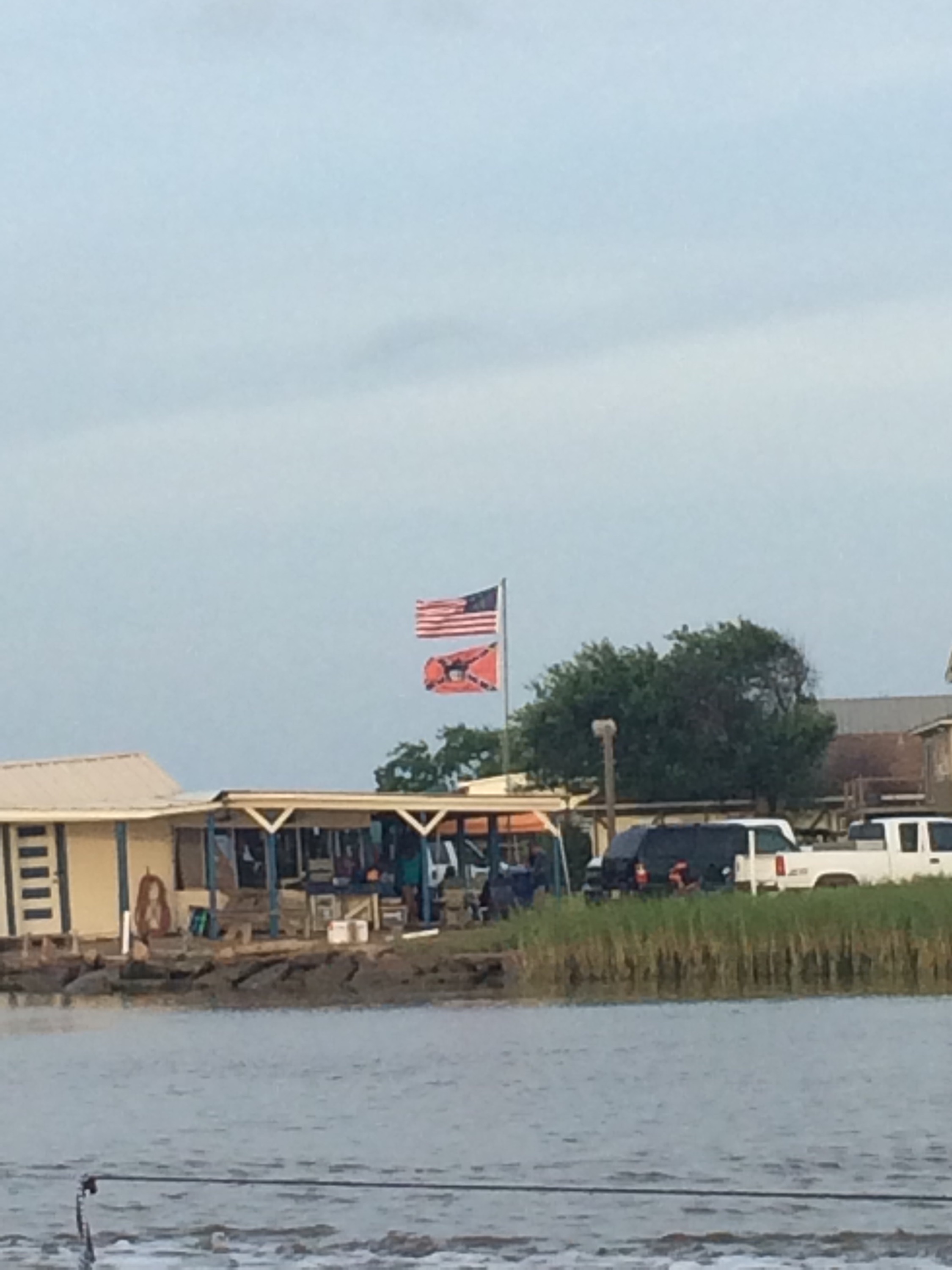 There's something about the ocean that's a little intimidating to me. It's not the water itself, I do respect the power of the water and waves but it's what's in the water. When I'm on land I never feel like I'm not in control, I'm the dominate predator, but in the ocean I could easily be a meal to something I could never see coming. Granted this is likely not a realistic scenario but it happens. Sure folks get killed by bears and lions too but that's usually from lack of experience with the animal or situation which is the situation I'm in when I'm in saltwater. I would love to spend more time there and become more accustomed to how these folks fish this water but for now I'll just keep making short trips and learning all I can.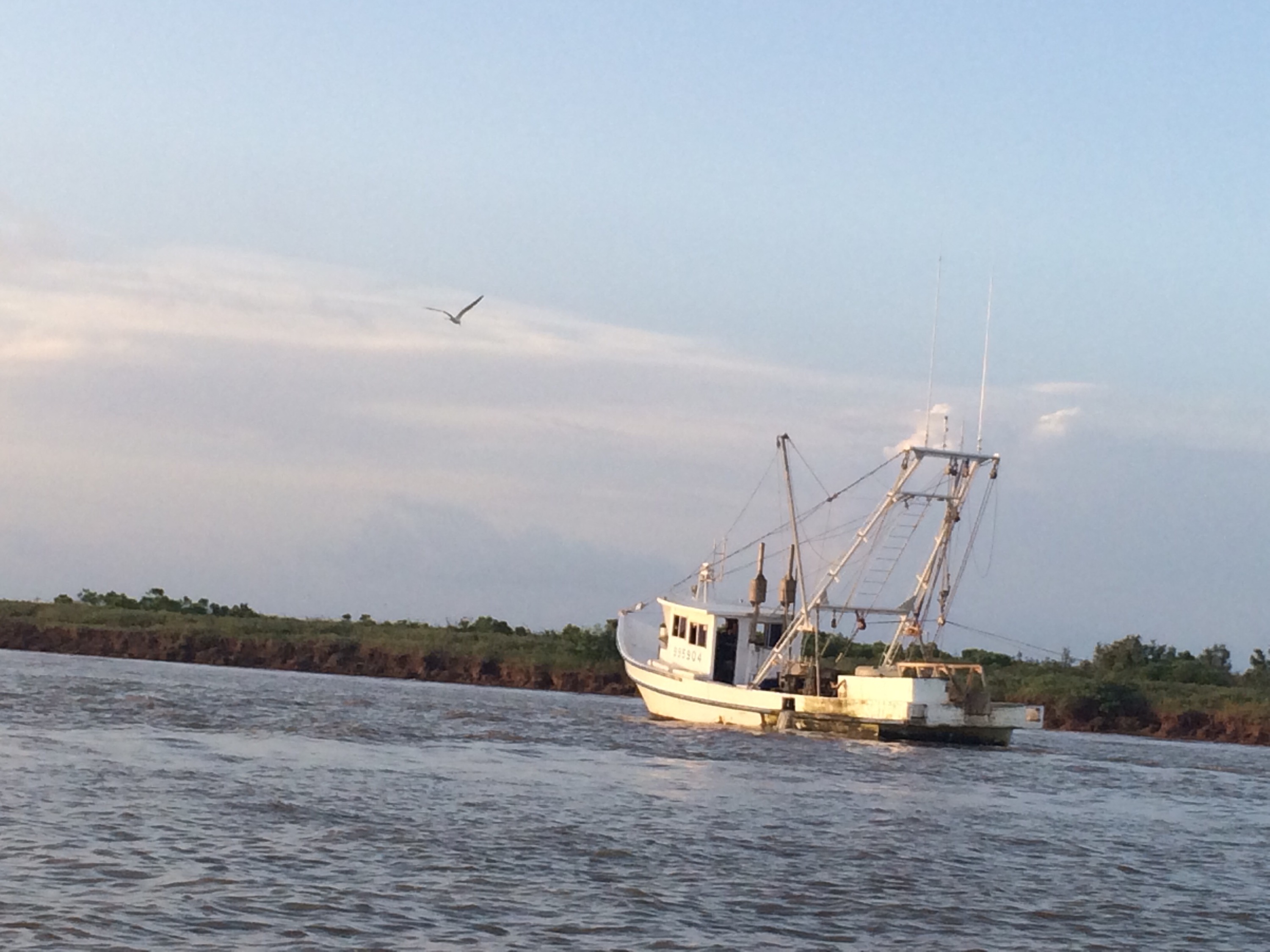 We had a full crew on this run, my brother and his family, me and mine, and his in-laws who graciously allowed us to stay at their house and took us out fishing.
We arrived after noon and wasted no time getting to the boat, just a couple hours after we got there Alex had already caught two fish at the same time on the first cast.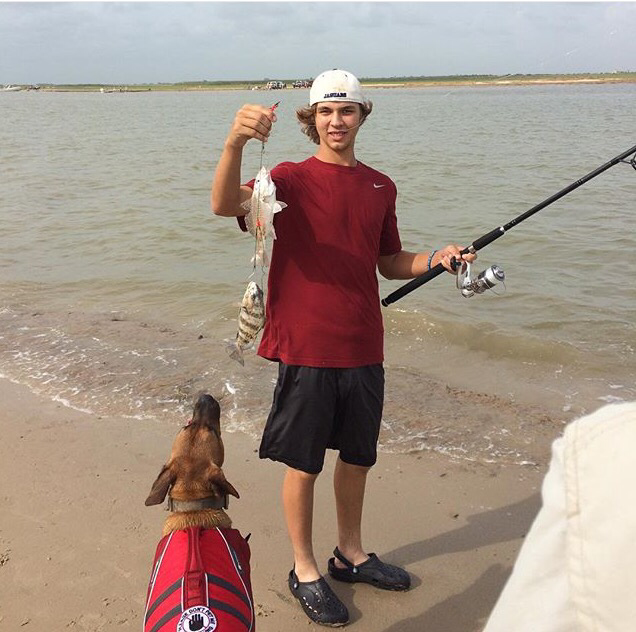 The rest of the evening was spent swimming, catching a few croakers, black drum, the ever present hard heads, gaff tops, and crabs. The thing I love most about the ocean is you never know what's on the end of your line or if you have the right tackle to win the battle but we kept our bait small and had a lot of fun catching all kinds of fish.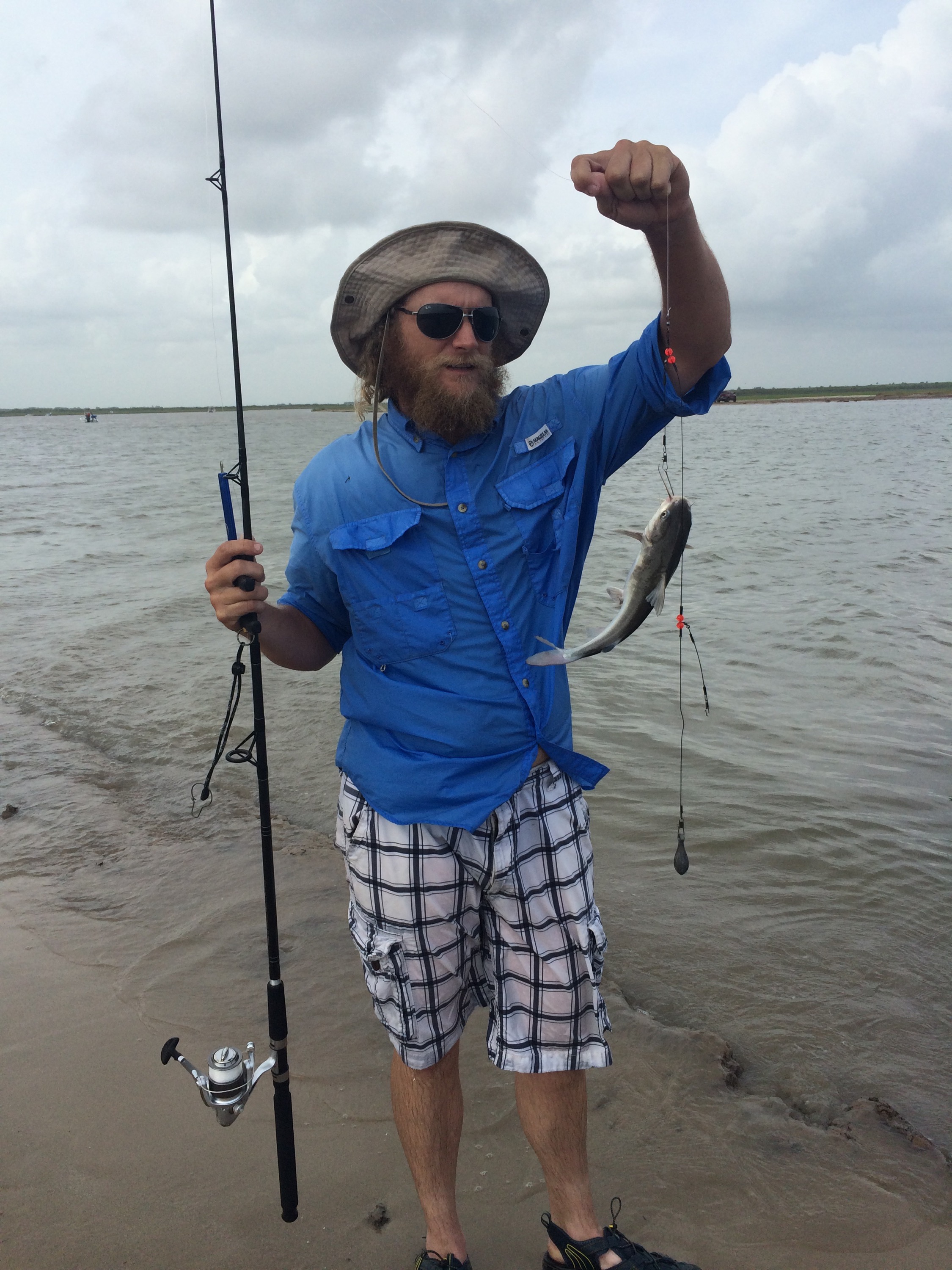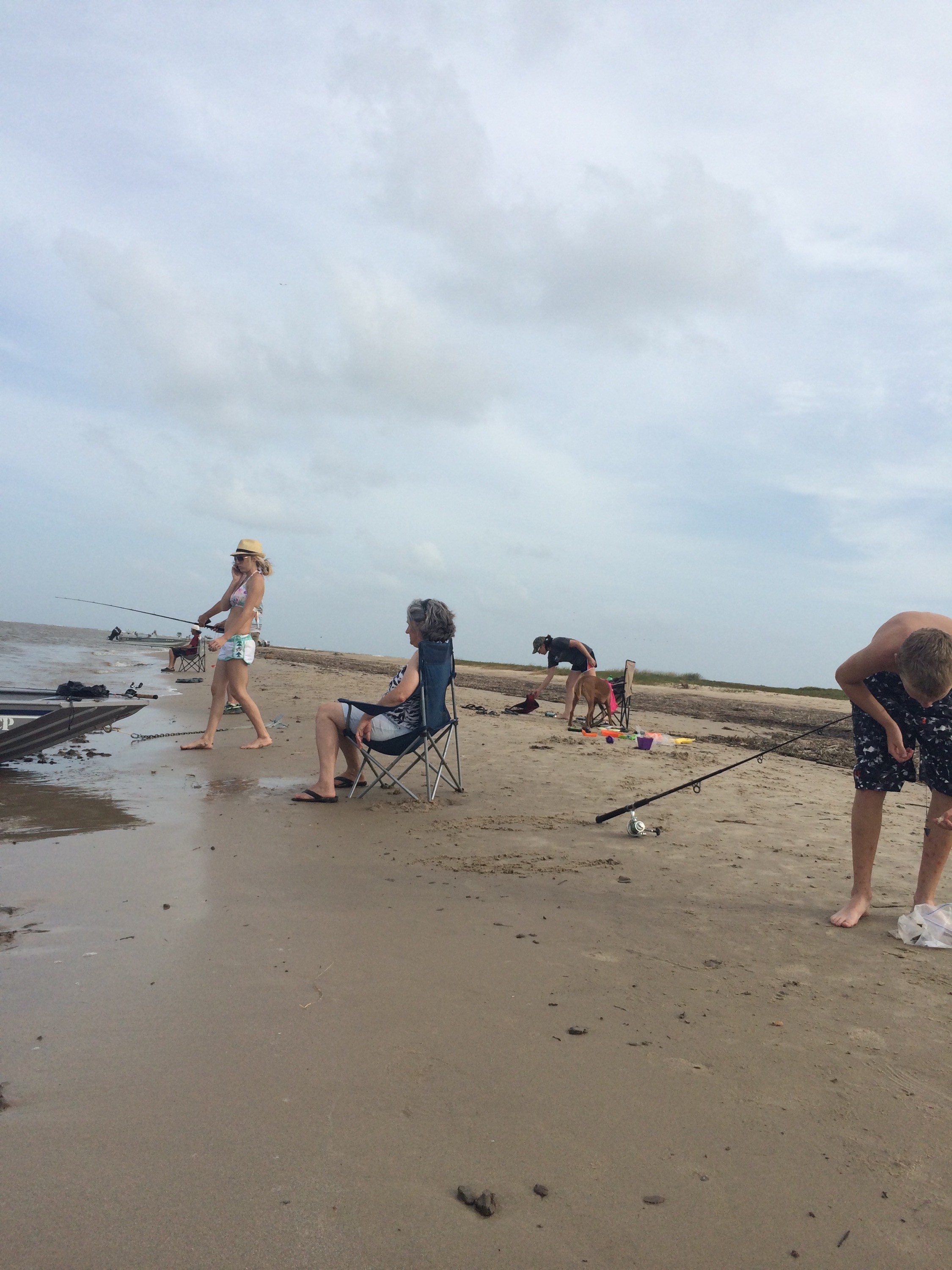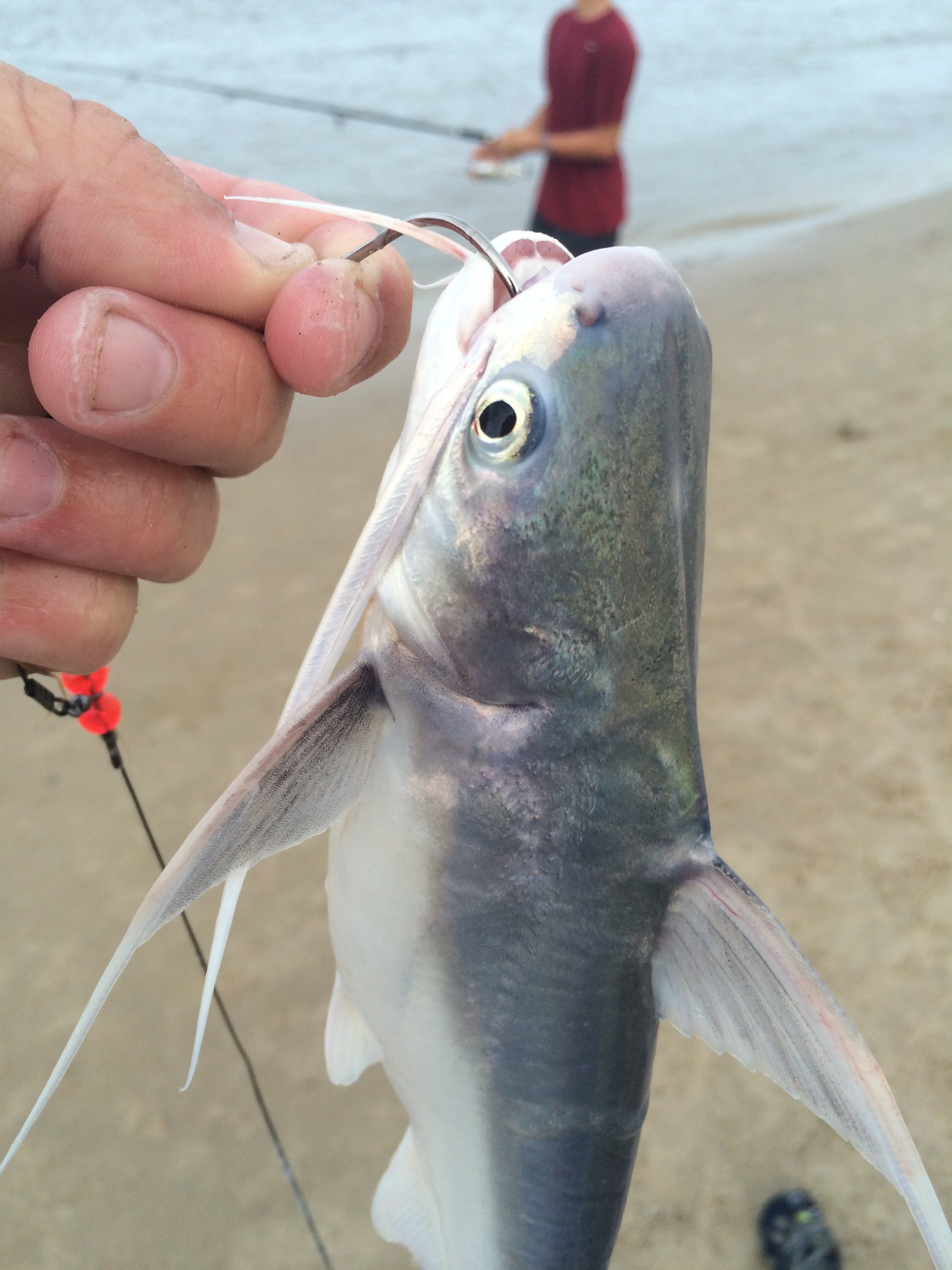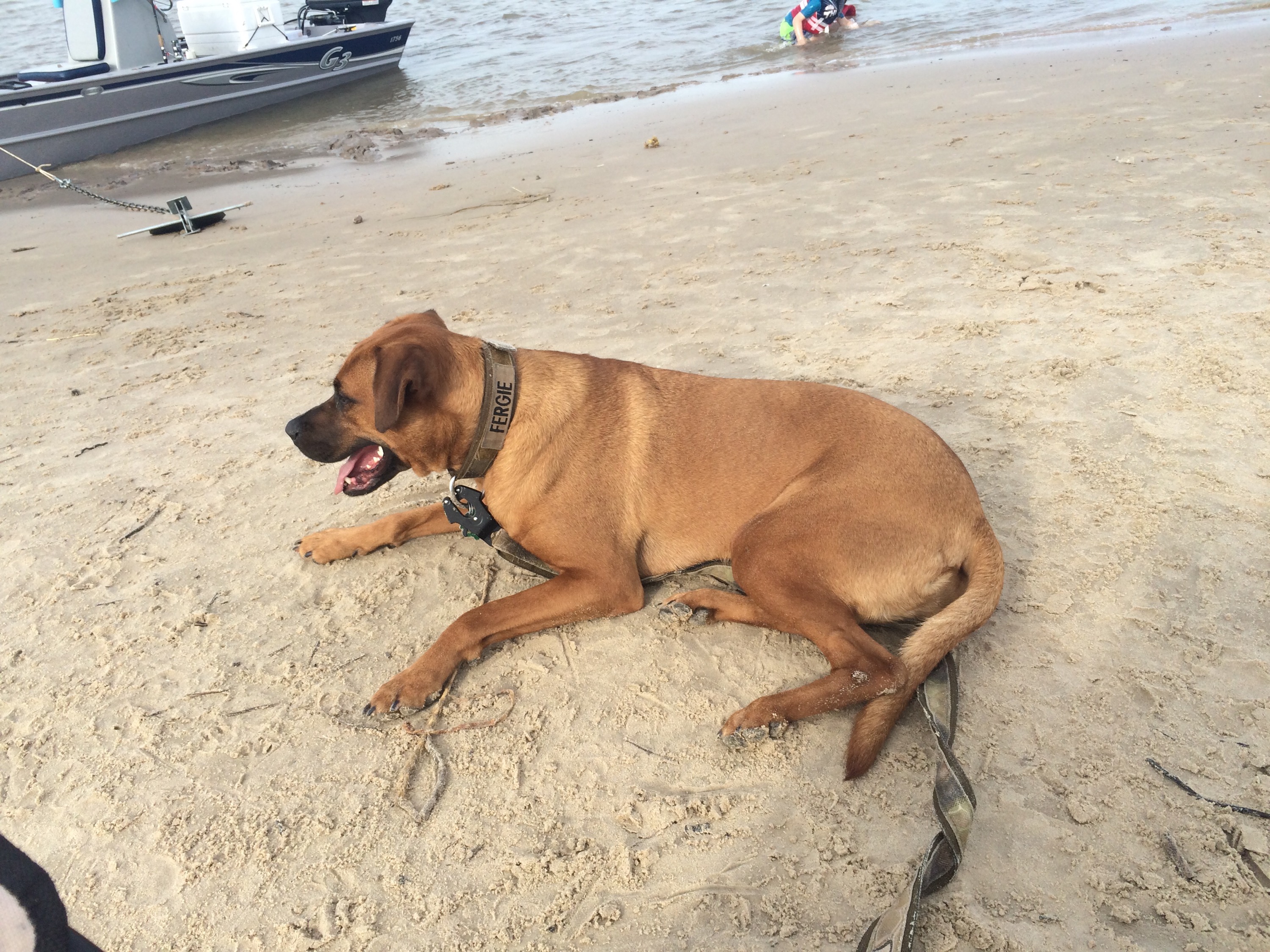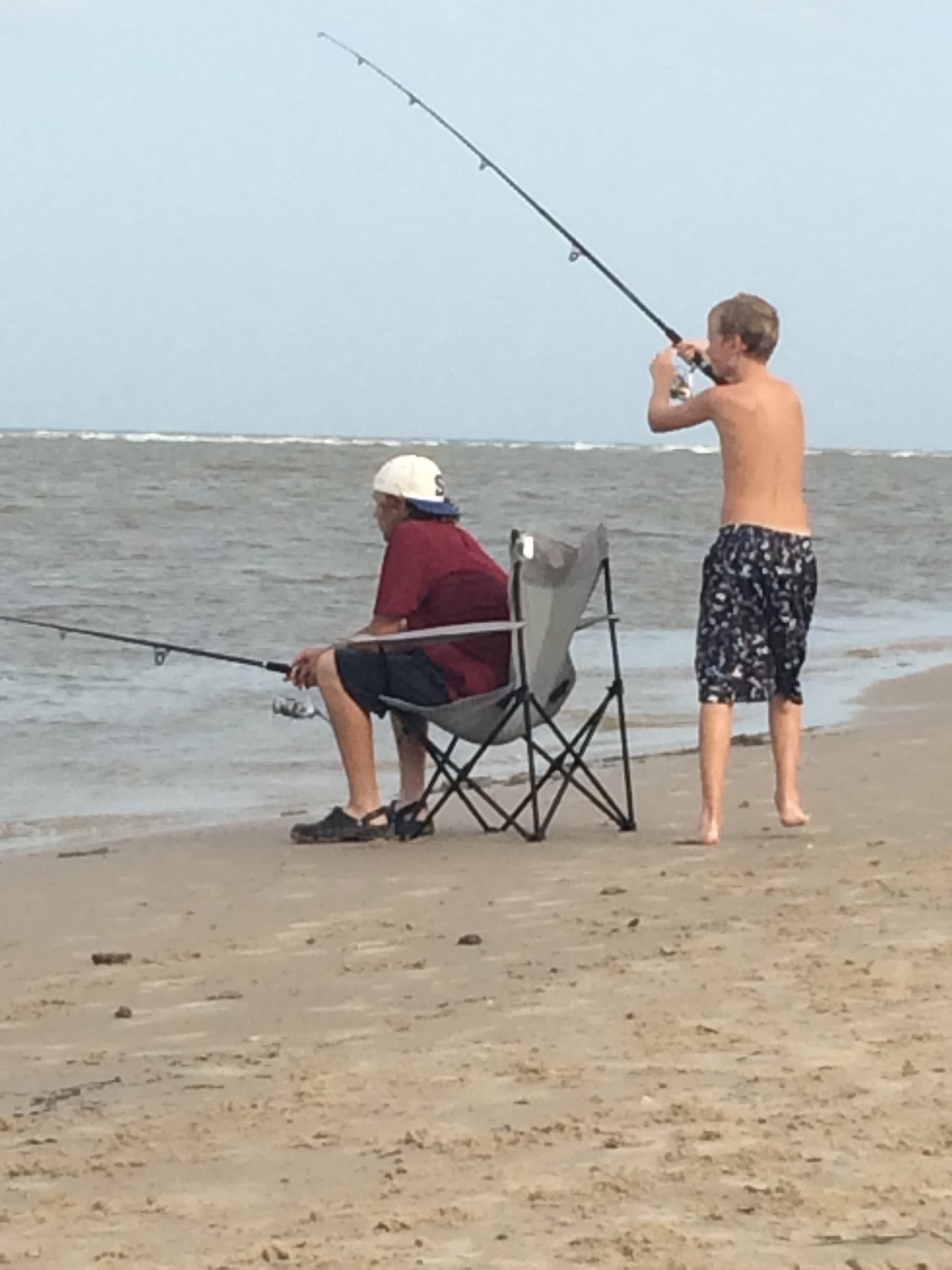 The next morning we were gonna get more serious and head out to Matagorda Bay and hopefully land some good red fish. It seems that a lot of times when I go somewhere I hear, it would be better if, well this time the "if" was, if all that fresh water had not came down. Over the last few weeks Texas has been flooded, all the lakes are full and everybody was loving life but that water has to go somewhere and that somewhere is the gulf. This is not good for fishing there, couple that with a full moon and it was gonna be tough but it's still fishing so I'm gonna keep a hook in the water every waking minute as long as there's bait.
We woke well before light and took the boat by truck around to the bay to save time and launched. It was a short boat trip to the back of the bay from there. The wind was a little strong making the waves choppy so we threw out a drift sock to slow the boat and started working popping corks above some artificial shrimp.
I could see several boats in the area and after an hour none including us had landed a fish so I decided to try something else. I have caught 100s of pounds of big blue cat drifting and thought why not drift a shrimp while casting lures and see what happens. We hadnt went far at all when the rod bent over hard and I set the hook. I didn't know what it was since everything in the water will eat a shrimp but my tactic worked.
The fish pulled drag from the time I set the hook until he was at the boat and a few minutes into the fight we were sure it was a good red fish and we were right. It wasn't a giant but a good eater. How can you not love reeling in a redfish in Matagorda Bay as the sun is rising over the water, man I love being a fisherman.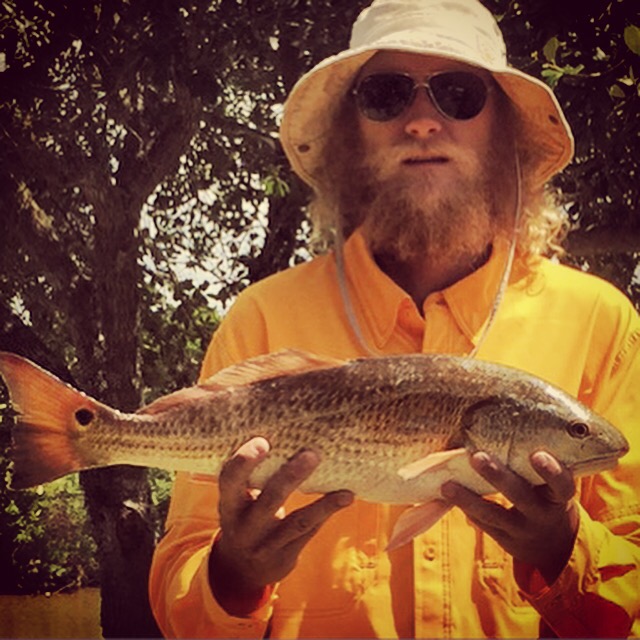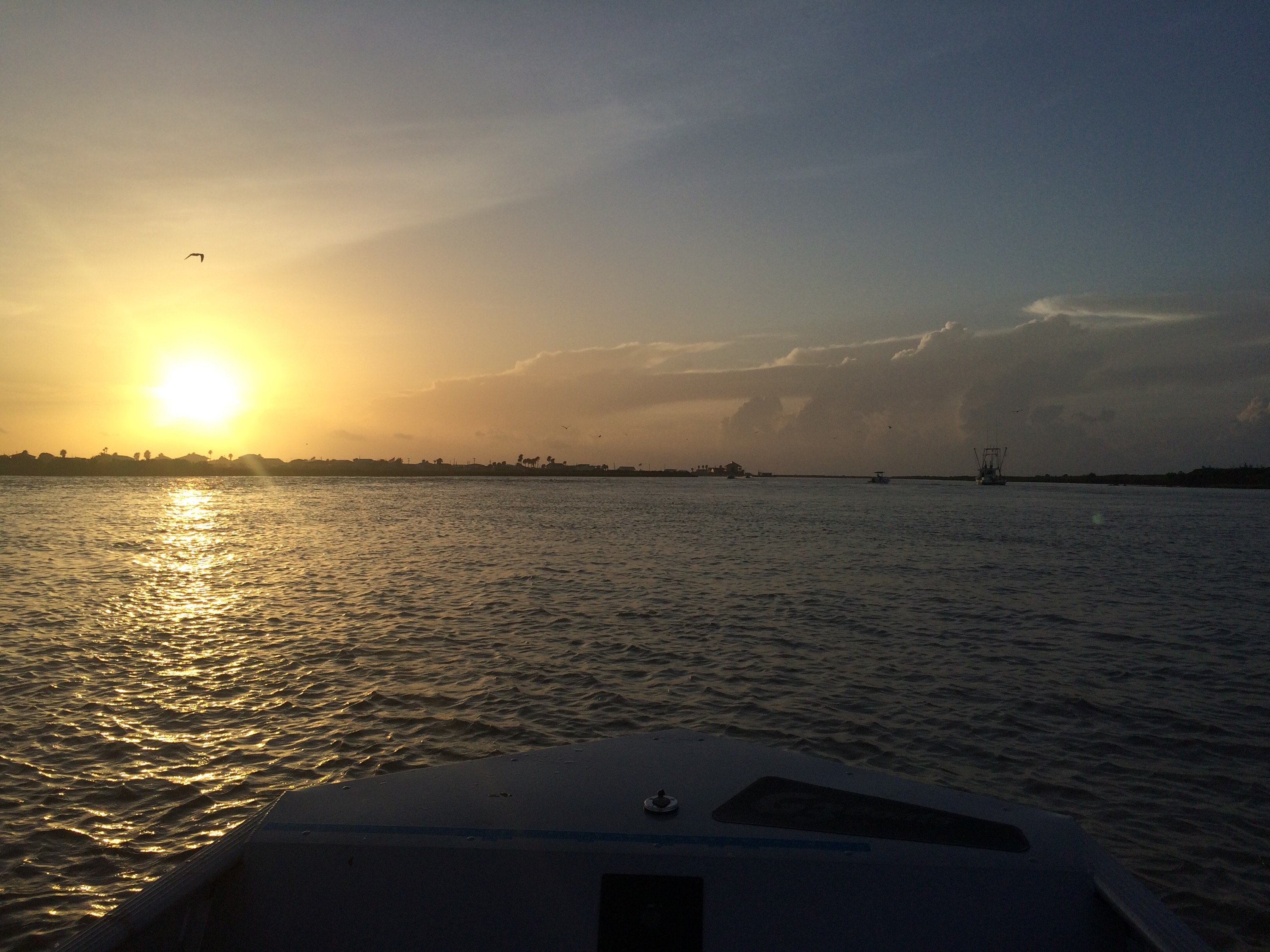 After a few drifts we were getting low on bait and my brother Jarod's father in law Quincy who was nice enough to take us out said we should go get some shrimp. About then I seen a shrimp boat across the bay with his net down so I ask why we couldn't just buy bait from him, he said we can try. There are certain little things in almost every trip that don't seem like much at the time but they stick with you, this was that thing. It was one of coolest things I've done on the water. We drive up beside the boat, which was a small one man operation, and ask if he had shrimp we could buy. He said not many but he would sell us some, for $20 we got enough shrimp for the rest of the day. I'm sure it looked illegal as we are passing buckets and money from boat to boat as we are driving across the water but it was a neat experience. Thanks shrimp boat captain for the bait and the memory.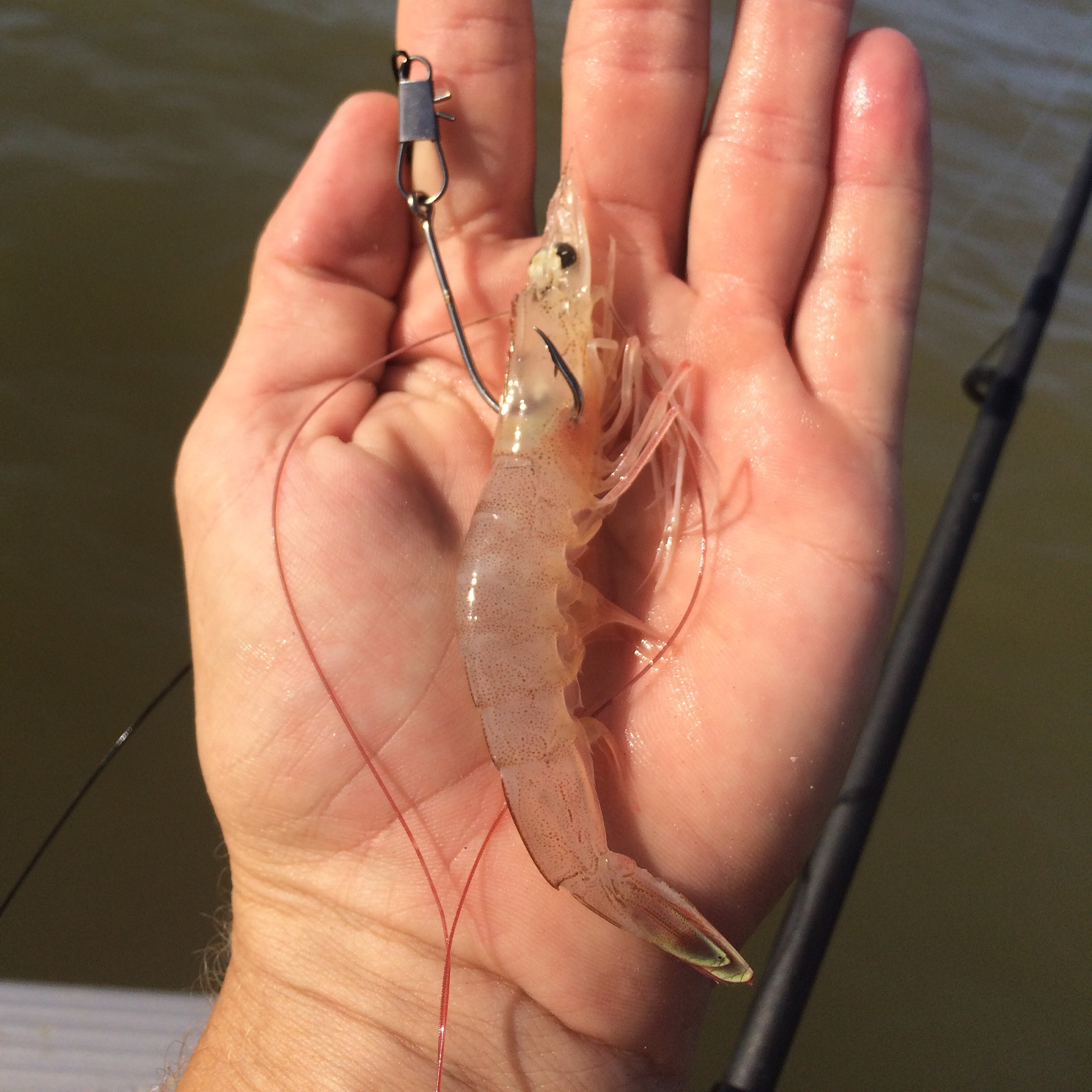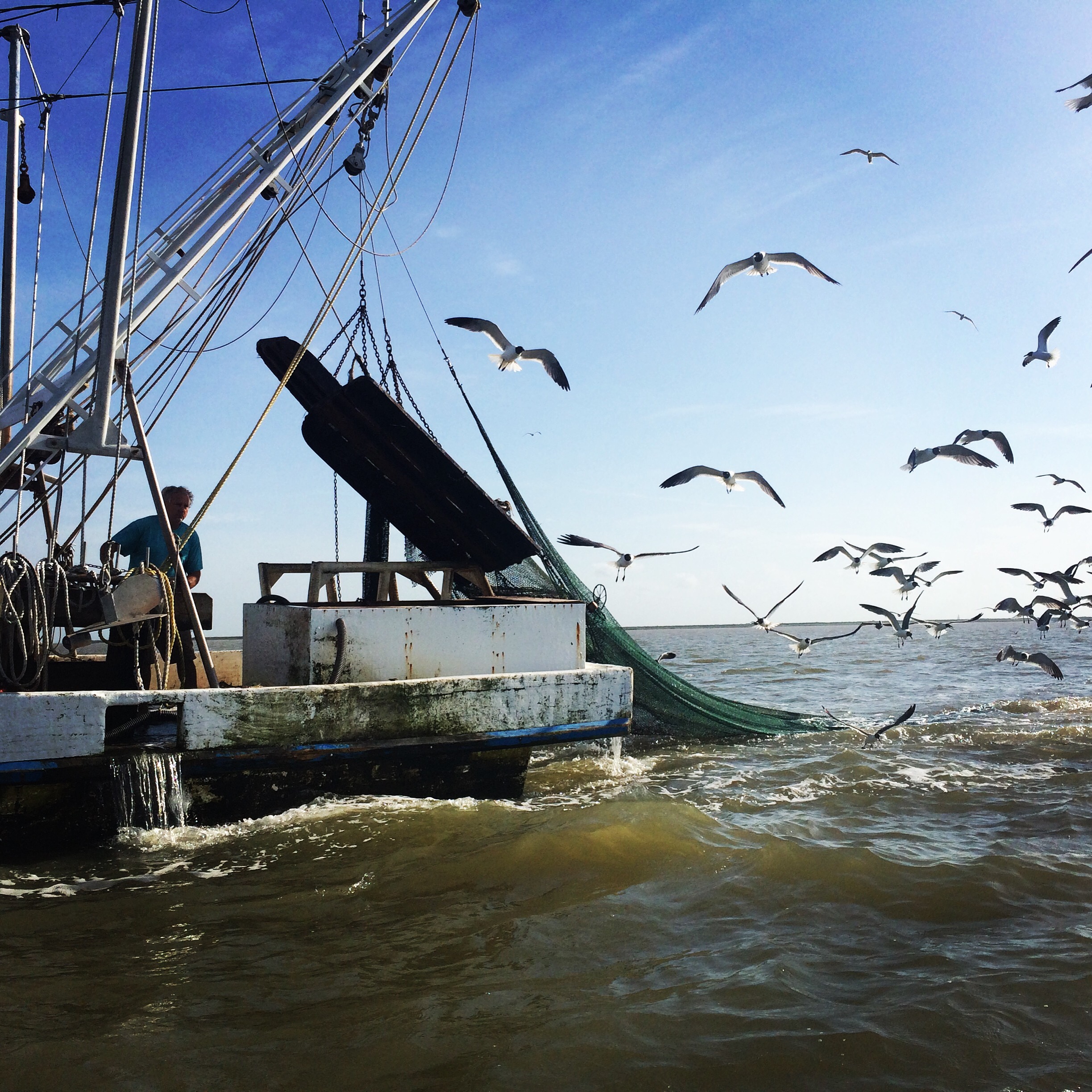 It was the 4th of July and we needed to head in for some lunch and get ready for the nights festivities. What better place than a small cafe on the water called The Crab Trap? When I say on the water I mean on the water. We ate outside on the deck and if you drop your fork it will be in the water. As you would expect it was mostly seafood but I think we had a good variety between the dozen folks we had eating together. I started out with a appetizer of shrimp and cheese stuffed jalapeños that were great and also had the shrimp po boy and fries. Everything was great but I'm not a fan of eating outside when it's 95 degrees but it was nice to have the whole crew eat together.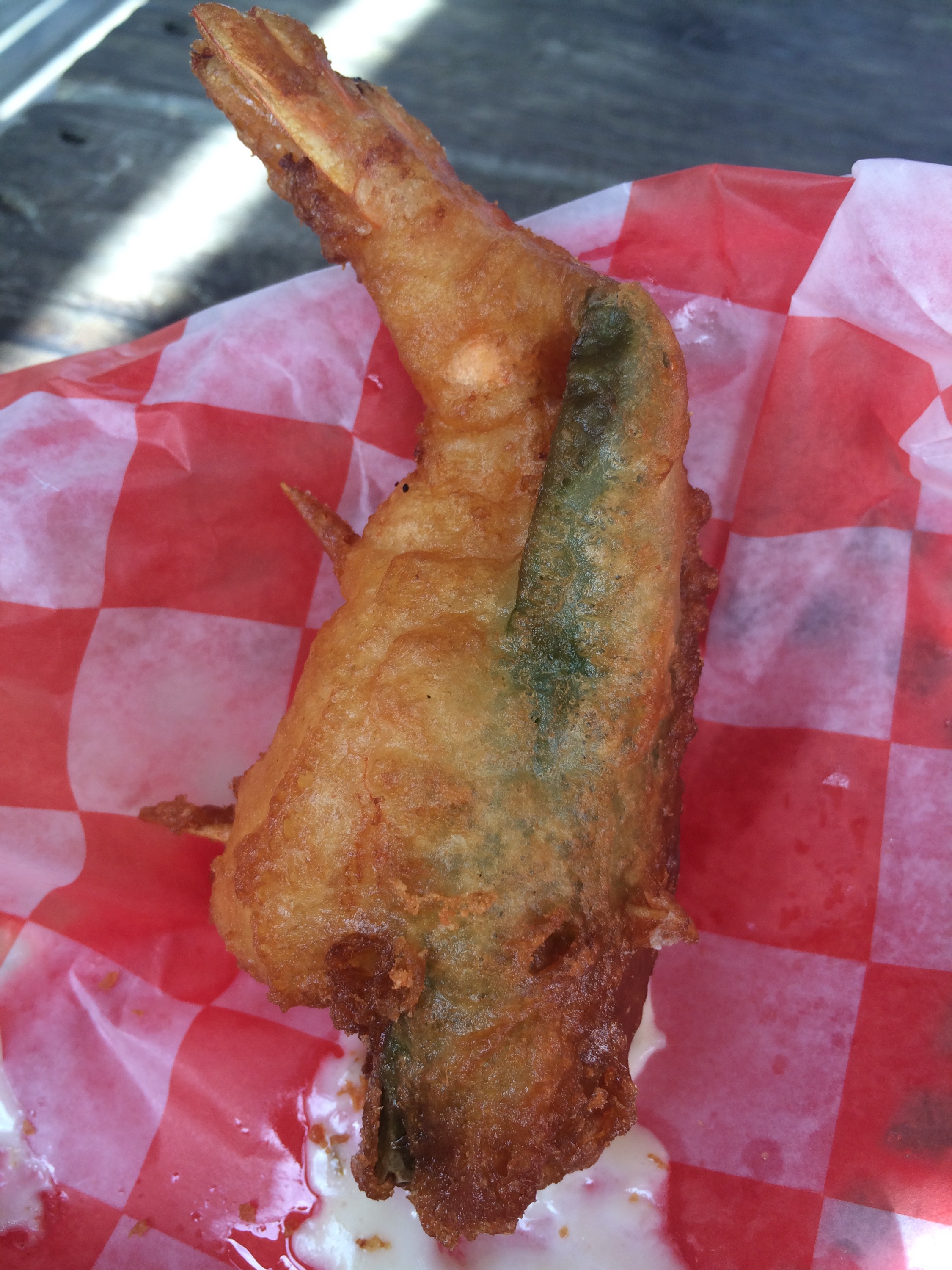 That night we watched fireworks all around us from the deck and the kids had their own that they shot. The Mosquitos weren't bad and the best fireworks were paid for by the neighbors, that's a good night.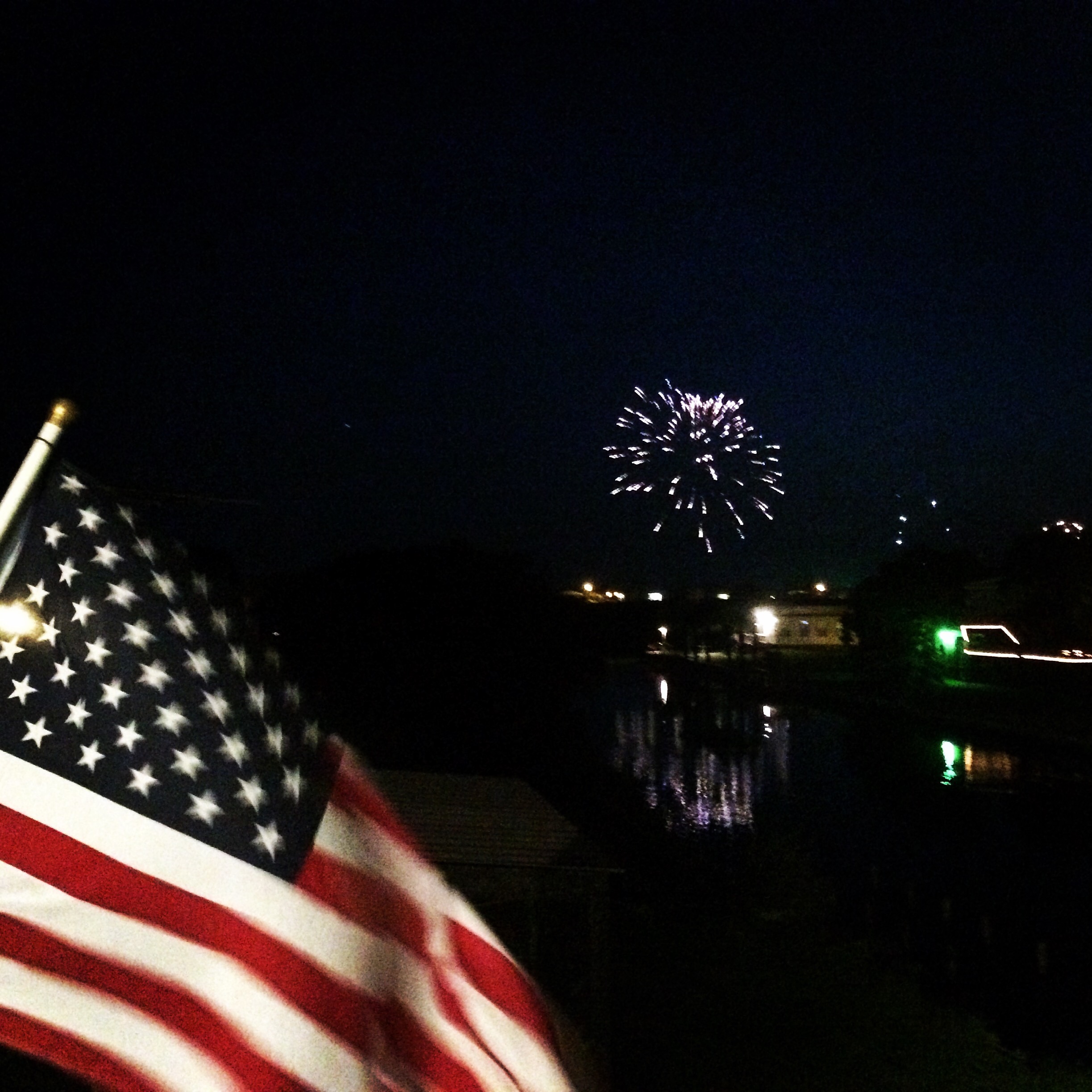 It was a late night but I was still gonna be up fishing before daylight the next the morning and Alex actually got up to join us. The wind was strong and kept us in the narrow water but we still caught plenty fish and crabs. Early on there were no boats as I'm sure the late night parties kept most folks in bed. Right as we got to our spot we witnessed another one of the coolest things we seen on this trip. Dolphins, well porpoises, several of them in fact. They were working the bait fish hard and putting on a little show, one chased bait onto the shore and you could see his whole body in the shallow water as he fought to get back. I guess it's good that your fishing where there's baitfish but I'm not sure having a pod of five or six Dolphins come through your fishing hole is good for fishing but it didn't seem to bother the fish any. This morning we caught more gaff tops, whitings, croaker, even an eel. This thing was the slimiest and strongest fish for its size I've ever dealt with.
My goal on every saltwater trip is to catch a shark no matter what kind or how big. I somehow got talked into to catching bait for Alex because he just couldnt figure out the throw net. I personally think it's a scam to get me away from my pole and for him to fish while I work. His plan worked to perfection this time. I had walked 20 yards down near some grass to throw the net when Alex sets the hook on my rod and reels in a small bonnet head, the only shark of the trip. I was not impressed.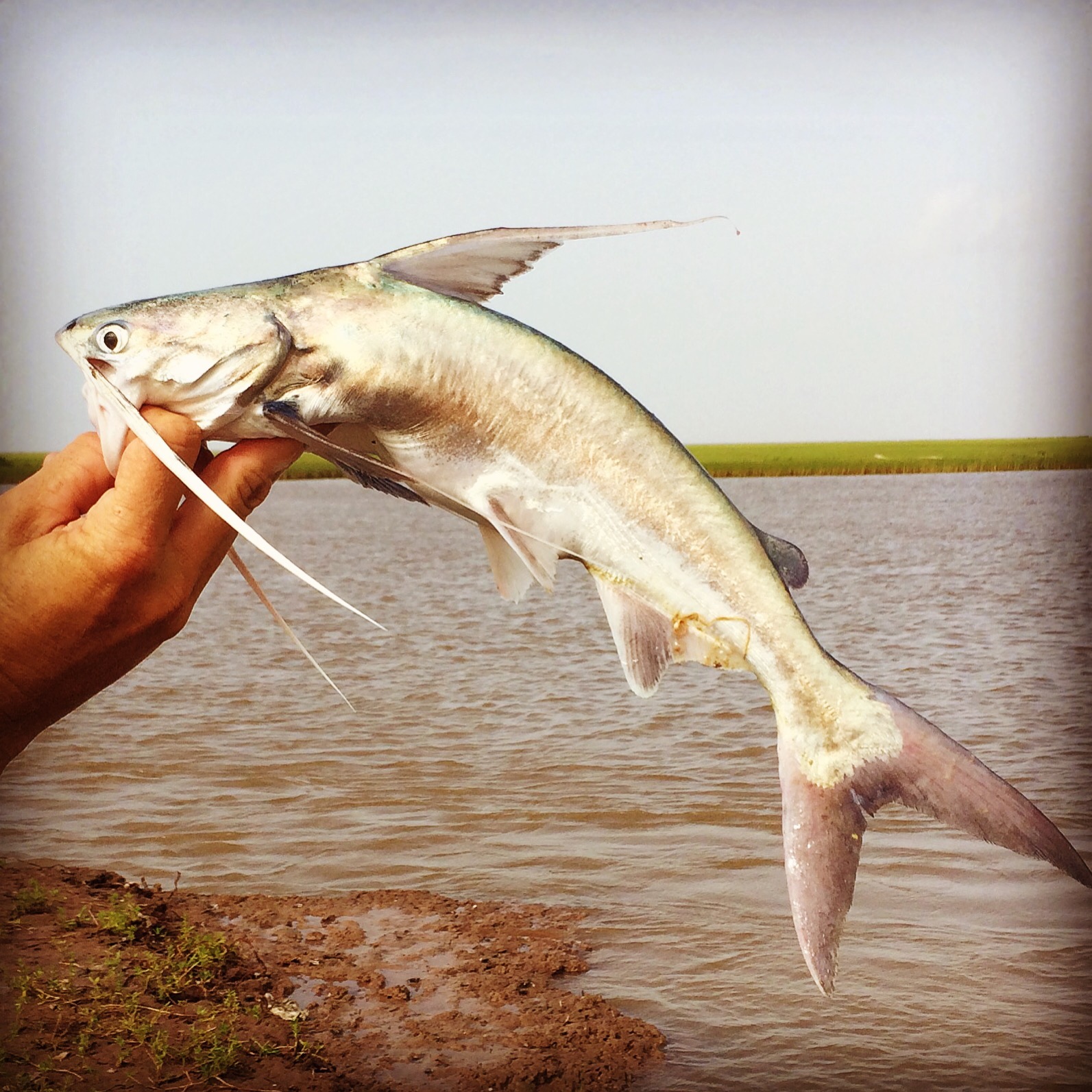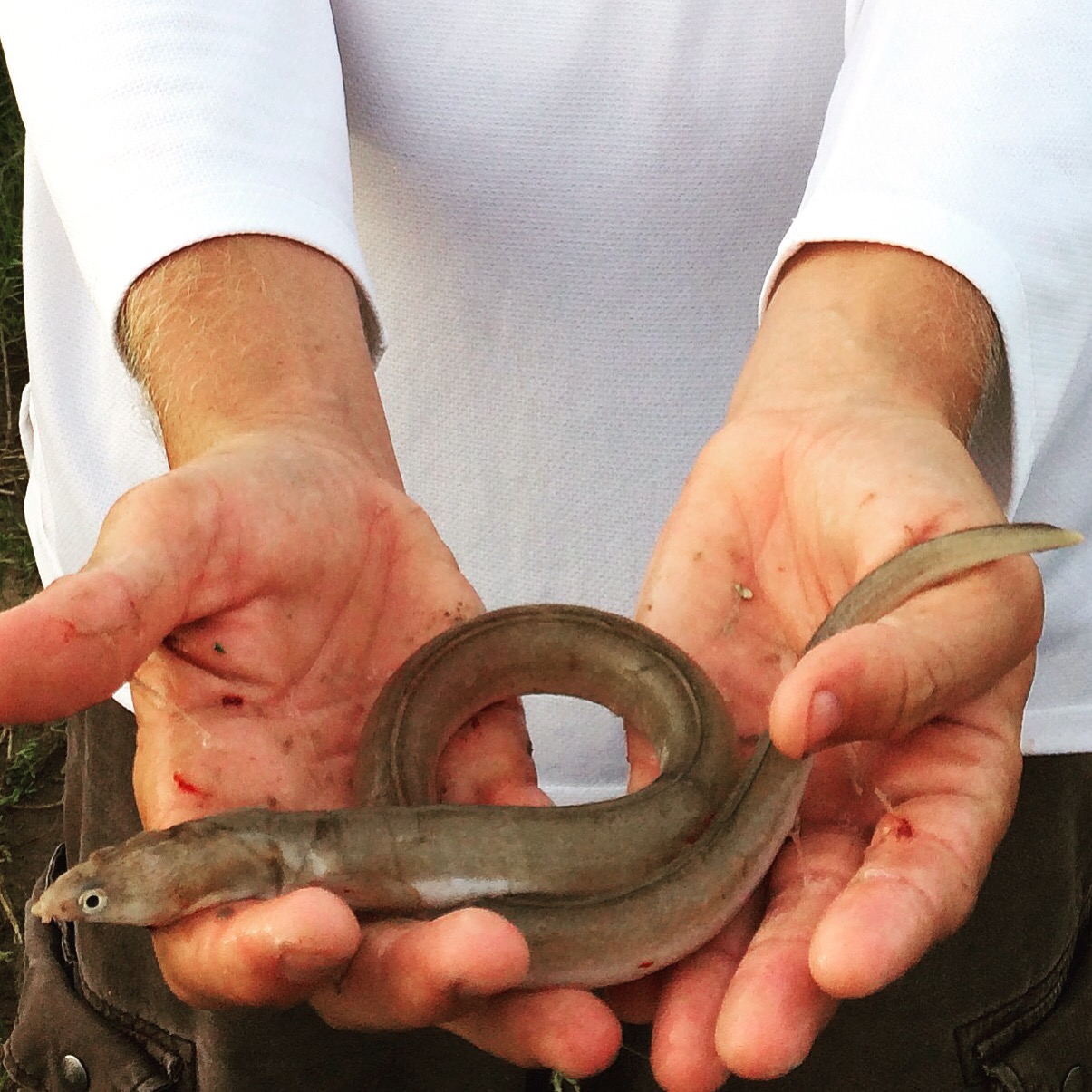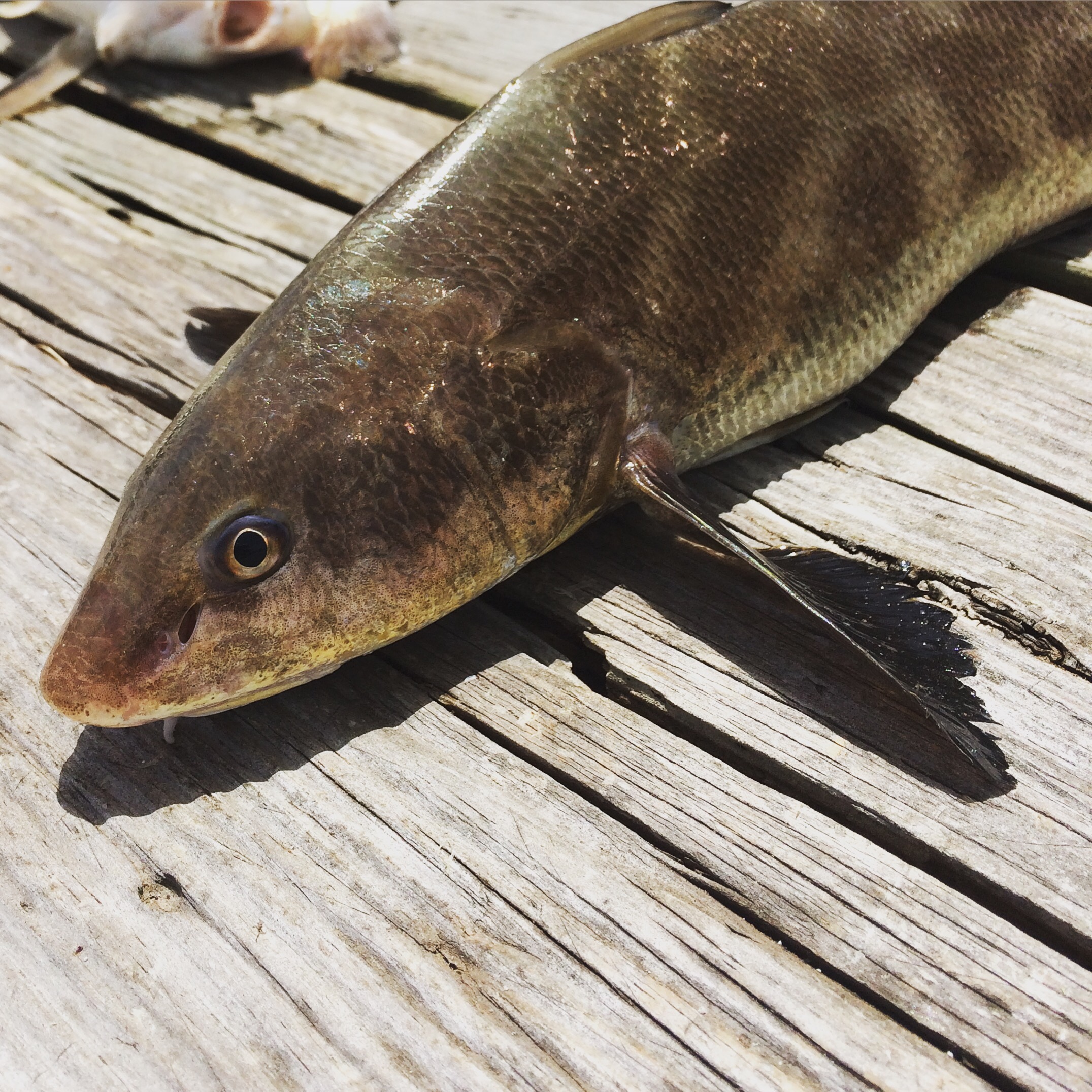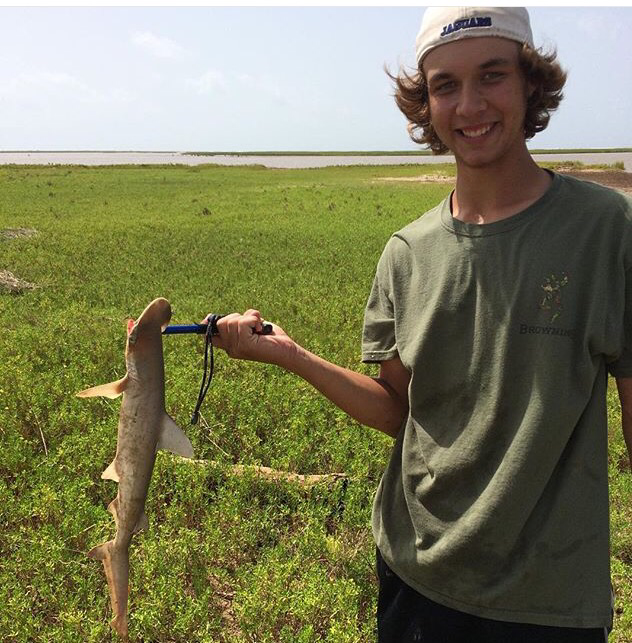 The longer we sat the more boats started arriving but it didn't effect the fish any. Jarod had basically given up on the fish turned his attention to crabs and was doing good. This was just like catching crawdads when we were kids. We put half a mullet on a hook, drop it straight down and slowly pull it up every few minutes and just dip the crab up. We had caught several gallons of blue crabs and even some stone crabs. Here is where the trouble started. We were aware that you could keep one claw from a stone crab and must immediately return the crab to the water, what we did not read in the book was that the law states it must be the right claw only. We were taking the biggest claw no matter the side and it was our fault for not reading throughly and it cost us. On the way back the game warden had a boat pulled over and as we passed he waved us down. It was a normal safety check of life jackets and fire extinguishers until he seen the stone crab claws. I lined out the lefts and rights across the front of his boat while he explained our mistake and wrote us a ticket. I'm in no way upset at anyone other than myself for not reading throughly through the law. It happens it was an honest mistake and I'm sure we fed some nice wardens family stone crab that night.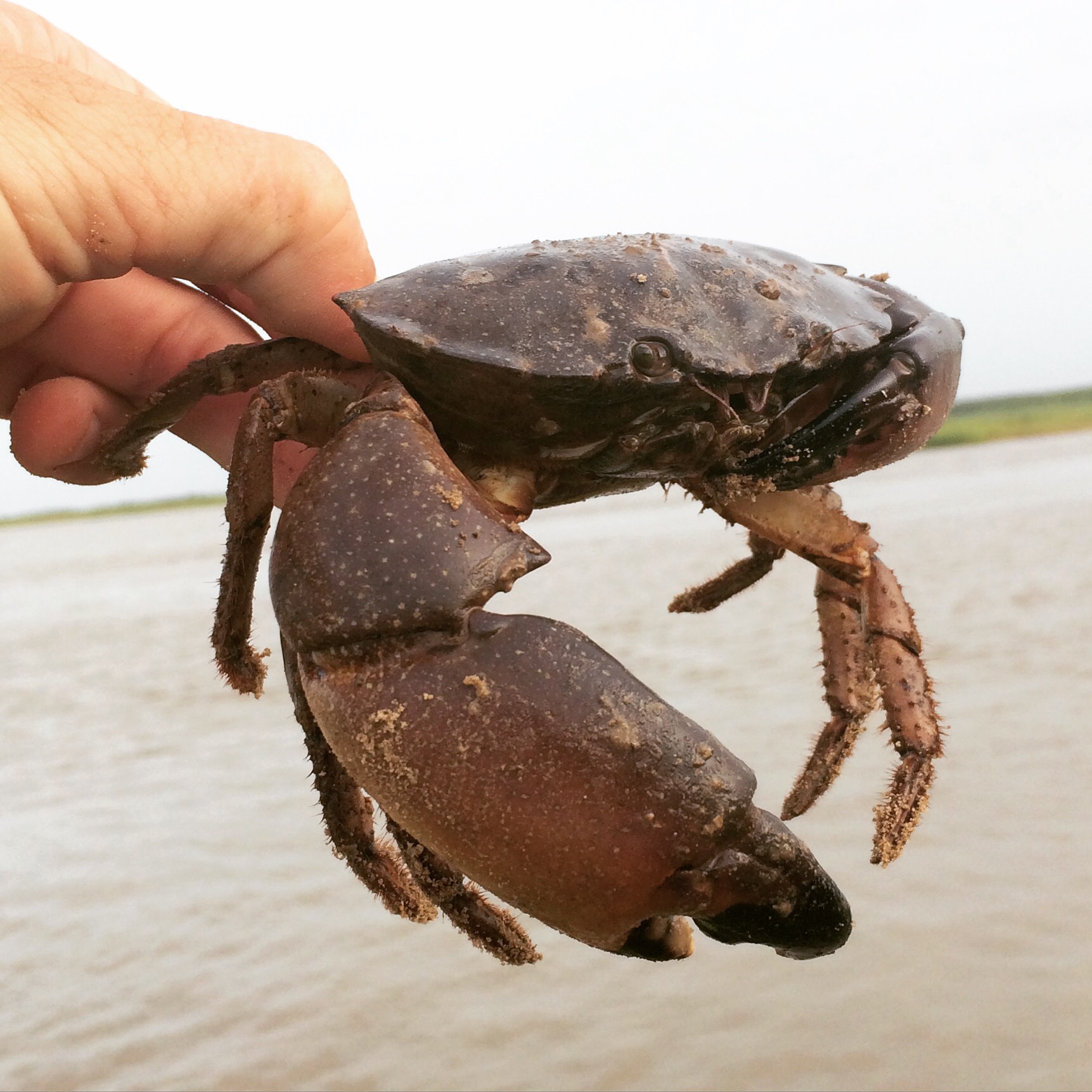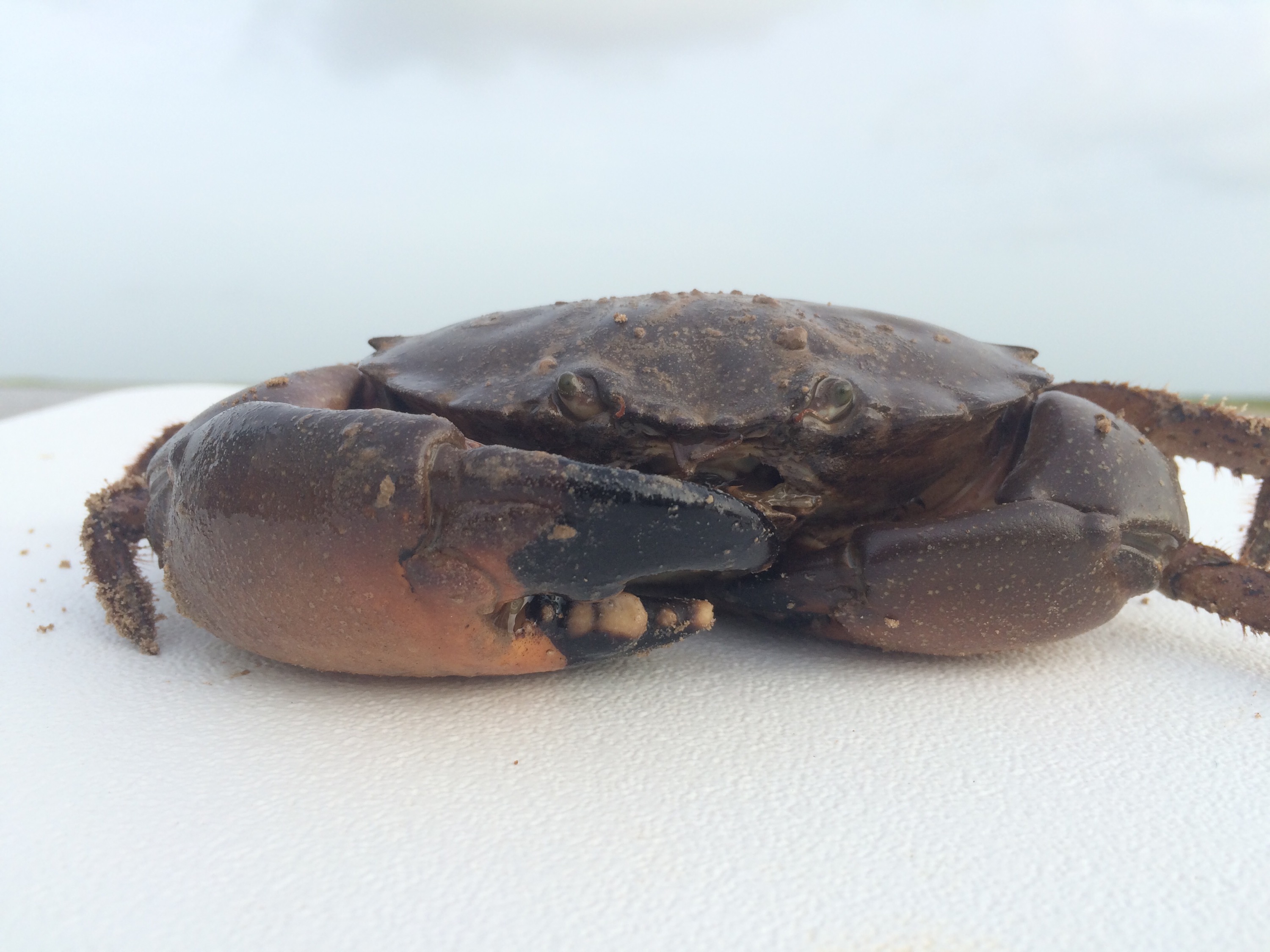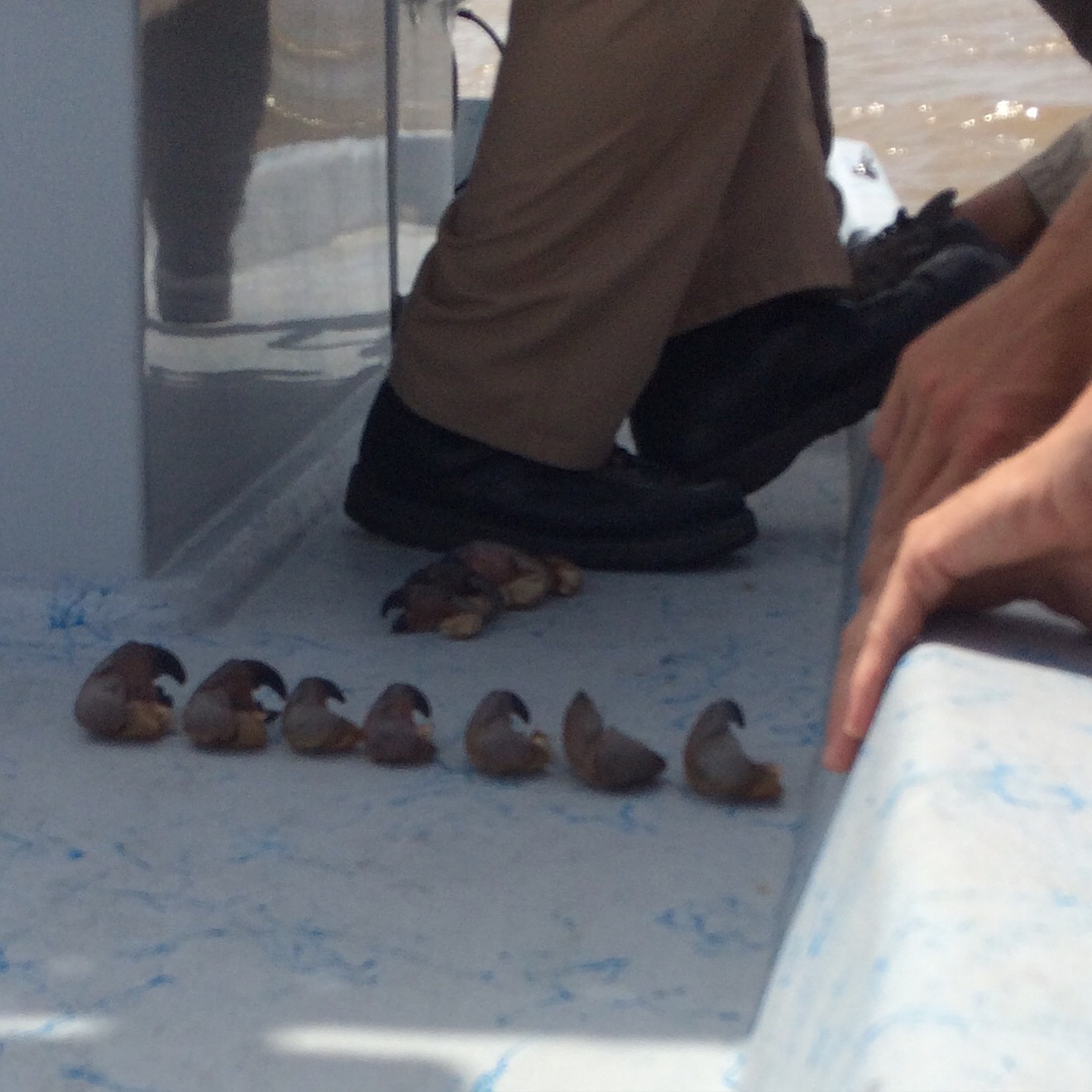 That $175 would buy a lot of gas for the boat but we took what remaining grabs and fish we had and went back to have a big crab boil.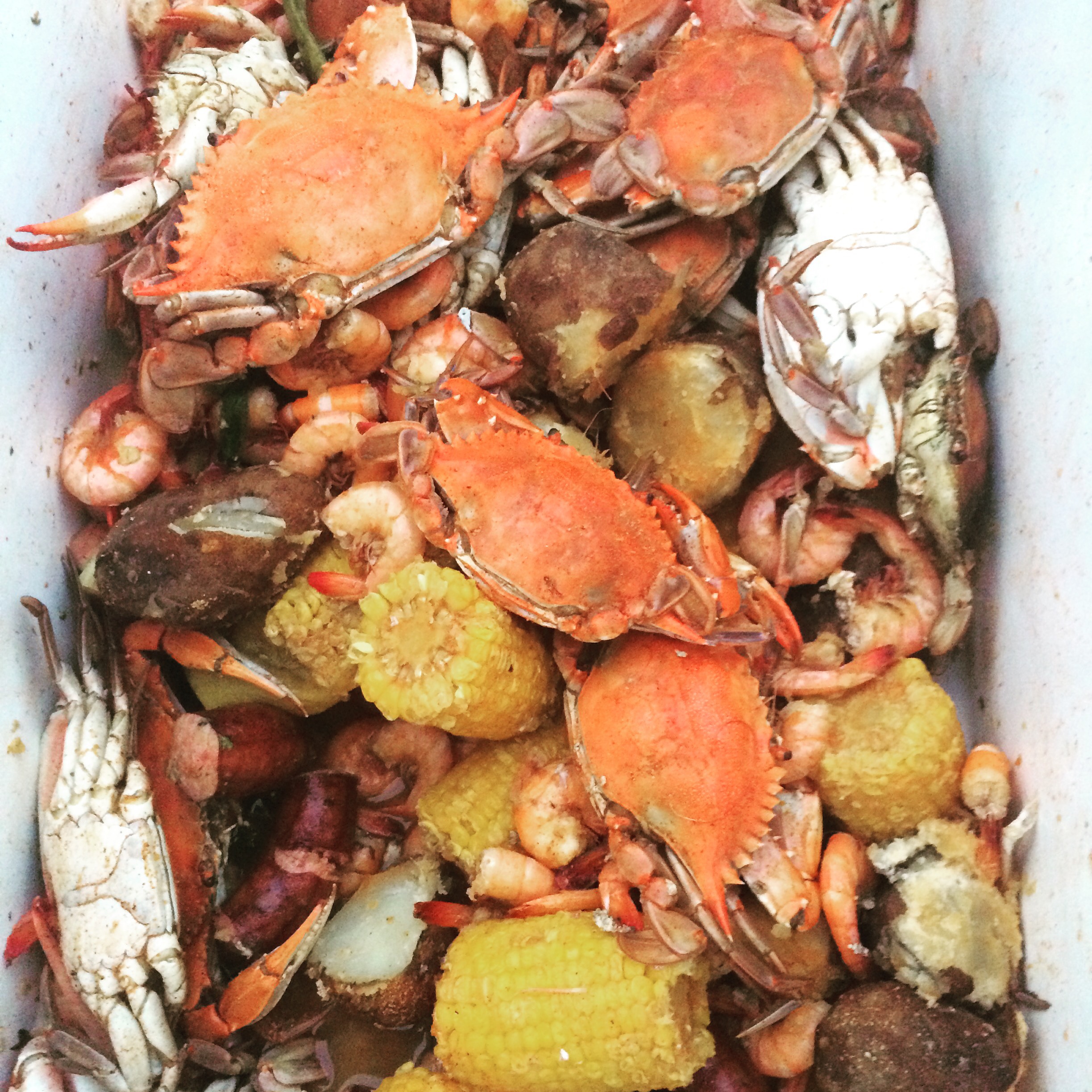 We had a feast with some of the locals and other family that stopped by, then like I seem to do I made a fool of myself. A big Texas rat snake swam the canal and came up on our side so I was gonna be all cool and pick it up. Some how in the excitement I stubbled backward, dropped the snake and ended up eye level with it. These are not harmful in any way but when he struck and narrowly missed my face I will admit it raised my heart rate a little, but in the end I tamed the beast and all the kids thought it was real cool to pet the snake.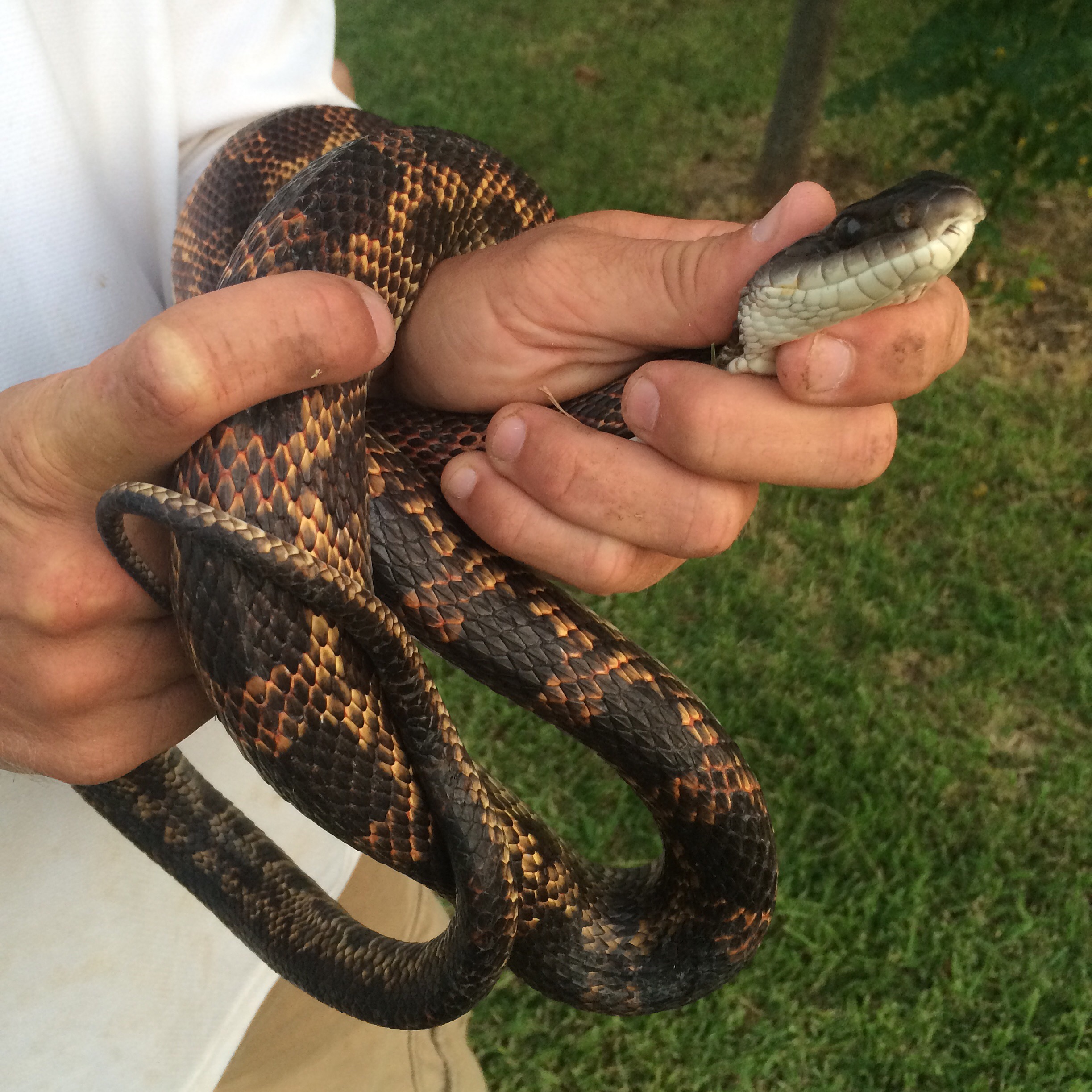 I did not realize that there were gator gar in the canal until we left a bait out and came back to a reel that was empty of 200 yards of line. I watched the water from the dock and seen several big fish surface so even though I wasn't really equipped for the gar I did my best to hook one. We had several runs through the night but couldn't get one in. When I return I will have a gar rig and we will play this game again.
It was a fun trip but as usual not near long enough, the good thing is I have a little time to prepare better for the next trip and should be even  more successful next trip.