Since my baby left me, I………Im kidding it's not that kind of blues, it's not the Double Wide Blues either although if you don't get that reference to the great Todd Snider song you should look it up. It has nothing to do with fishing but it is great tunes. I'm talking about these blues.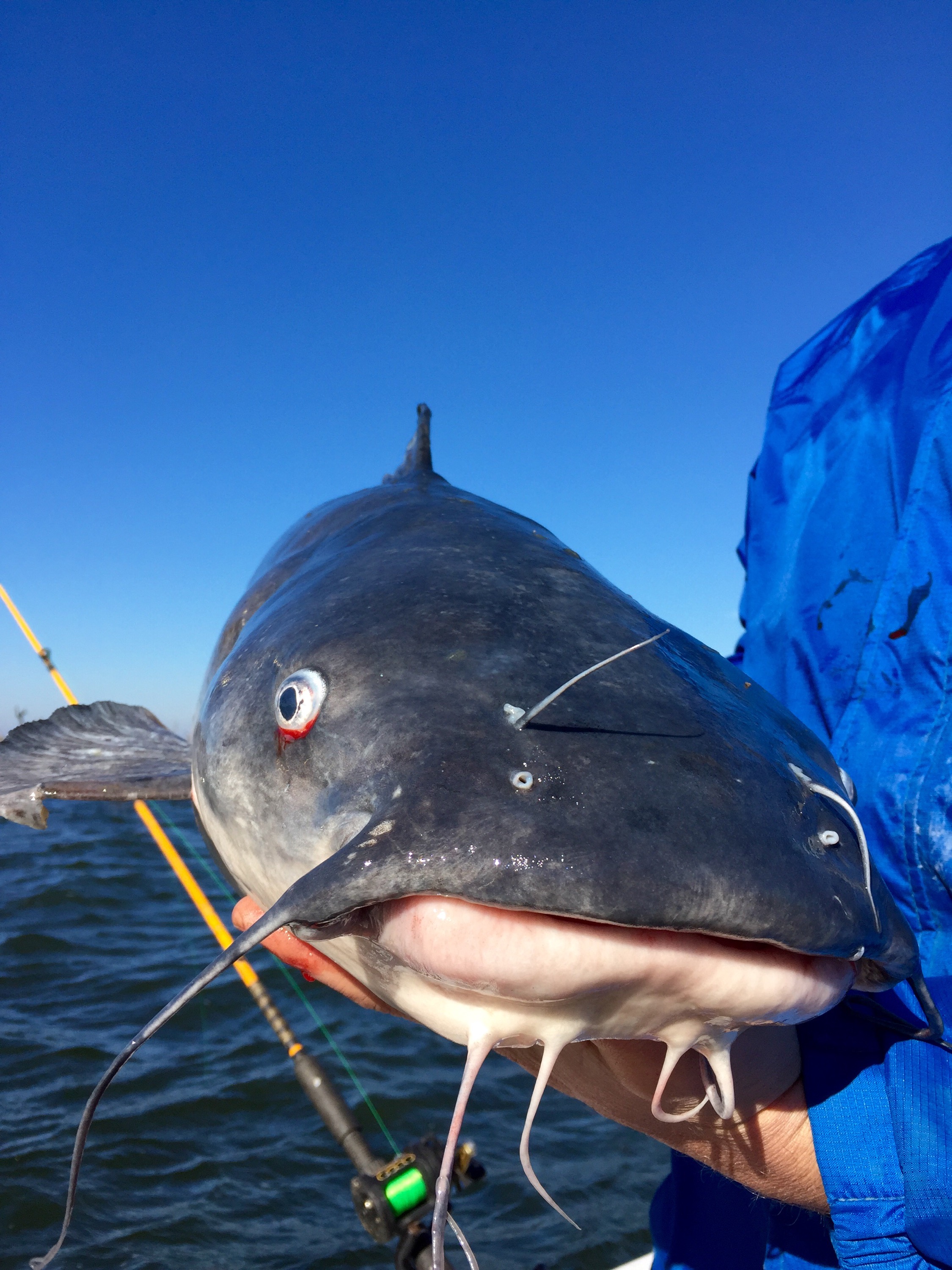 The beautiful or ugly, depending on who you ask, blue cat of Lake Tawakoni Texas. When the water gets cold in late winter I always try to find my way to Lake Tawakoni to fish with David Hanson of Little Ds guide service. I've fished with David a half dozen times or so and always catch fish.
The crew on this trip would be myself, my cousin Ronnie who you may remember from the Tucumcari antelope trip this year, our friend Ruddy and of course D.
We got to the ramp before daylight and it was cold, 30 degrees with a little wind but it is January so you can't really complain about the weather, I expected worse.
We made the couple mile trip across the lake and got tied up in time for the sunrise. Is there a better way to watch a sunrise than across the water from a boat?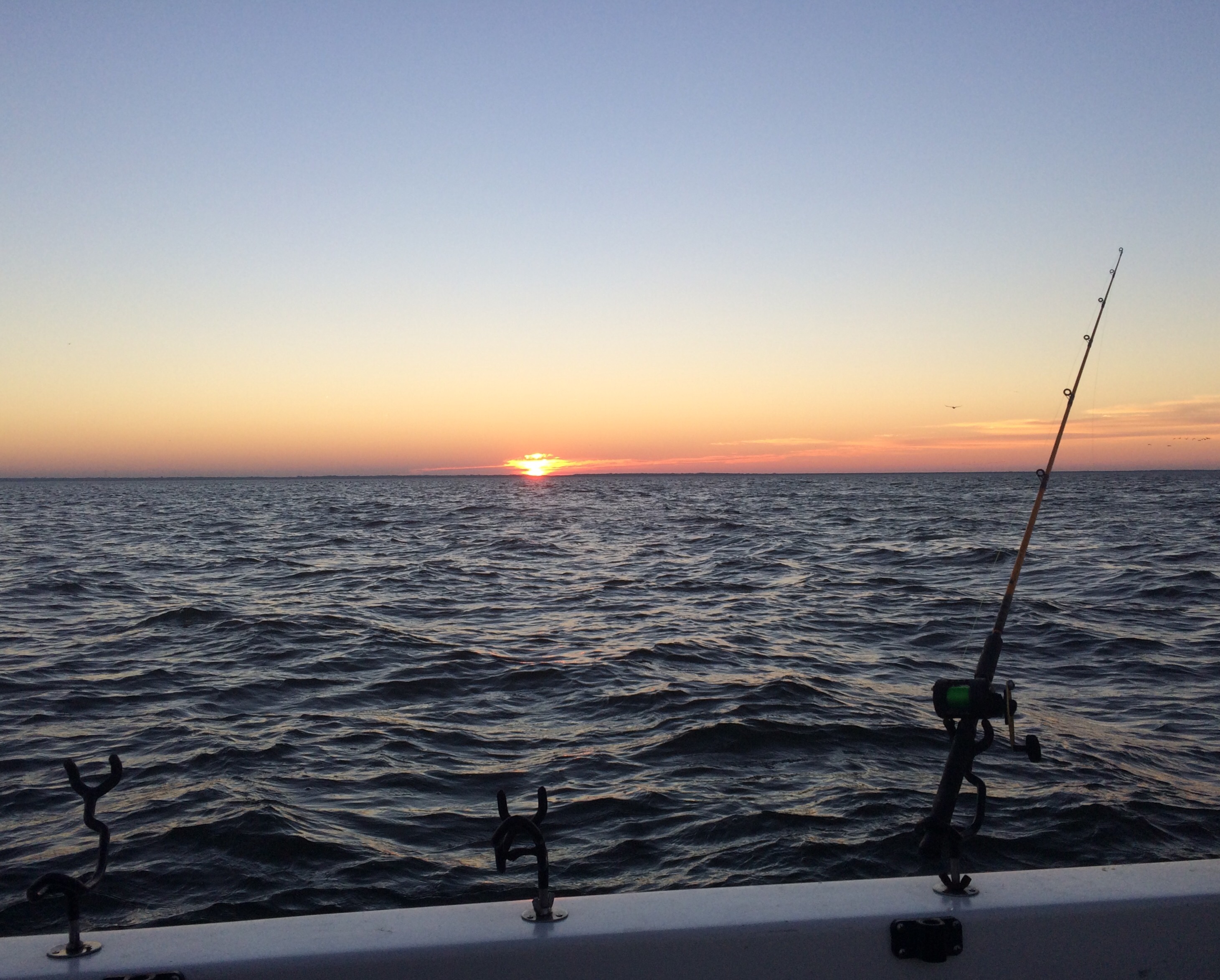 We barely had got all the lines in the water when one pole went down and a few minutes later I had boated a cat in the high teens. A good way to start a day. Minutes later another rod went down and this fish was bigger. I had told D that of all the blues I had caught I had never broke 38 pounds but he assured me we would break that today. When we put this fish on the scales, surprise exactly 38 pounds.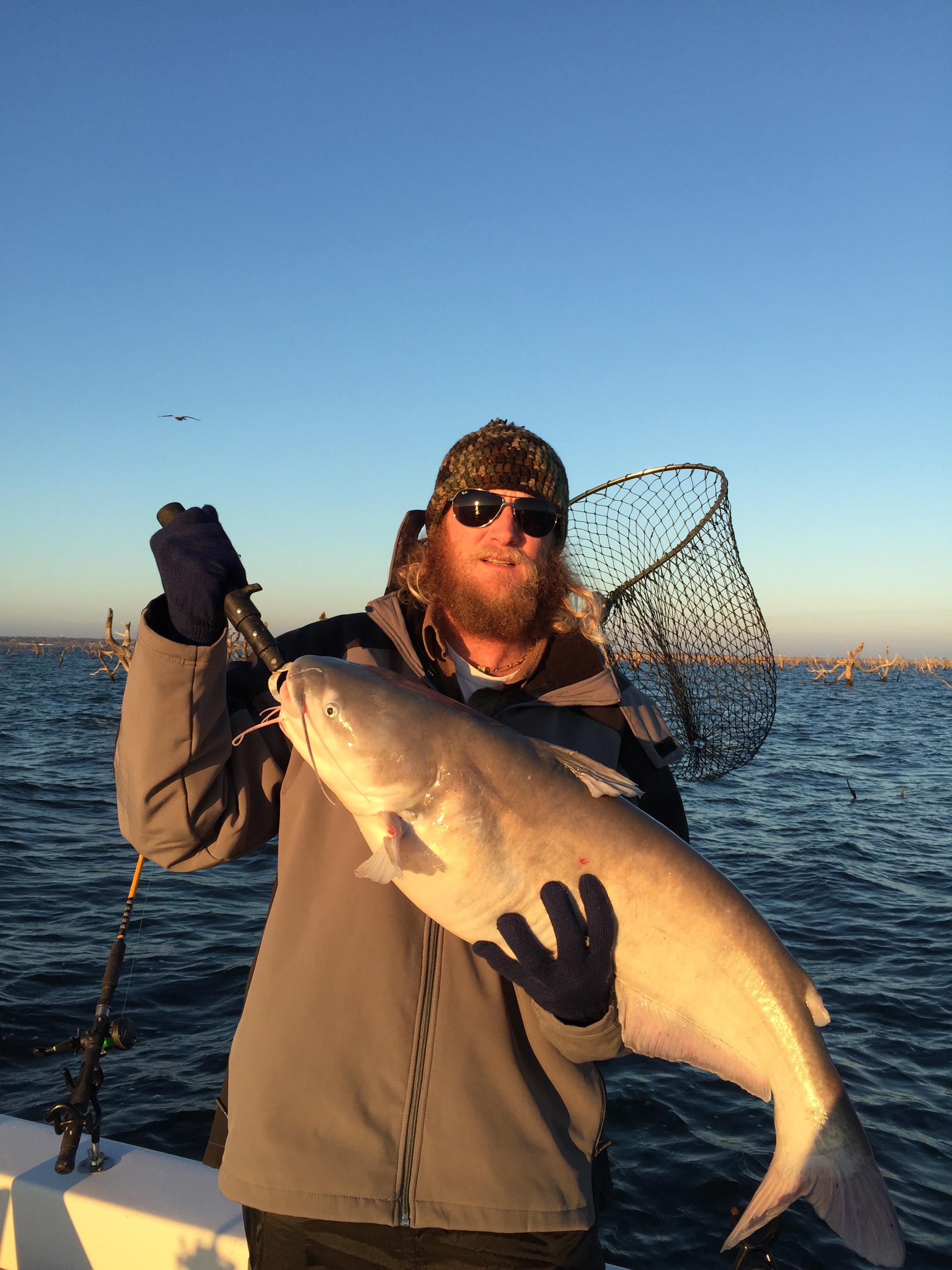 I got settled back down and had a sip of coffee and Ronnie had hooked another fish and this fish was obviously bigger than the previous two. These fish are heavy, they would be hard to get in even if they didn't fight but Ronnie won the battle and D netted a nice 49 pounder. In about a half hour we were already over 100 pounds of fish. Doesn't seem fair does it?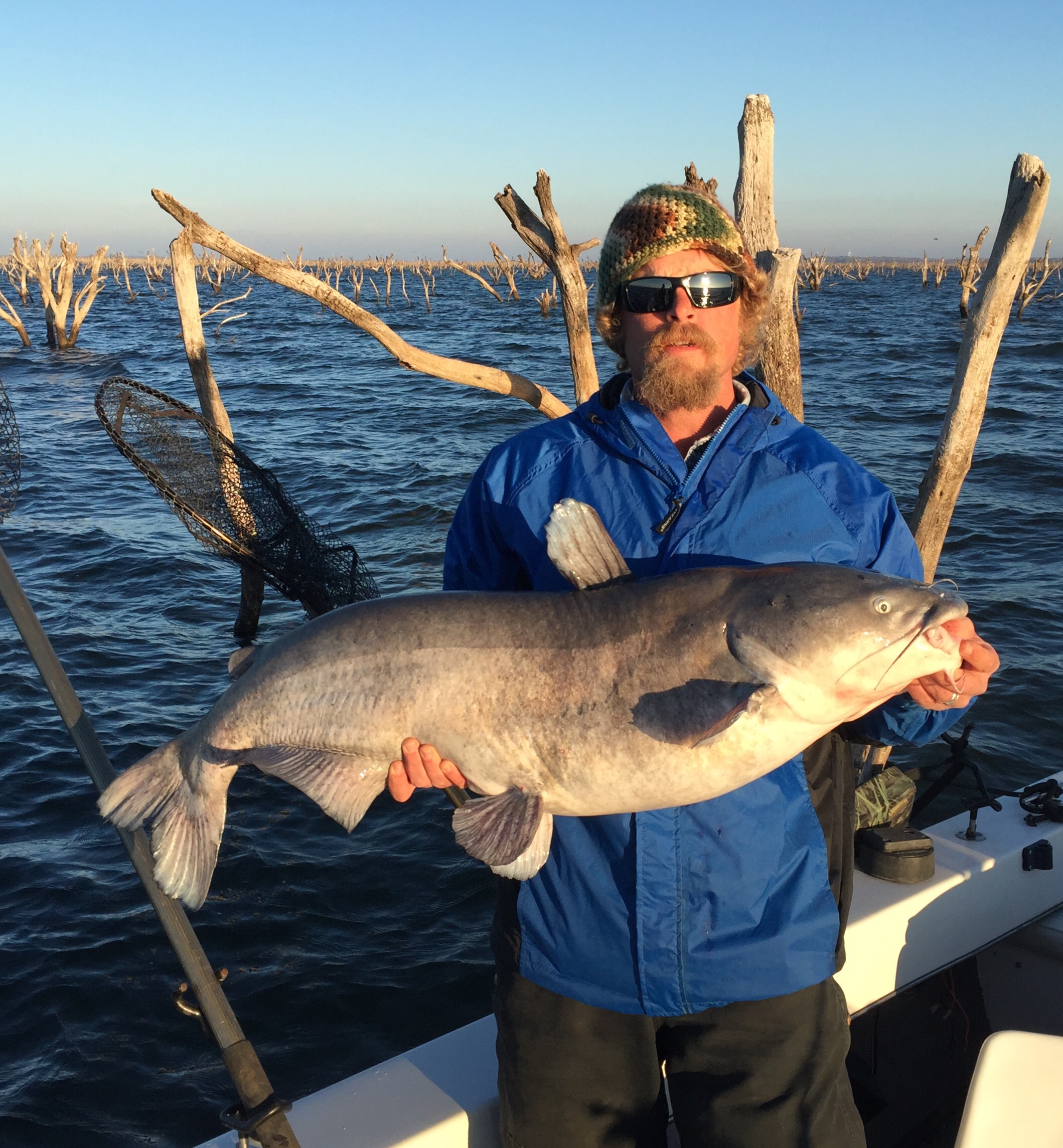 I was having a hard time drinking coffee for all the bites we were getting and once again a pole went down. I knew this fish was big when I picked up the rod and when we put it on the scales I had finally broke 38 pounds with a nice 44 pounder.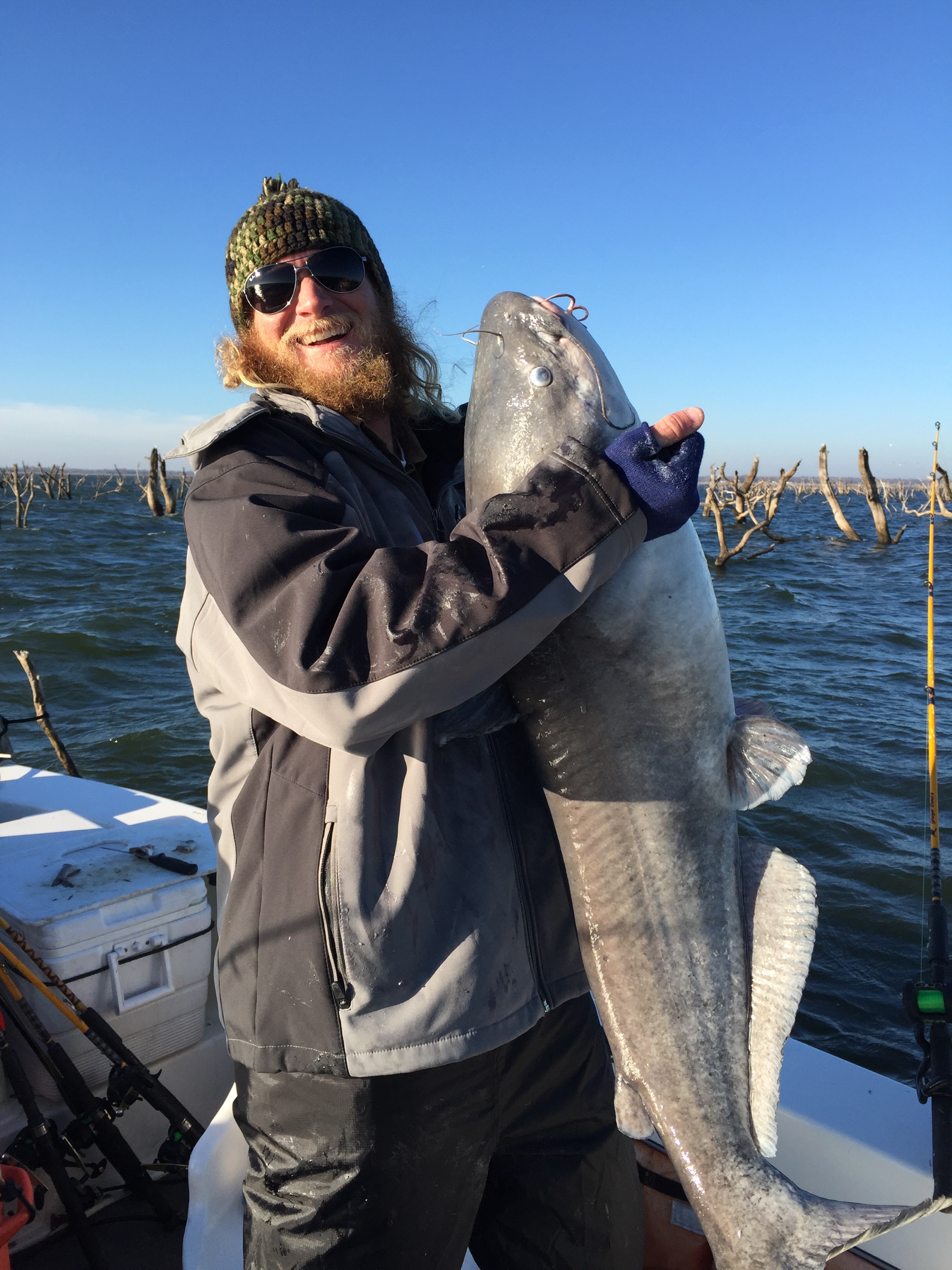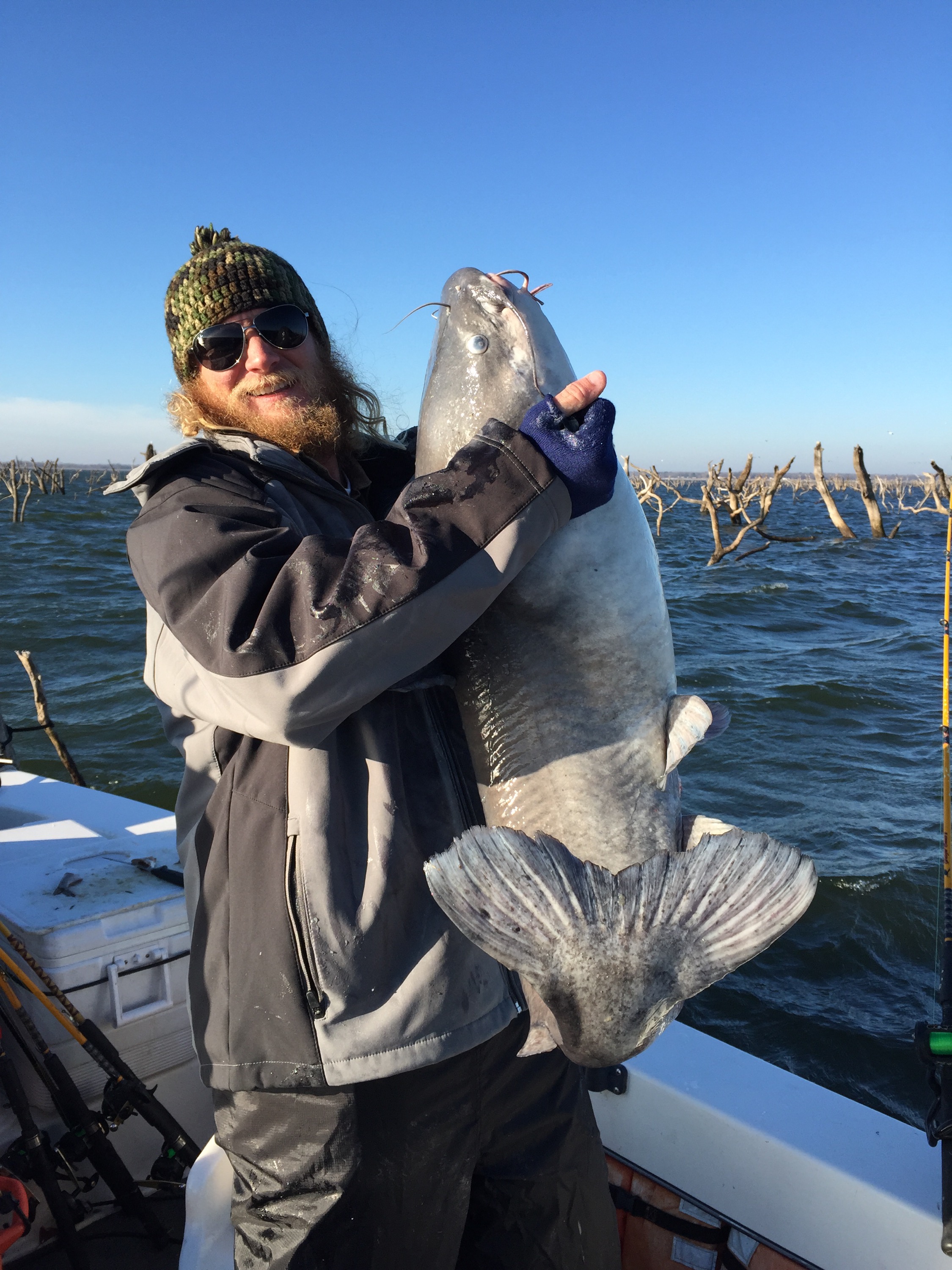 Now my man Ruddy is a fish eater, don't get me wrong he likes to fish but he came for fillets not big fish. We don't clean fish over 20 pounds and personally I don't like cleaning them over about 10 pounds so all these big fish were fun but not helping us get any fish to eat. Each time we hooked another big fish Ruddy would just slowly turn and look at us from around the hood of his Carhartt jacket.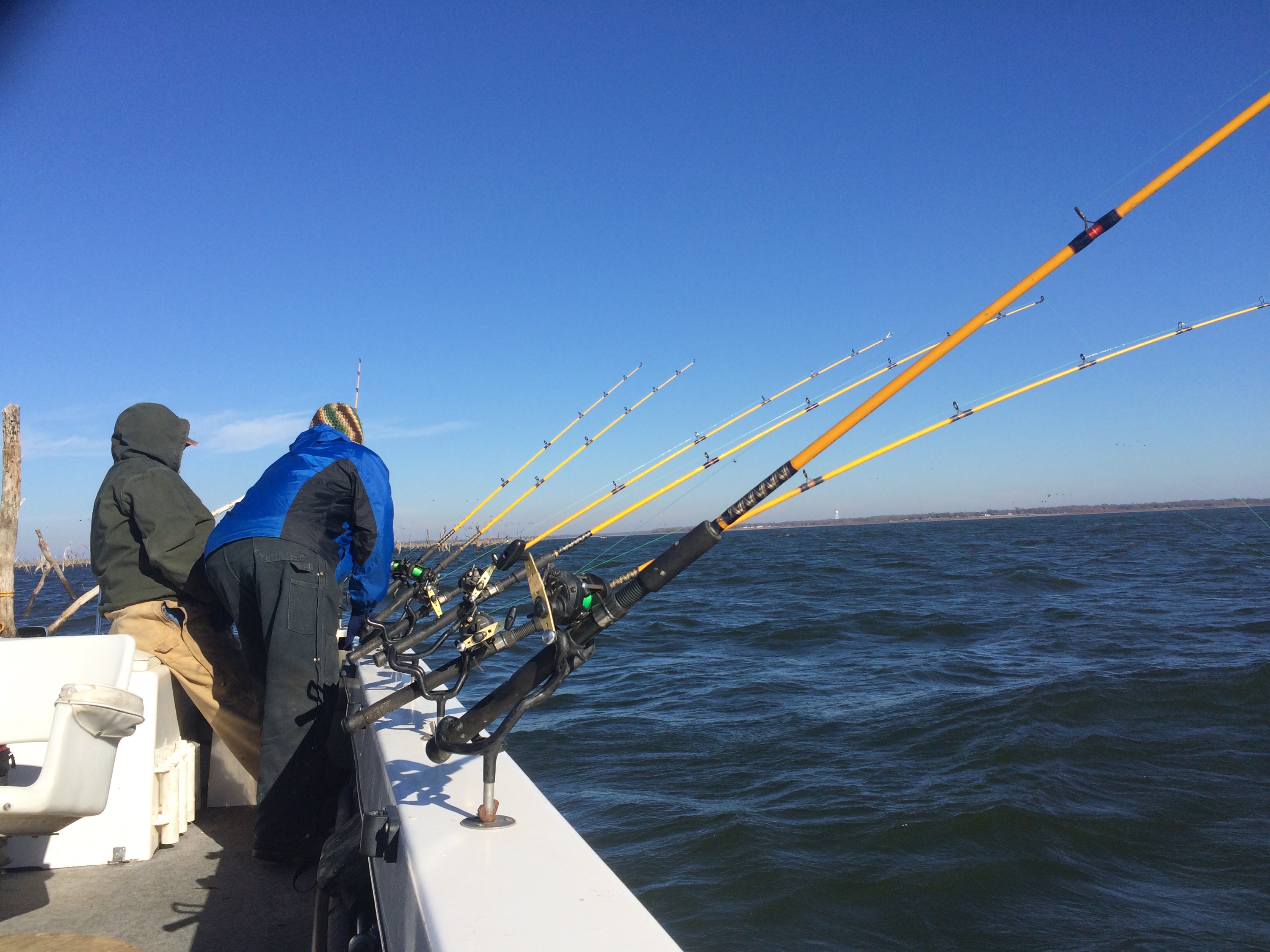 I don't remember all the weights of all the fish but we landed 7 over 30 pounds and several in the teens.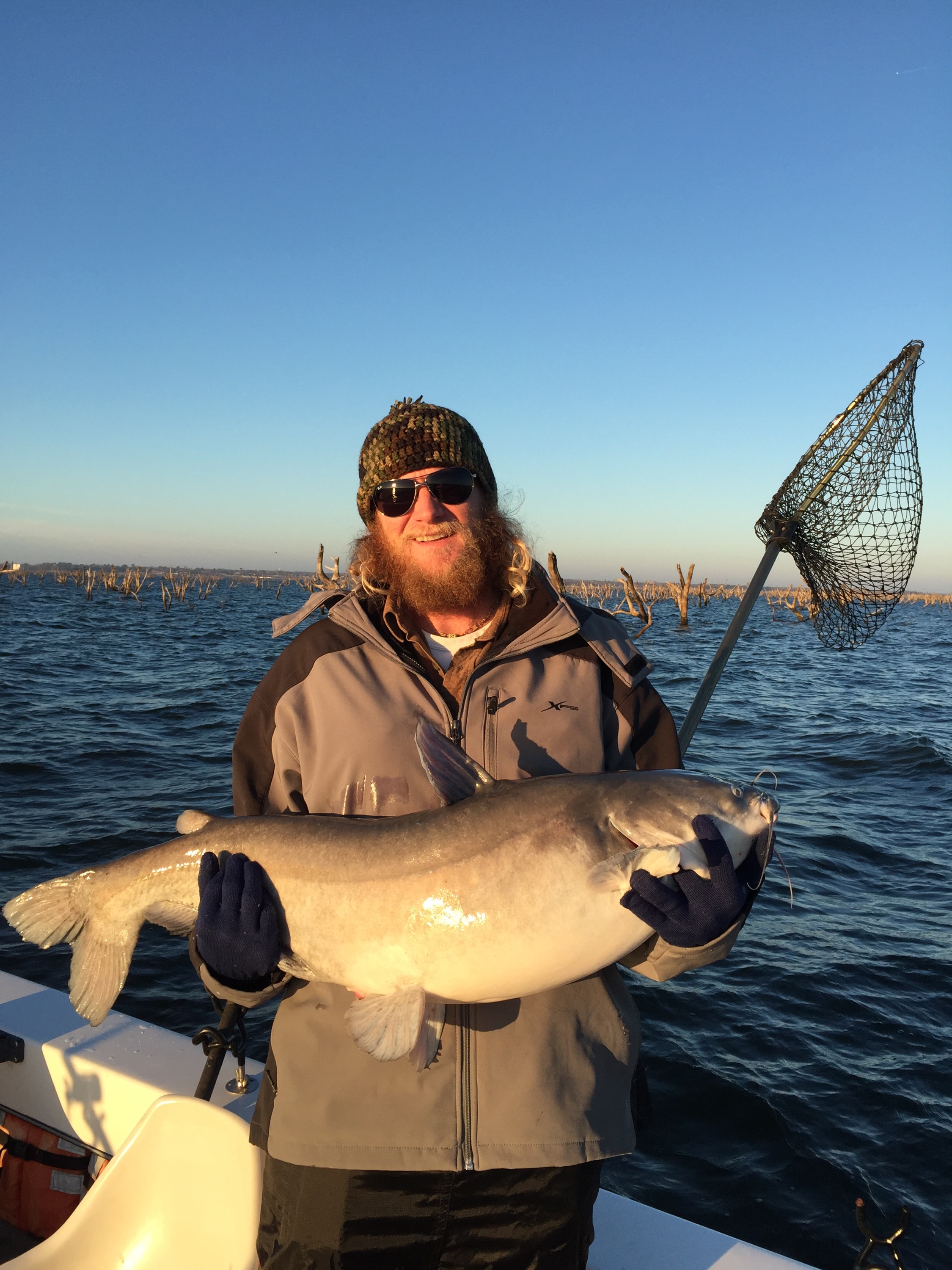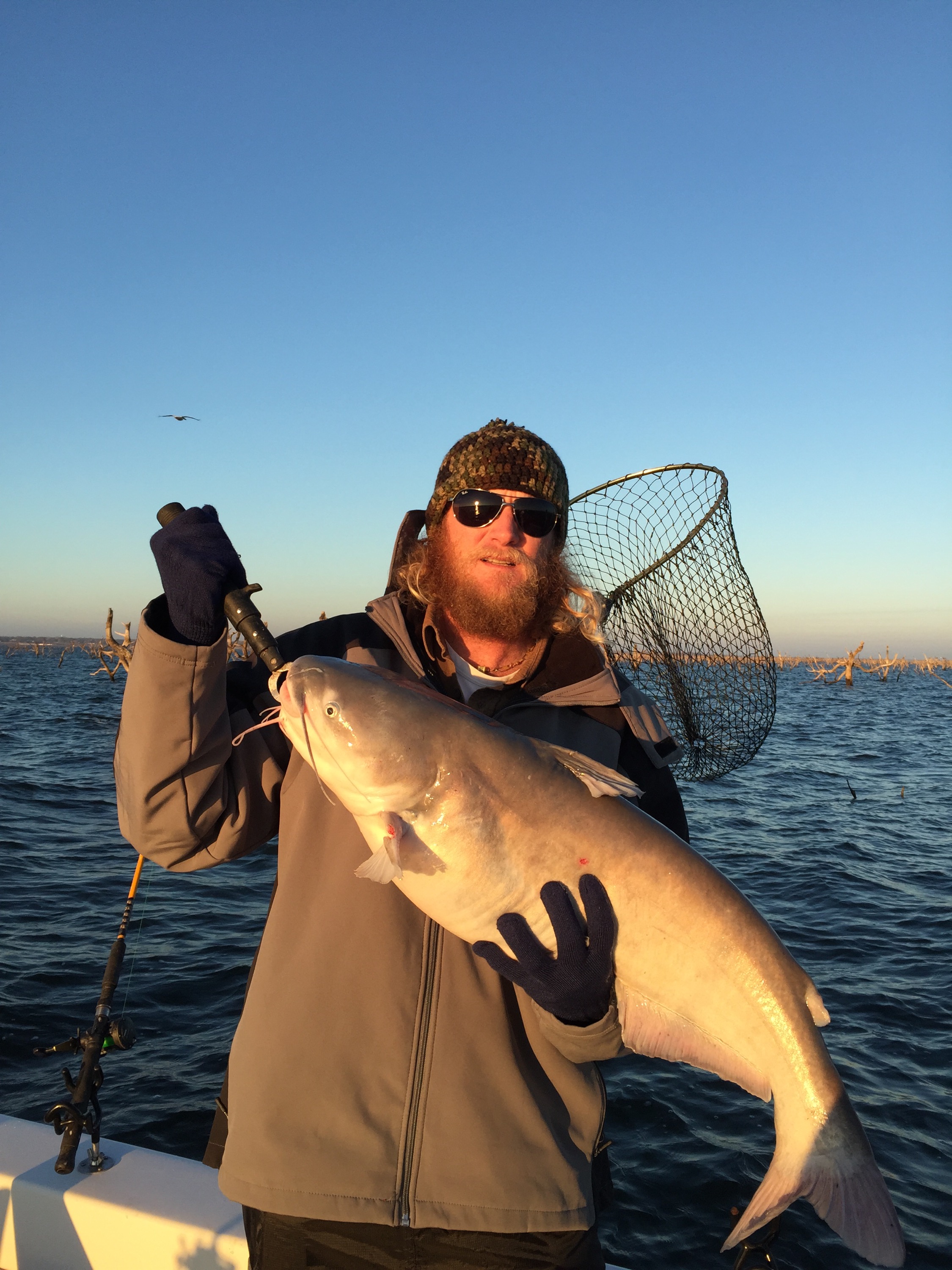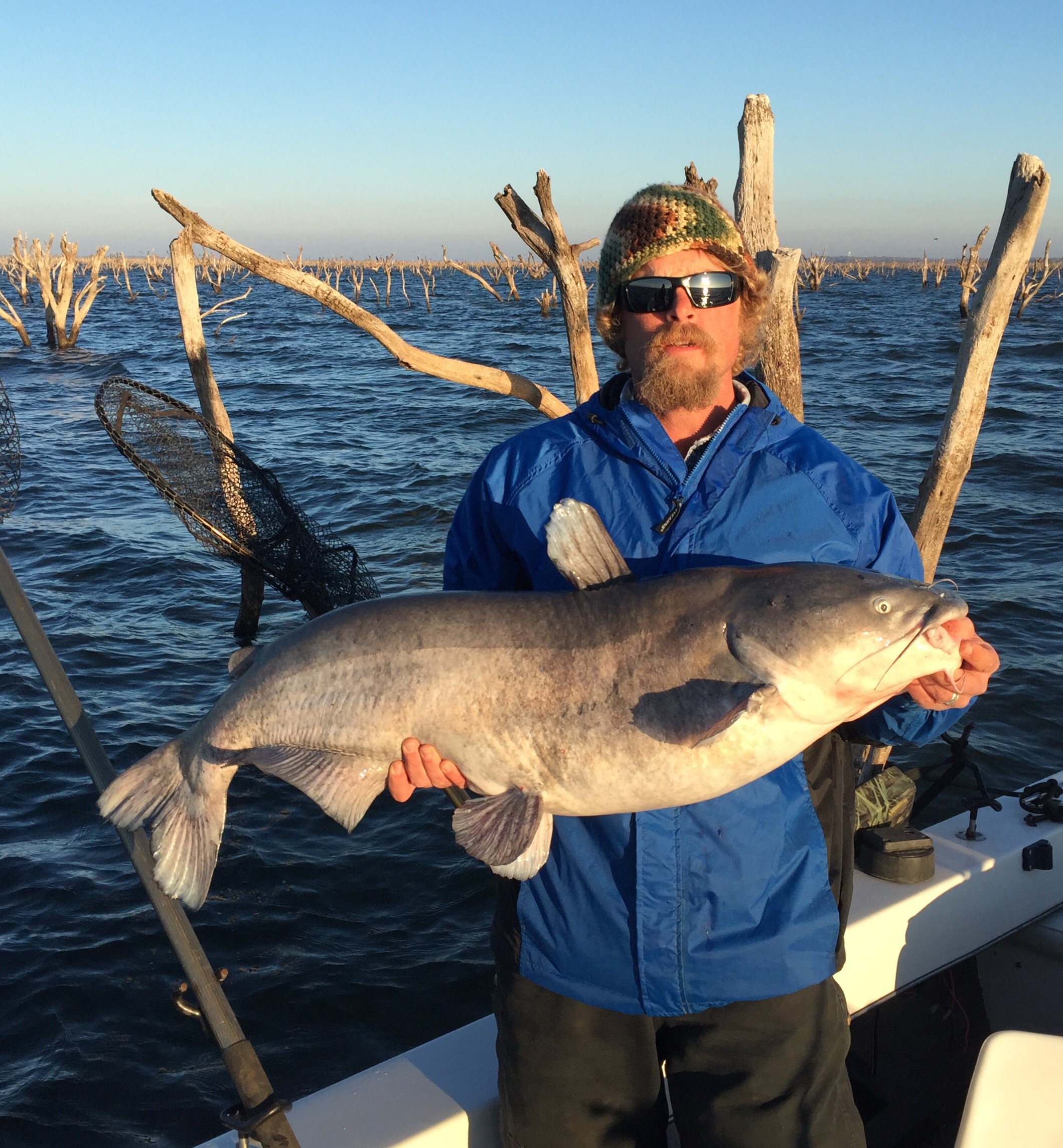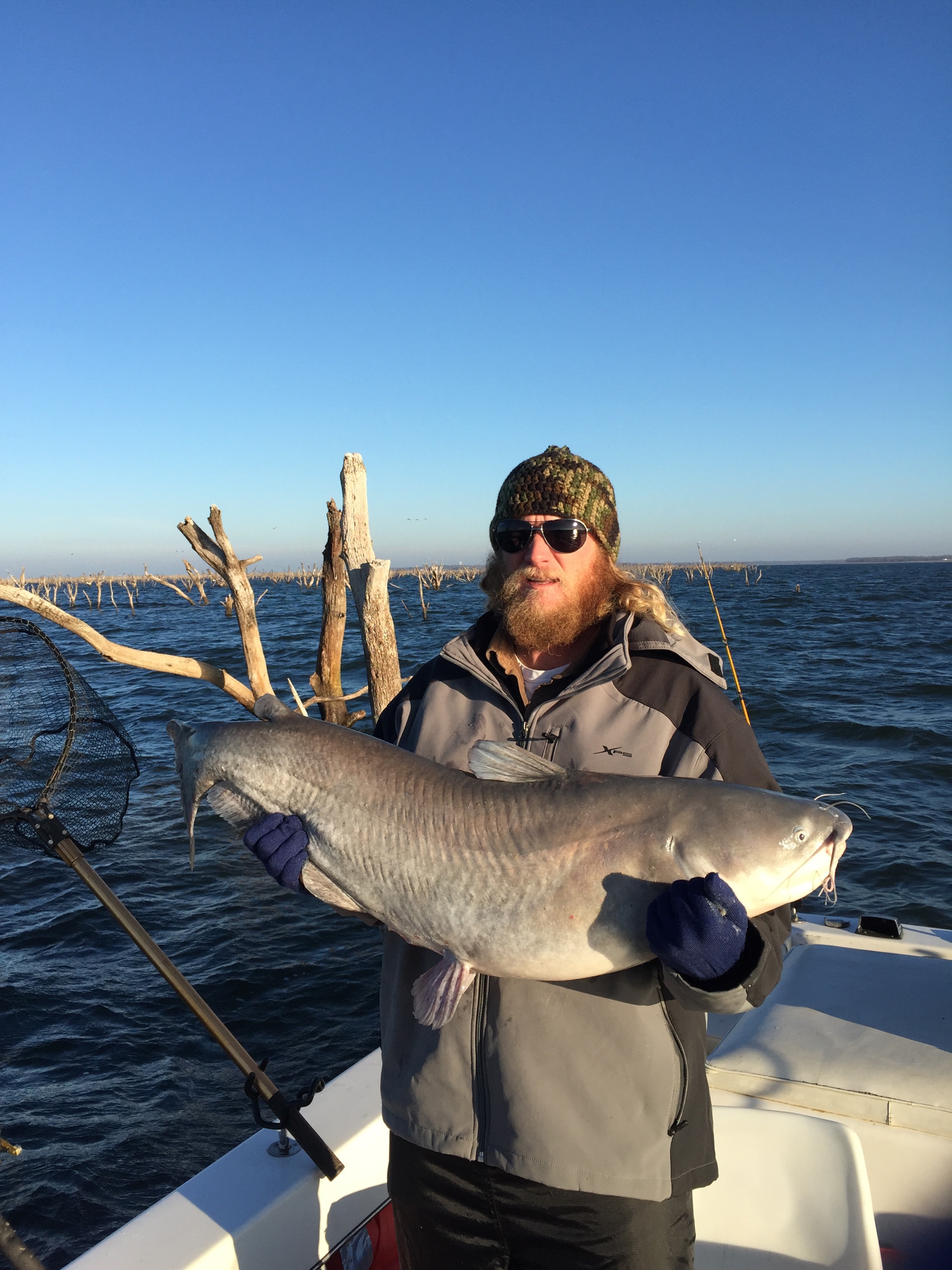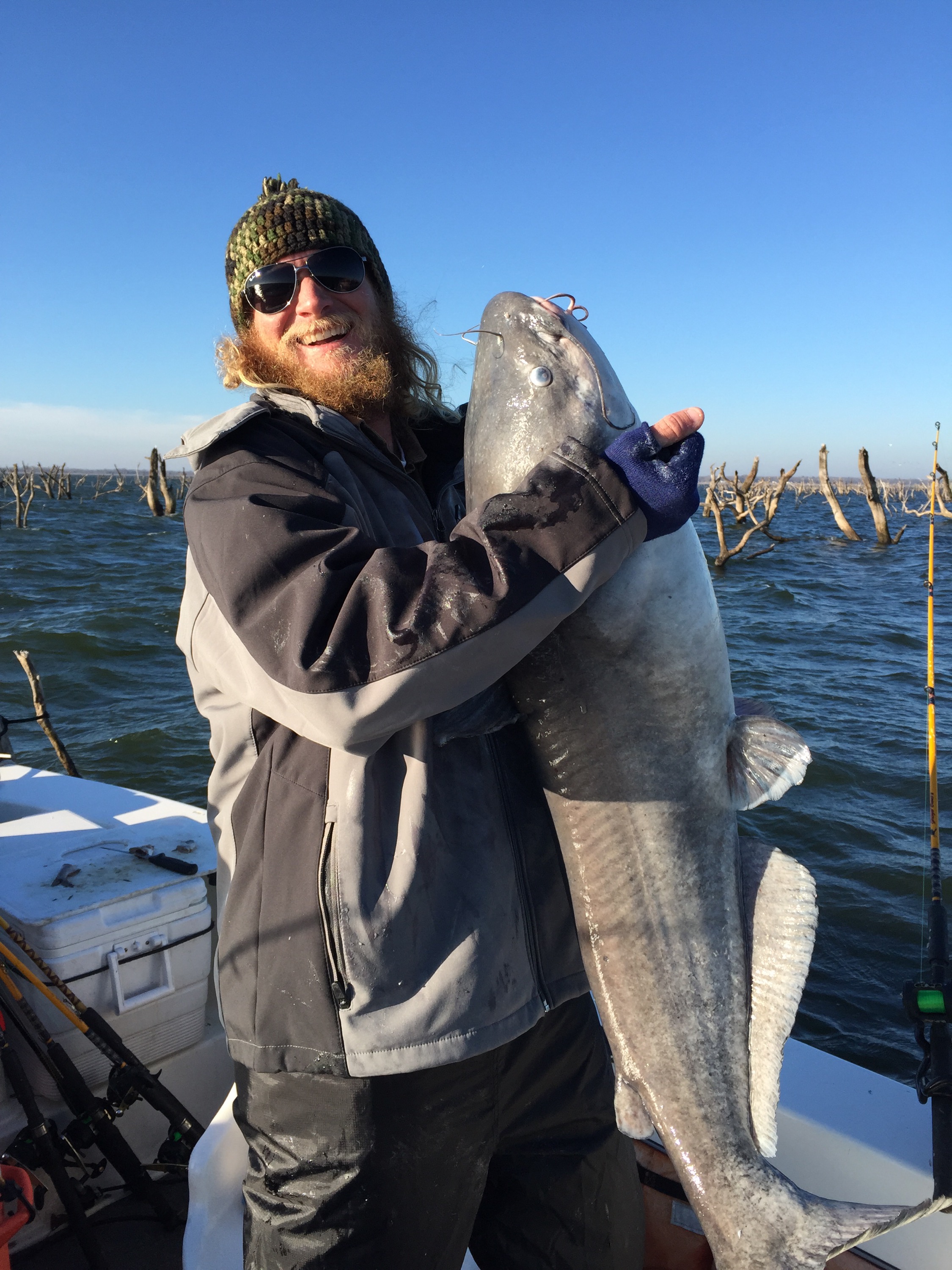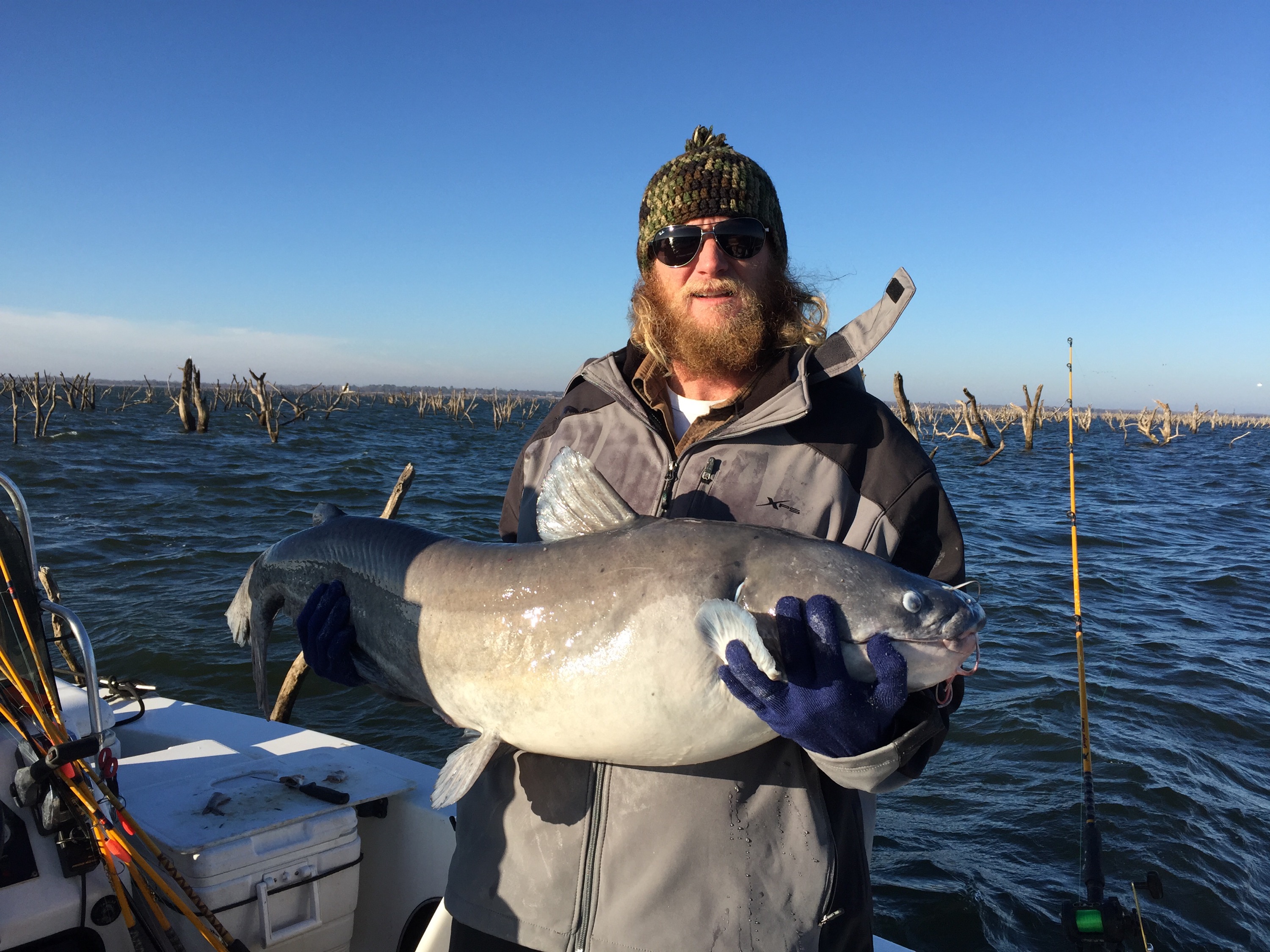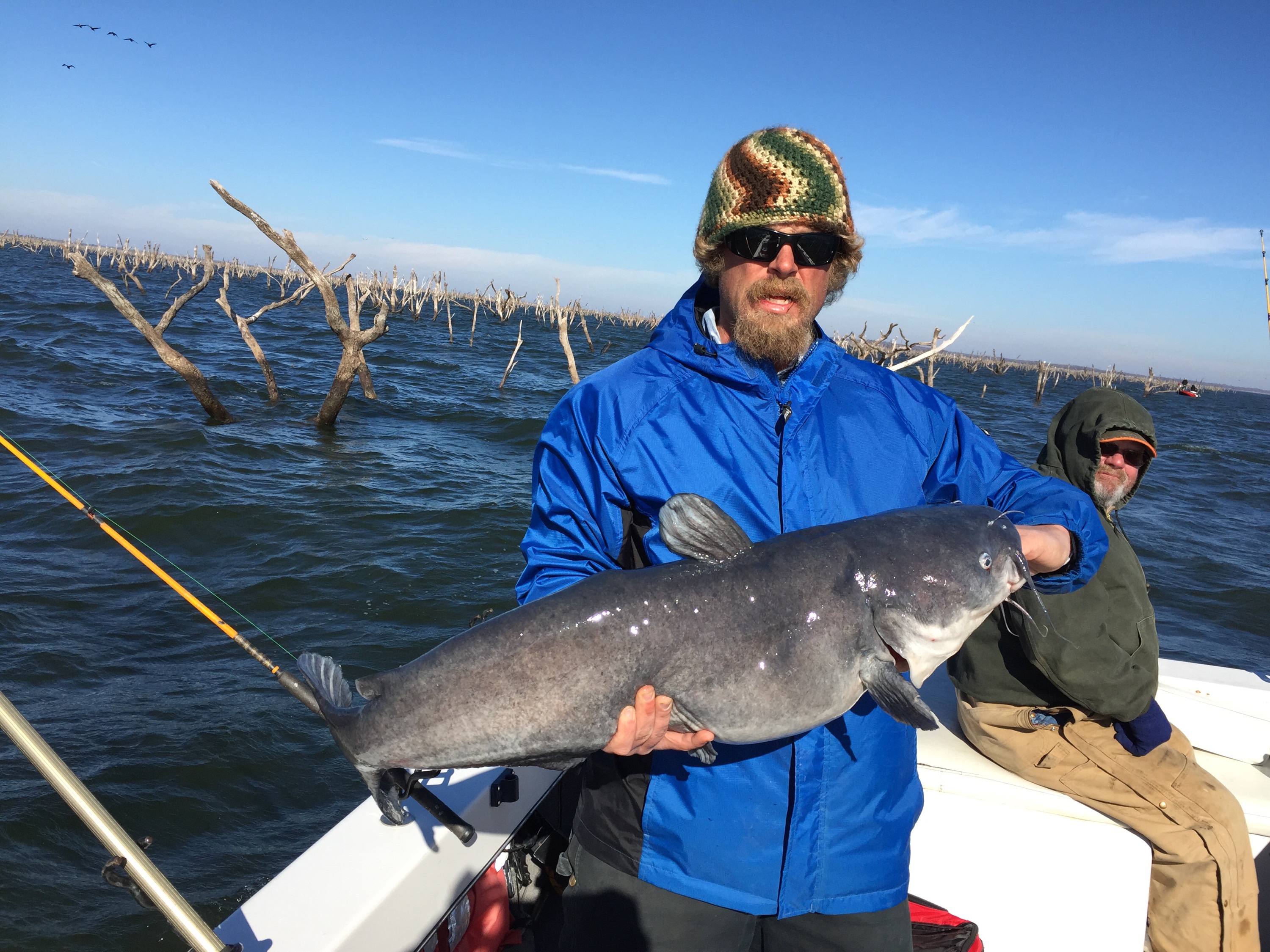 After a few hours the wind picked up considerably and the bite had slowed so it was time for a move. The good thing about wind is it lets you drift and cover more water. I'll explain this briefly. When drifting the boat needs to be moving about a half a mile an hour but with a 20 mile an hour wind a drift sock or two is needed. These are like mini parachutes that go in the water and slow the boat to the proper speed. One or two socks will be used depending on wind speed and the front of the boat is kept straight with the trolling motor.
Just minutes after we set the lines out for the drift we got the first bite and it was just what Ruddy had been waiting on, fillets. We had about a mile drift and picked up 15 or so eaters.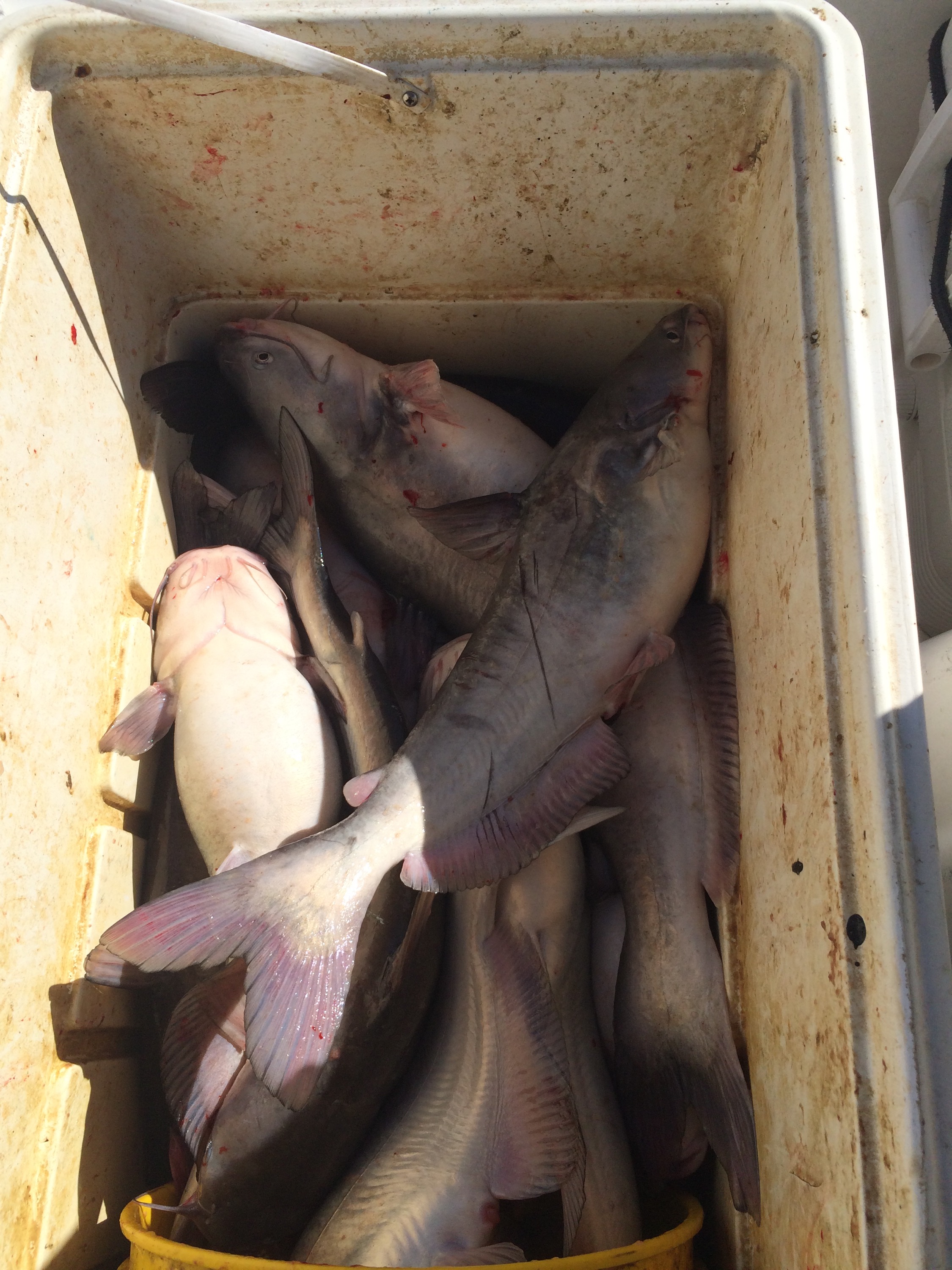 David keeps the boat straight with his trolling motor by a remote on his wrist so he can sit facing the rods but still keep us going in the right direction. He makes this look easy and makes the fishing look easy but trust me when I tell you that it's not. David does his scouting for fish and keeps his equipment in working order. I'm very lucky to have found several guides that I would fish with anytime. David Hanson on Lake Tawakoni and Johhny Stevens at Eagle Mountain Lake both are good fisherman but more importantly good men. I don't wanna go fish with a guy who's just waiting for the day to be over. When you find good guides it's like fishing with friends you've known forever.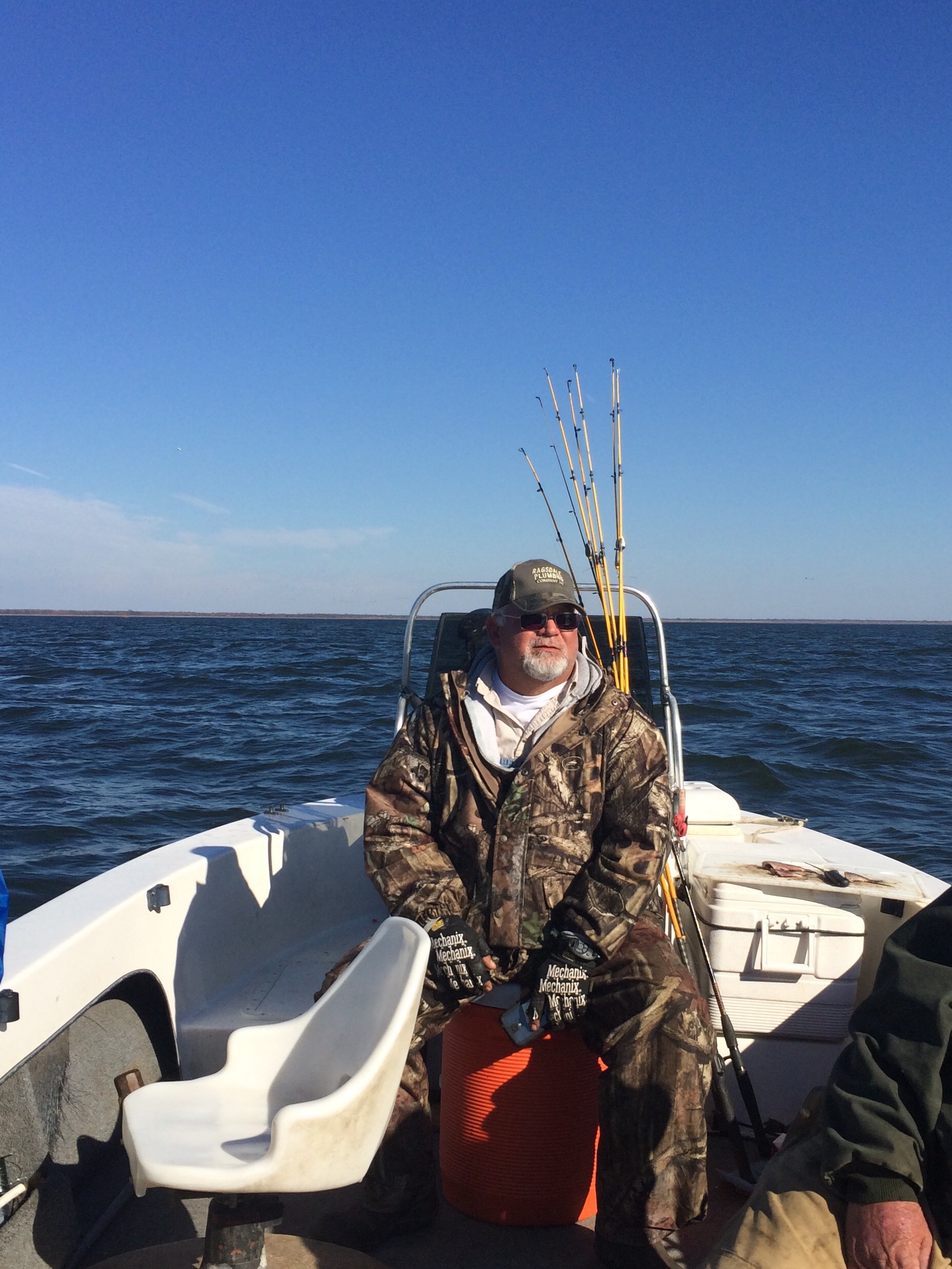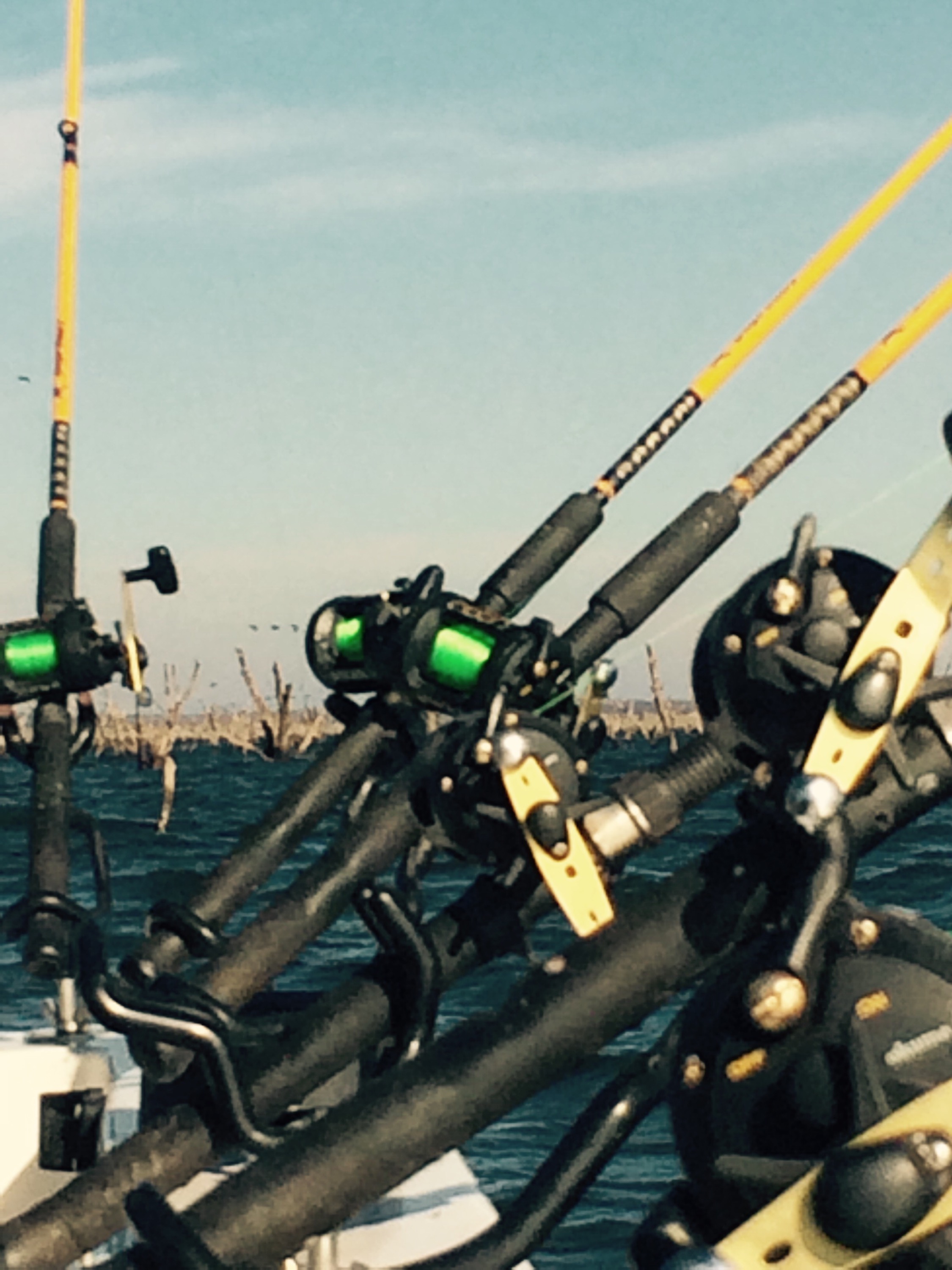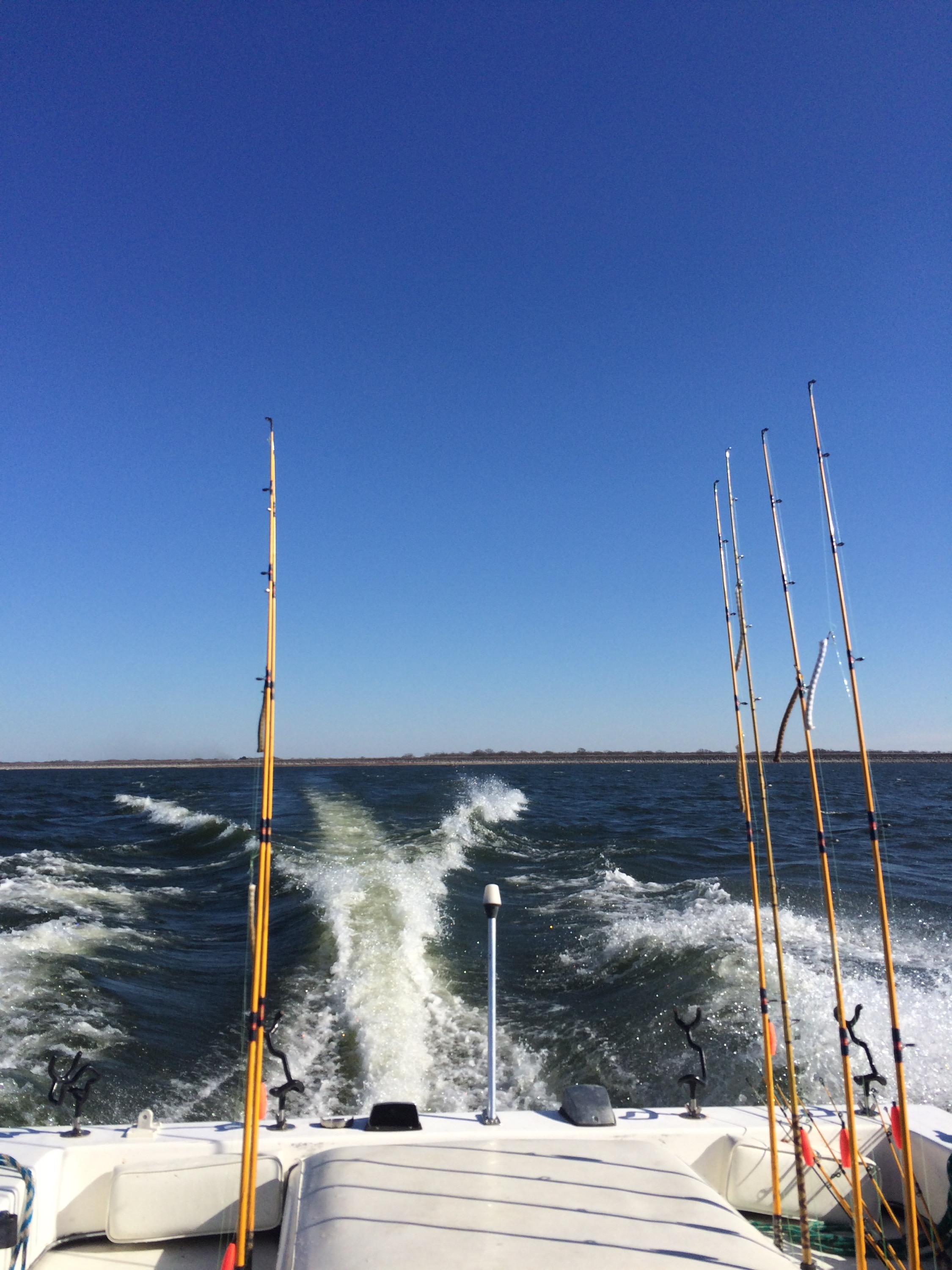 You know you've had a good a day when your coat looks like this, a nice layer of fish slime. About this coat, I normally don't talk about my equipment or mention brands but was impressed with this coat. It is a Bass Pro XPS with removable fleece liner. I bought it to snow mobile in Michigan because I didn't think I would get much use out of a snow mobile suit after I left Michigan. I'm not gonna go on about it but if you need a warm, dry, waterproof coat that blocks the wind buy this one.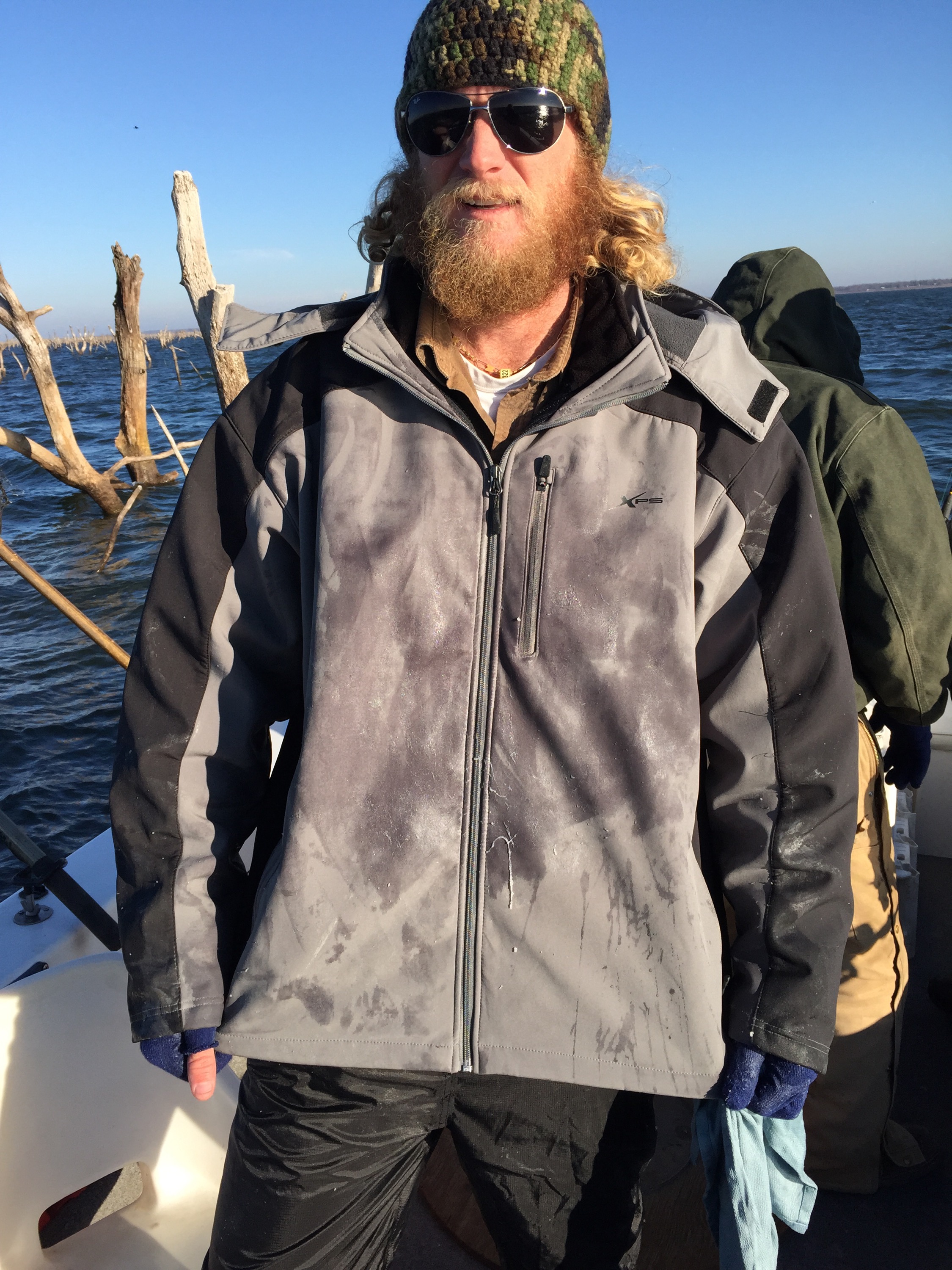 By 3 the wind was harder and we had plenty of fish for a good fry so we called it a day. Back at the ramp D made quick work of the fish and we ended up with about 4 gallons of fillets. We visited for a minute about fishing and there maybe some channel cat trips to Lake Fork in the future, if you don't know about Lake Fork it holds some very large channel cat and a lot of them so I'm looking forward to that.
Just five minutes from the ramp is Monroy's Mexican Restaurant so we headed out. I'll admit I was beat down and didn't put much effort into looking around or taking pics of the place but it was good, the food is good, the service is good and it's a nice place. They have great fajitas but I went with enchiladas this time.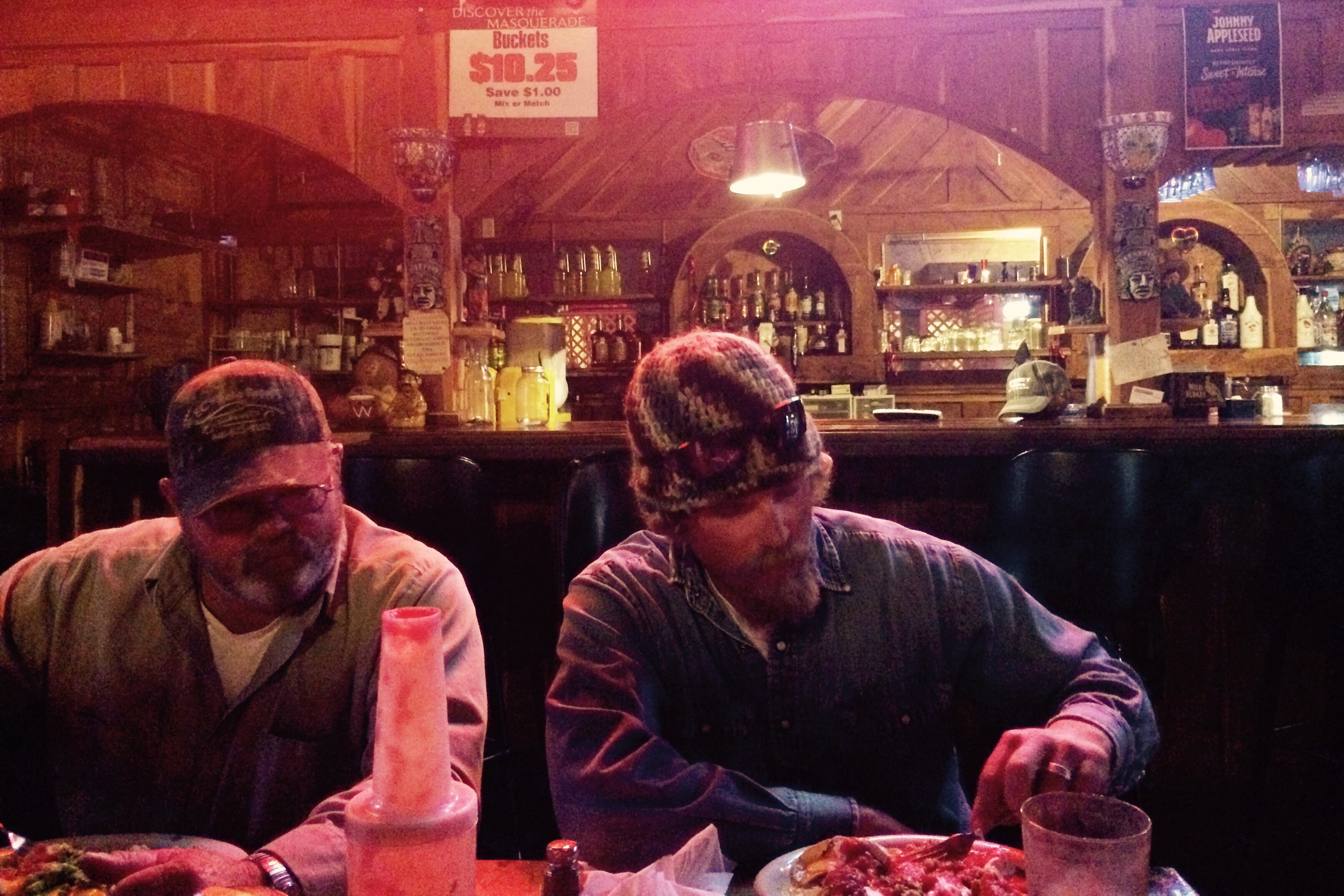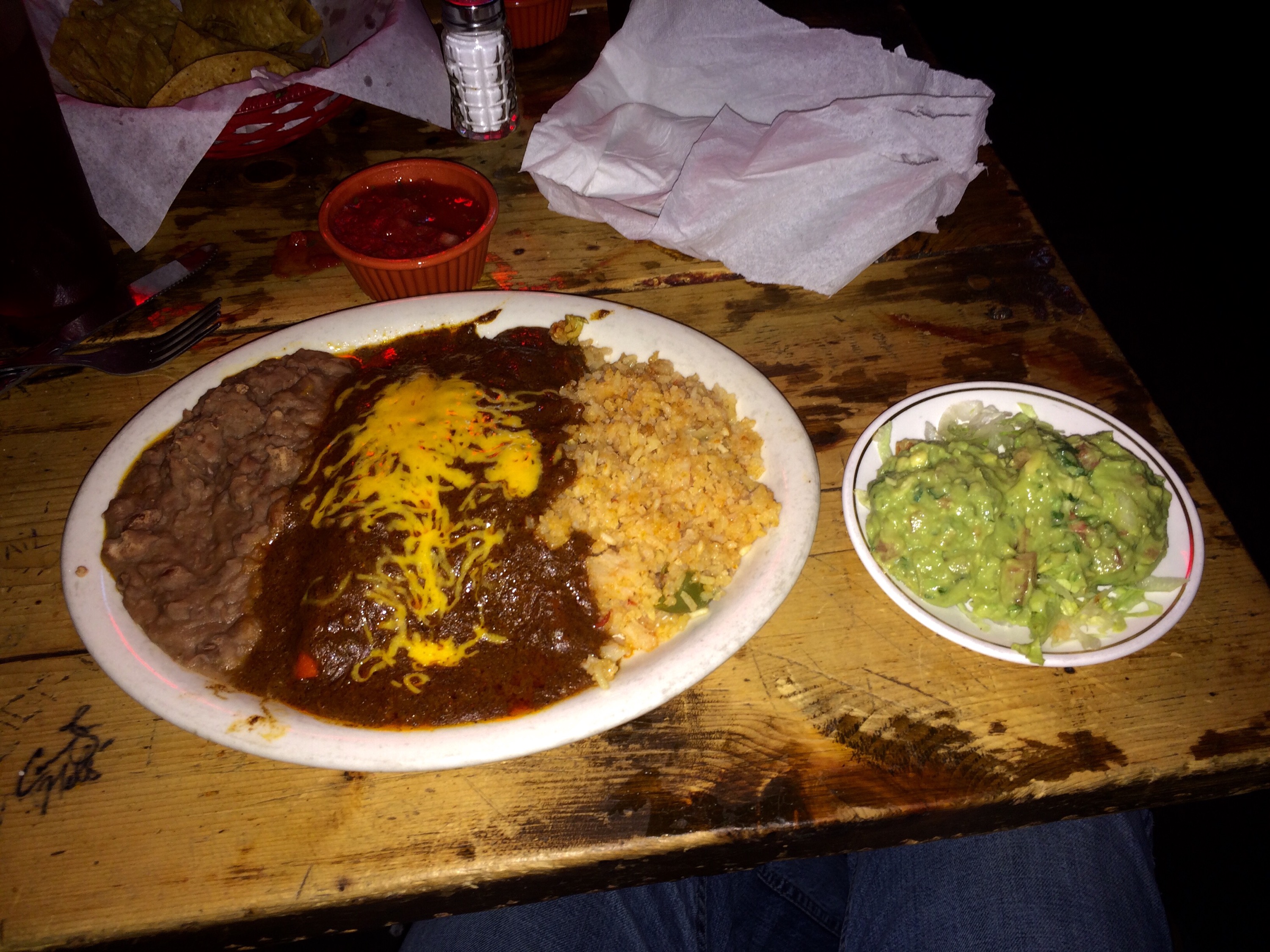 I had a few hour drive and it was hard to stay awake with a full belly but I made it and I can't wait for the next trip.