Over the last few days we've found ourself visiting family in Illinois for the worst of reasons. Mary's dad was very sick and on his last days with us. In the near 16 years we have been together I have visited here many times but it can never be enough. It is a very difficult thing when you have family scattered as far and wide as we do to visit them all. I strongly encourage anyone who is in this situation to do all you can to see your family as much as you can, you will not always have the opportunity.
Mary flew to St. Louis a few days before Alex and I started our drive. Her dad was in a hospital there and wanted everyone there with him, so we left out as soon as we could. There's few words to say to Alex and Mary Ann that can make this situation bearable, we all understand it and have our own ways of dealing with it, you just need to be there with them. This can happen to anyone's family at anytime, don't take them for granted, buy the ticket, take the extra day off, drive the extra mile, just find a way.
Alex and I left early and needed food a few hours in so we stopped in Durant Oklahoma. Durant Oklahoma doesn't offer much but we did stumble into a little jewel here. Bobs 6th St Cafe, I think it was on 6th St if I remember. I read the reviews for it and they were mixed, we pulled in and not a single car was in the lot, this is usually not a good sign at 7:00 AM at a breakfast cafe. When I walked in there was not a person in sight, I'm really starting to wonder now what's going on but I smell coffee and Im in a hurry so we sat down and I'm glad I did. After our orders were taken it was minutes before we were served and in a total of 20 minutes we were back on the road. Sorry Durant you do have something to offer, Bobs is worth the stop.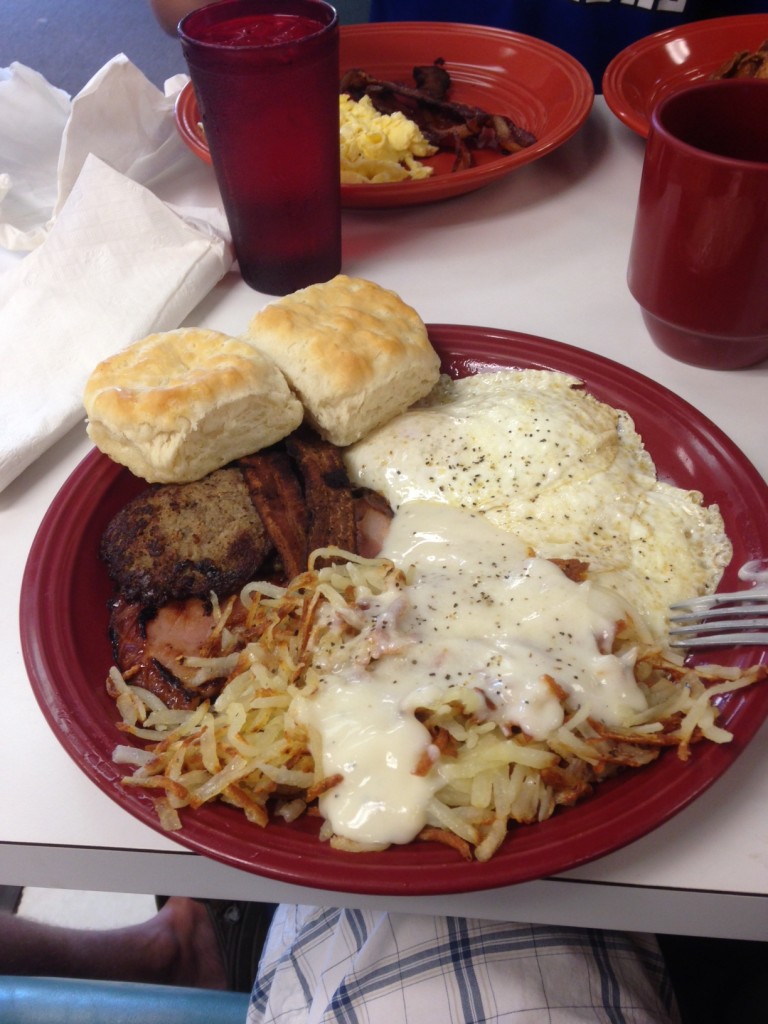 We visited everybody at the hospital awhile and then made the hour drive on into Illinois to the in laws house. Most of the family was staying in St. Louis but we would make plenty drives back and forth with different people coming and going. All you can do is be as happy as you can, and be there when people need you.
Early one morning after a few folks had stayed up late and slept in, Alex and I went to a great old cafe in Highland Illinois Ive eaten at several times called 9th St Cafe, yeah I think it was on 9th St. This place is awesome, all the meats are from a local meat market, and not being from the Midwest I don't know what half of them are but I think I have ordered them all now. I had Bockwurst and Mettwurst with eggs gravy and my usual team of artery clogging sidekicks. Both of these are some kind of old time recipe German sausages that I loved, as most are. The Mettwurst was a smoky, small hotdog sized sausage and Bockwurst here was patties but I was told is usually in a casing like a bratwurst, both were great. This order also came with enough pancakes for two people, I'm gonna need to work out after this.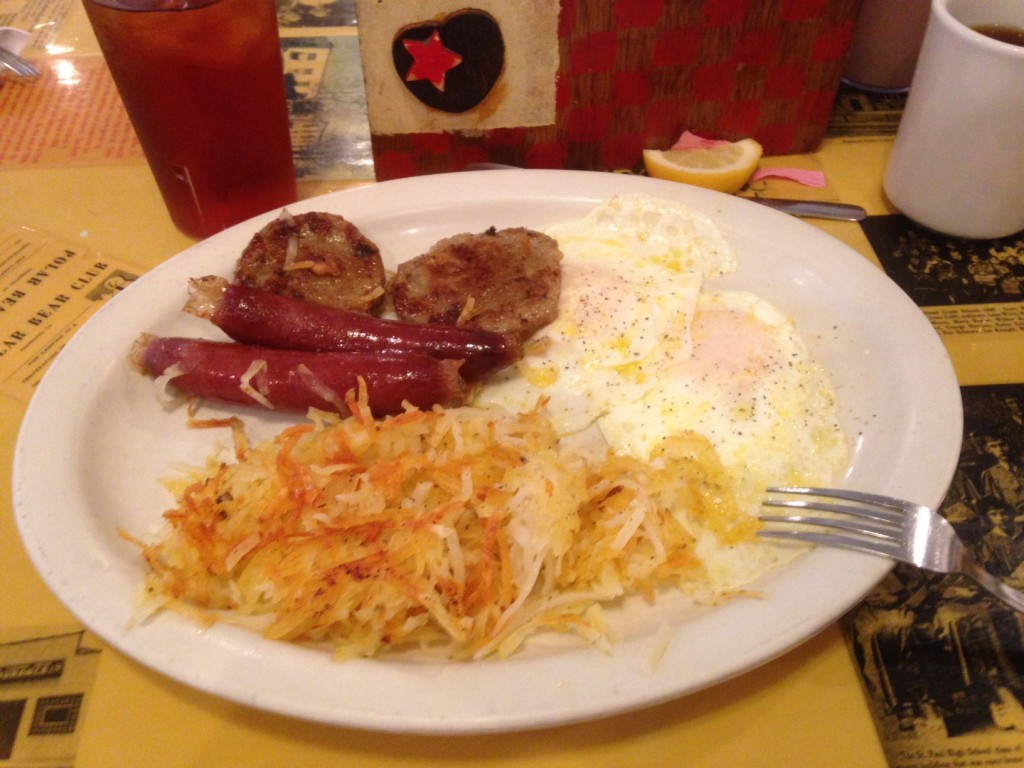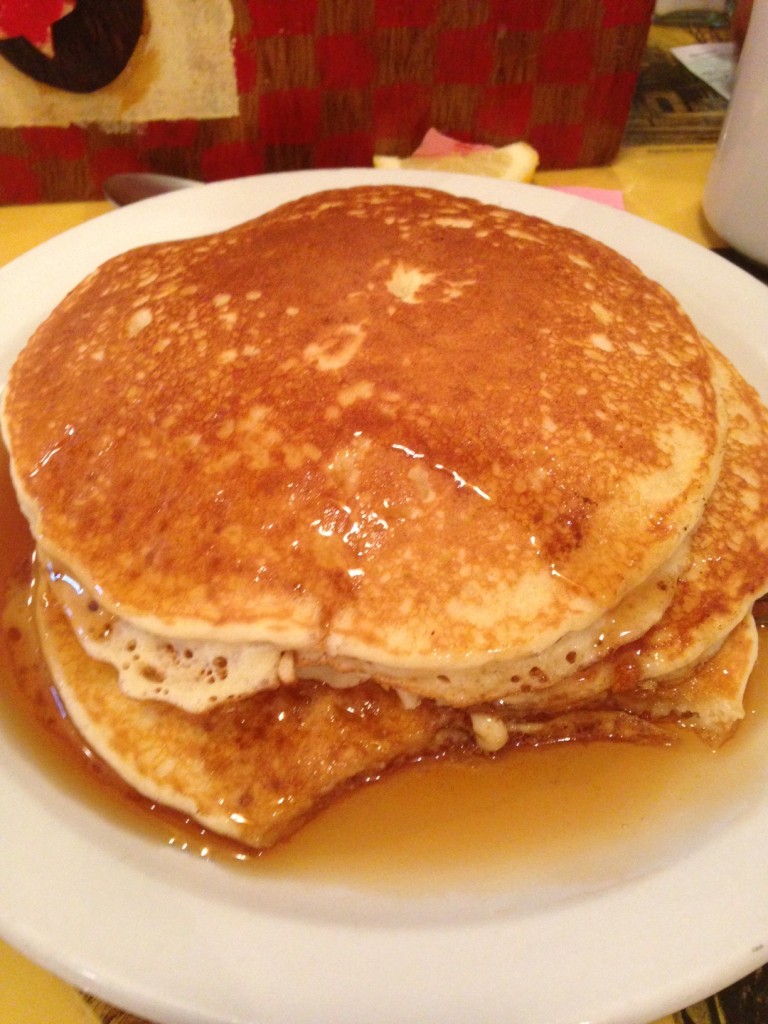 There's only so much that can be done in these situations before someone has to try and take your mind off it. When you're the man of the house or even someone that other family looks up to you feel very helpless when things like this come up. I want so bad to make everything ok, I want so bad for Mary Ann to not be upset, I want everybody to not have a heavy heart but there's nothing I can do. I feel like I disappoint when I can't fix what's hurting but there's nothing I can do and I, and we, just have to remember the best of times and continue on. My brother in law Steve understands that situation and says, "hey I know where we can go fishing, lets get some rods from the garage and go to my buddies lake." I know Alex needed to get out and it wouldn't hurt for all of us to, so off we went.
The best thing about this was it was private so no stopping for license and they had a small John boat that I could make Alex paddle around while I fished.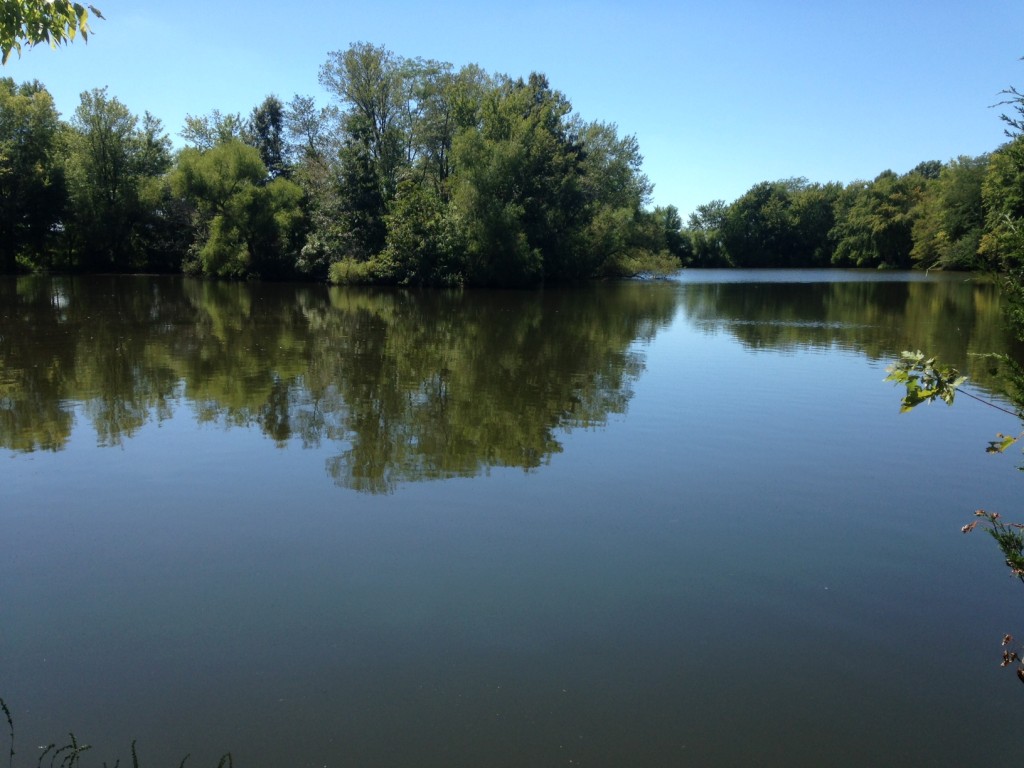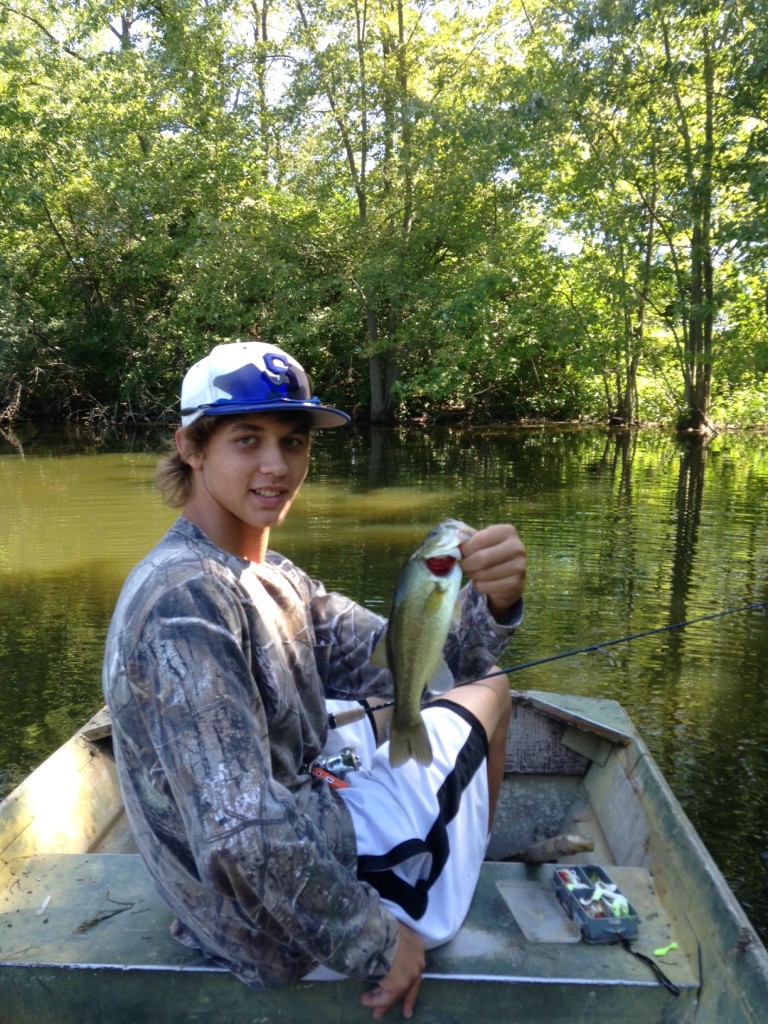 One thing about fish that is a constant throughout the world is, big fish eat little fish, so I find a fishy looking lure. When I'm going somewhere unfamiliar with unknown size and species of fish I find a small minnow or shad type soft rubber bait and start chunking. It didn't take long before Alex had a small bass and the trip was on now, and the competition began. In the event Alex wrote this he would likely say how he caught more and bigger fish than me but since I am the author there is no reason why I shouldn't tell the truth, and that is that I caught at least twice as many as him and they were twice as big, that's just the truth the way I seen it.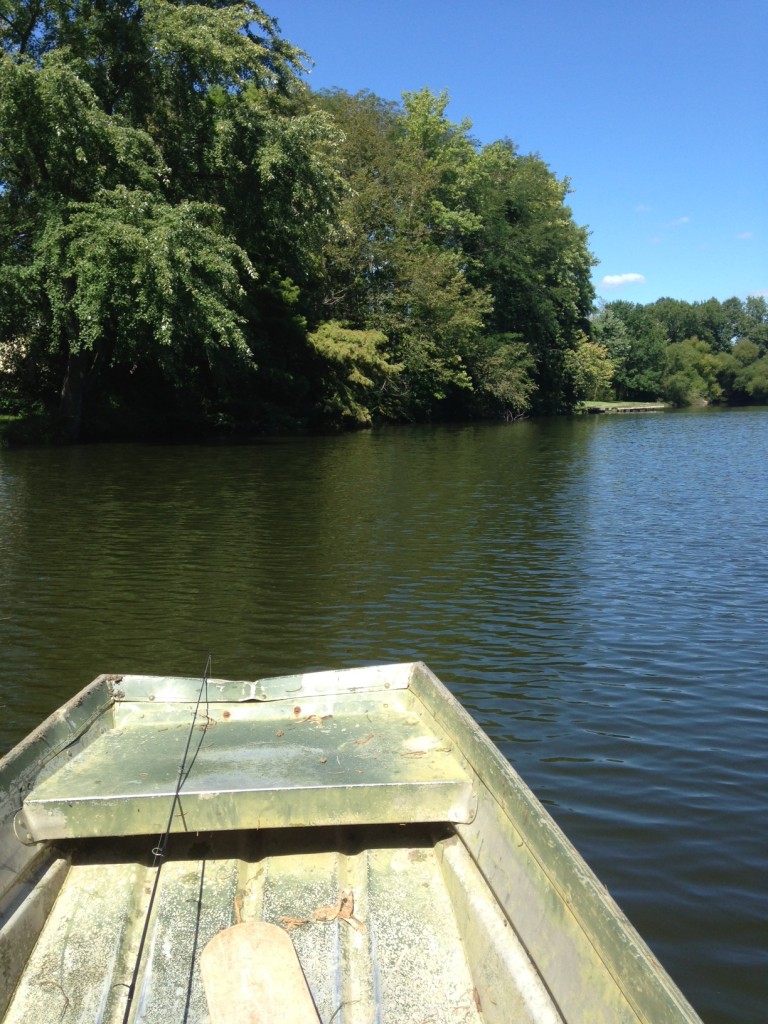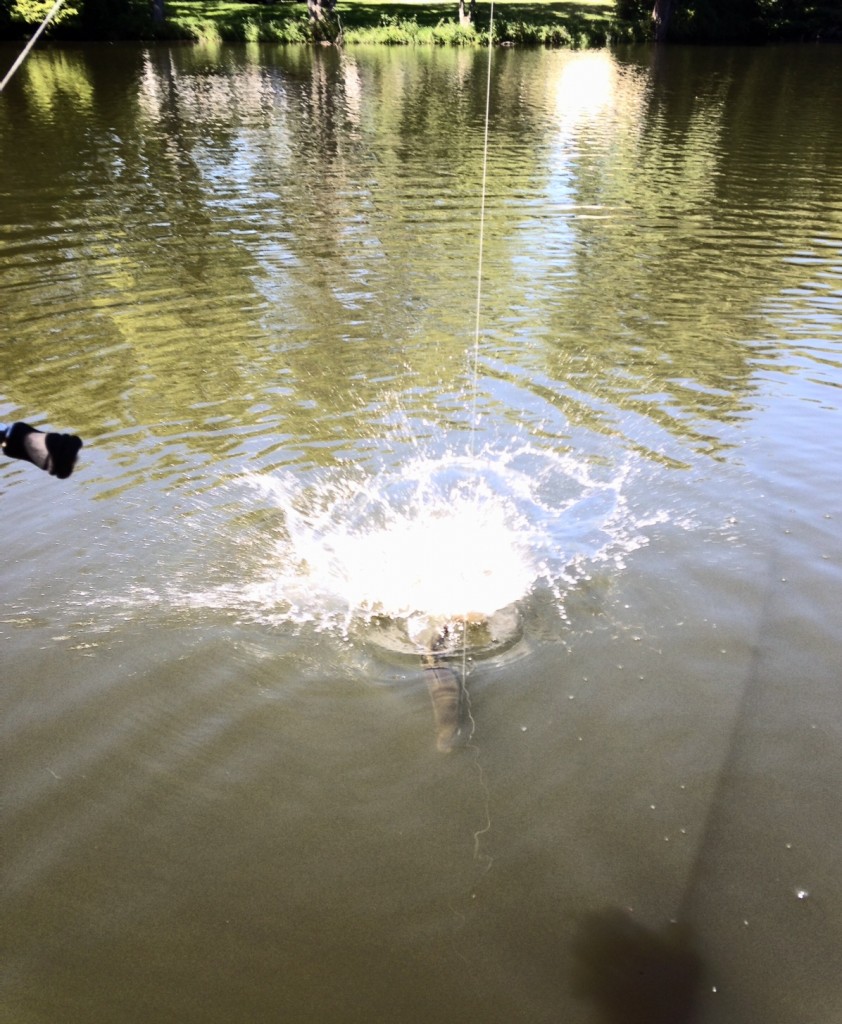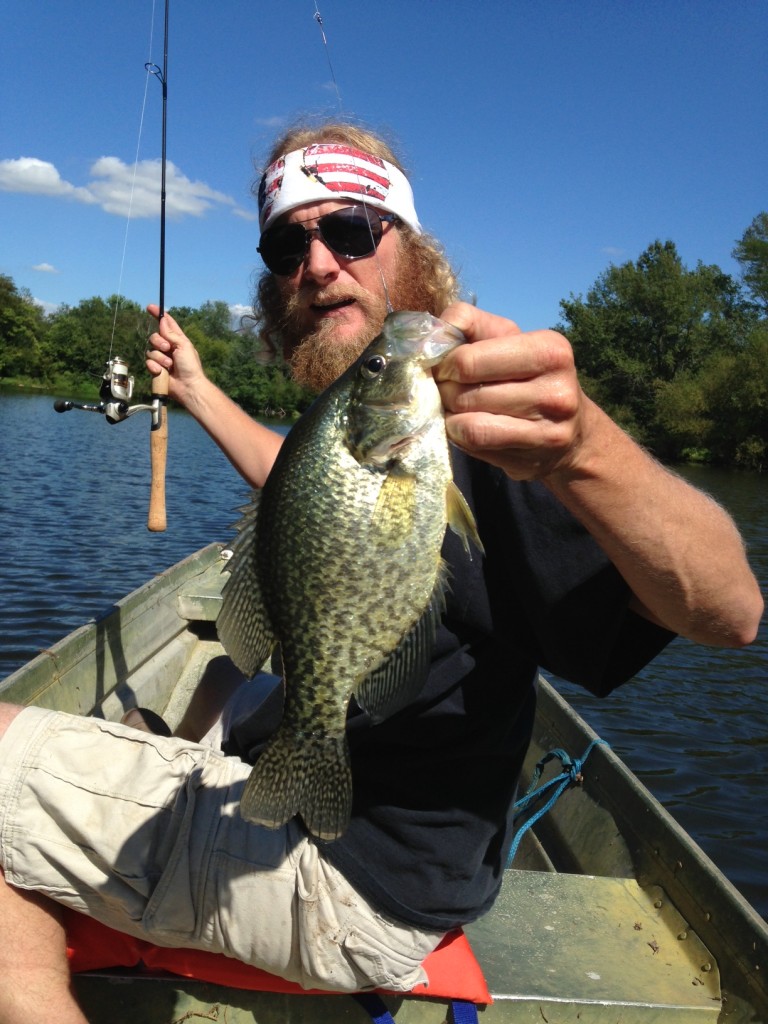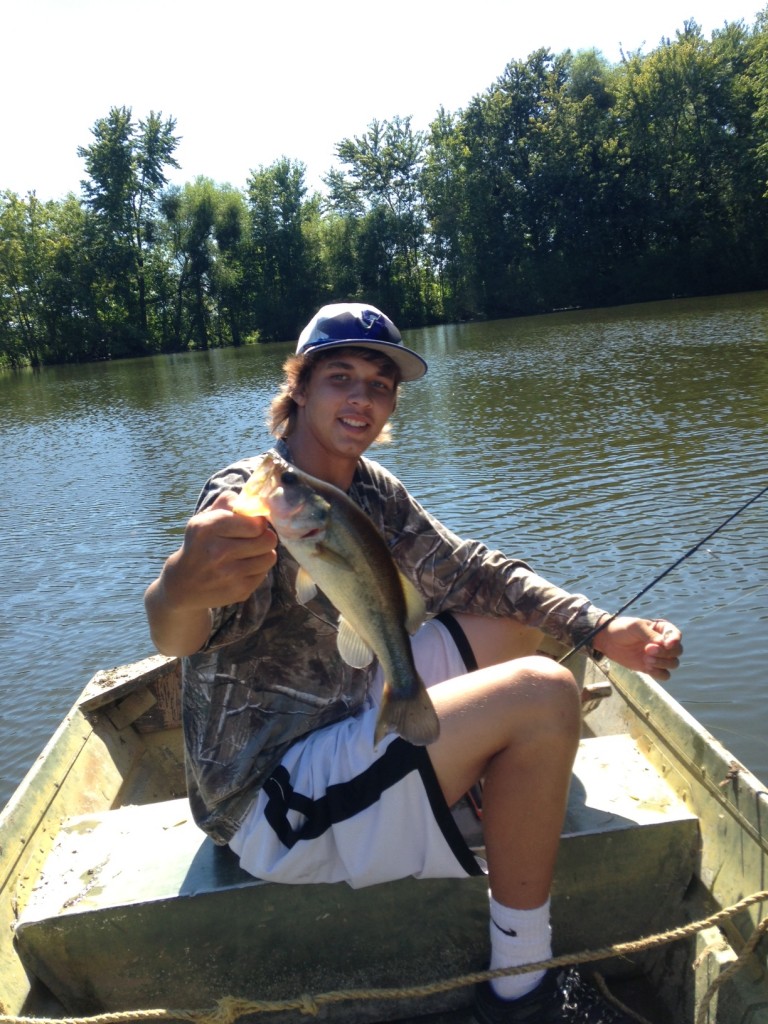 One after another we spent the better part of three hours reeling in fish. They were mostly small bass but we had a couple good crappie mixed in too. It was nice for us to be out and for our minds to turn to something else. I was very glad Steve took us out and was very happy to see everyone smiling.
We still had a long drive back and things to pack so we had to go but thanks to Steve and Al for the little trip, it was a great place to fish and the most relieved Id felt the whole time I was there. These are hard times for everybody but I honestly feel any person who wants you to be happy when they are here would want you to be happy when they are not so do what you do and just remember them when doing it.
I hate that I had to make this trip for the reasons we did but was thankful for everyone being there. I have to think seeing all your family together in your last time here is what anybody would want and feel comfort in knowing we were all there for his.