Its the 4th of July Holliday weekend, its hot, and I just don't wanna be outside longer than I have to so I was looking through some things and found an article I wrote for a traditional bowhunter magazine a couple years ago but never sent it in, partly because I'm lazy but mostly because I realized I'm not writer. I just scribble things down and try not to bore too many people. So I decided to post this article and a BBQ place I found with a man size sandwich.
Remembering My First
I would like to start this by saying I had practiced till my fingers bled and shot arrows until the target wouldn't stop another shaft but that's just not the case. I've shot bows, actually all kinds of weapons my whole life and have never devoted an entire season to a single type of weapon, that's not to say I haven't devoted the time needed to be proficient with the weapon I chose for a particular hunt, just that I am not apposed to a muzzle loader, compound bow, or even rifle if the circumstances allow. This past season I finally connected with my first whitetail with traditional gear. Let me tell you first about how I acquired this bow.
Years ago as I made my way up the main street of the small Texas town I grew up in I noticed a pickup in front of me without a tailgate and I spied an old recurve just bouncing around in the bed. When the driver pulled into a small cafe my sister worked at I followed. I inquired about the bow and the nice lady driving the pick up said that it didn't sell in her garage sale that morning and she would gladly take ten dollars for it. Wouldn't you know I only had seven in my wallet so my loving sister made up the difference from her tip jar.
The bow was an old Ben Pearson Cougar 55@28, the limbs were straight, the wood was dull and frankly it was ugly and as you can imagine having ridden around in the bed of a truck the finish was nothing to look at either, but I found some arrows it liked and it shot well so I continued to shoot it.
Just a couple seasons later I took a nice Corsican ram near my home, it was nice to put blood on the ground with a traditional bow but lets face it, an exotic Texas ram is not a white tail deer and although I was proud of the 19 yard shot I knew that if I really wanted to become a true traditional bowhunter I needed to take a wild white tail deer.
In the following years kids playing sports, and work, and just life in general had taken most of my time for practice and I done most of my hunting with a gun of some kind or a compound bow. I know a lot of traditional guys have a different opinion about wheels and cables but I feel any archery taken game is a great accomplishment and I took plenty with mine but I wanted to hunt with the old recurve.
When I learned about backing a bow with snake skin I knew how I was gonna fix those cosmetic problems that the old Pearson had. Living in Texas finding a rattle snake to skin is an easy task, in fact sometimes too easy, often they will offer themselves to you when you don't even need one. Like when your walking to your stand in the dark or kicking around some leaves to make a nice spot to sit against a tree while turkey hunting. After studying several methods of backing with snake skin I went at it like I'd done it before and surprisingly the bow looked good and I was very impressed with what I had done. I showed it off to my buddies and bragged on the bow but I still hadn't accomplished much in the way of hunting with it.
So here is November again and I had filled all three of my freezers with hog and deer meat with my muzzle loader, compound bow, and rifles so I turned my attention to the recurve. Now when I say turned my attention I mean I shot it some but nothing that would be called heavy practice. I'm very lucky in that I can pick up most any bow and in only a few shots be grouping arrows at twenty yards in a tight circle. This is not a brag, I'm just lucky to have very good hand eye coordination. Wether it be from pitching a baseball all my youth or shooting, I don't know but I feel very confident in my shooting in a short time.
On to the hunt.
I had loaded three different bows two rifles, one shotgun and one sidearm into my truck, this should cover any situation I would encounter over the next week. Being on my regular hunting grounds I knew I may end up on a duck pond or calling a bobcat or hunting pigs in the dark so I was prepared. When I arrived the first day of the week the wind was perfect for a tree stand I had at a fence crossing so I grabbed my snake bow, as it had been dubbed, and headed to the tree. Just an hour in a small nubbin buck had somehow snuck into twenty five yards unnoticed. It amazes me how they do this, I am there for the sole purpose of seeing a deer and I strain my eyes to see one and like a ghost there they are like they were dropped from the sky. I watched the little deer for fifteen minutes I was thinking his mother had probably caught a bullet being this is late November and general season in Texas had been open for a month now and he was alone. Then I see an ear through the brush. A big ear, an ear big enough that I knew to grab my bow because this was a grown deer. In the seconds it took to reach my bow the ear had become a full grown doe standing at ten yards. Not having a shot there I made my adjustment to be ready when she cleared brush. As I'm playing the up coming shot in my mind I'm seeing the deer stepping out, quartering away and me releasing a perfect arrow but all hunters know that what you want to happen and what the animal usually does is rarely the same thing, but in this case it wasn't. If I could have remotely controlled a deer to walk in and stop at a spot and an angle it would have been this exact place.
The hardest thing for me and I believe a lot of traditional shooters is picking a spot on an animal to shoot at. Orange dots on targets help you focus on a small area and of the thousands of Texas deer I've seen none have come with this spot so I found a little place on her rib second from the back and knew if I hit that spot with her at that angle I would have my first traditional whitetail soon.
She raised her head looking away into the brush at other deer and I started my draw. I remember hitting anchor but not much after that. Something took over, practice, instinct, something, Im not sure but my brain just said I got this and the arrow was on the way.
When I used to pitch as a kid I knew the instant the ball left my fingers if the pitch was gonna hit my intended spot near the plate or end up a souvenir for a fan in the left field seats and just like then when the string broke lose I knew it was a perfect arrow. I've heard people say that sometimes they concentrate so hard on a spot that at the release of the arrow it seems like slow motion and I didn't understand what they meant, but on the way to the deer this arrow seemed to stop spinning and I felt I could see each individual feather on the shaft.
She didn't jump the string thanks to the strong wind in my face making the sound hard to hear. The arrow hit that exact place on that rib I had been looking and buried to the feathers.
I love to hunt I love the challenge I love the woods but I don't get too fired up about taking game. Not that I've lost the feeling of buck fever I've just learned to control my emotions. I'm excited for the hunt and the opportunity to be out but once I have gotten an animal in a spot I want and fooled their nose and eyes and I am in range I feel I already won, taking the animal after that is a bonus but I was pretty pumped about this shot. I knew the distance was a little farther than my usual practice distance because I had ranged several trees and brush in the area on previous hunts. I usually practiced at twenty yards but I didn't care the distance at the time, when you know you can make a shot you just shoot and I had all the confidence in the world that this deer would soon be laying at the end of a short blood trail. I later ranged the shot at twenty four yards which made me more proud.
Hearing the arrow snap on a tree just fifty yards into her run I knew the blood would start to flow heavy then and the track would be a short one. I took twenty minutes to gather my thoughts and equipment and replay the shot in my mind insuring myself that the shot was where I thought and I climbed down.
She had made a big half circle of about seventy five yards before getting out of sight and I figured she wouldn't be far from that spot and I was right. I followed a little blood till I found the arrow, so beautiful and red, as I reached down to pick it up I scanned the under brush for more blood and found the trail. Just thirty yards passed the spot where the arrow was laying there she lay. I was a little surprised at the distance she had made it when I dressed the deer because the arrow had entered high in the back of the near lung and exiting the front lower half of the far lung and had made a little slice in the top of the heart on the way through. These are amazing creatures with a will to live and senses not rivaled by many other animals and I had taken one with a ten dollar bow and a single arrow. A bow that isn't worth much more now than the money I gave for it out of the back of that truck. In fact the snake skins were probably worth more than the whole outfit but I wouldn't take twenty times that for it.
Now I felt I had accomplished something, no disrespect to the little Corsican ram I had taken before but you just aren't the challenge to hunt that wild Texas white tail deer are.
I've found myself shooting my recurve more and more and have even gotten a real nice custom take down bow, which is a work of art and as smooth and quite as anyone could ask of any bow, but theres something special about the snake bow, maybe the story, the reminder of my sister being grateful and giving her tip money to help me that day, or maybe that I put snake skins from snakes I collected on it or maybe the fact that it is the bow I took my first recurve whitetail with. I don't think I will ever completely give up on shooting my other bows and guns but I doubt I will ever feel the accomplishment I felt when I finally took my first white tail with traditional equipment.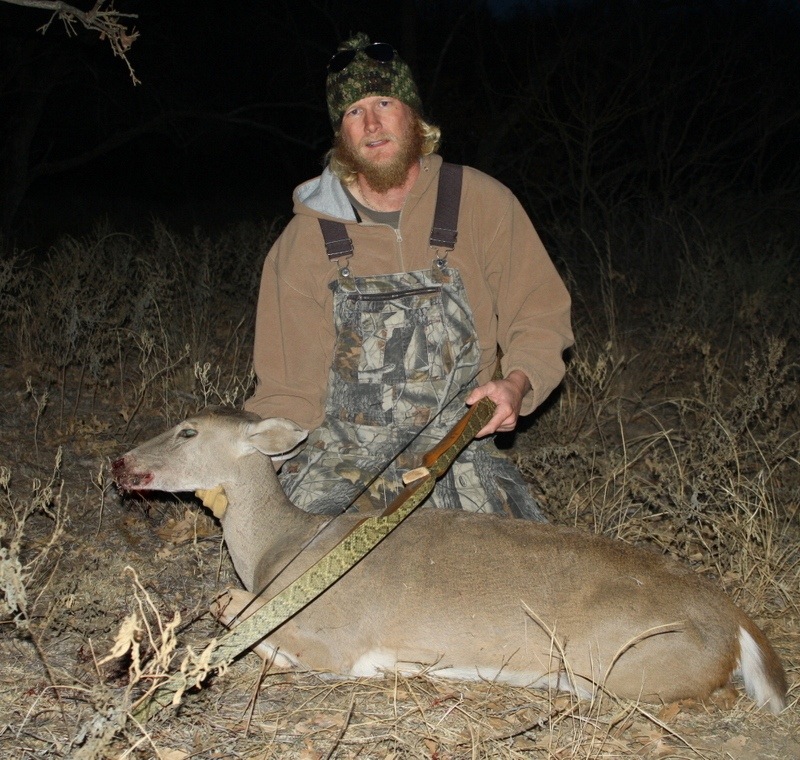 Jambo's in Rendon Texas is open three days a week and when they run out of food that's it. They smoke the same amount of meat for the next day every time and sell it until its gone so get there early. Every thing was good and even though its crowded we got in and out fast. This is the Texan, it has smoked bologna, turkey, sliced and chopped brisket, sausage and ribs. It was work for sure but I got it choked down.