Happy Thanksgiving, if you want to read a nice hunting story and see pictures of good food I hate to disappoint this time, you'll have to go read another one here because this one fails in both those categories.
As far back as I can remember up until my early 20s my entire family, some 30+ people, gathered in a 1300 sq ft house of my grandparents and ate more food on Thanksgiving day than a small army could eat in a week. There were people in every room, elbow to elbow eating in chairs and on couches and card tables and basically on any flat surface big enough to hold a plate so full the giblet gravy ran off the potatoes and down the side. It wasn't crowded it was comfortable, crowded is too many strangers together in one spot. Your family and close friends can pile in as close as need be and its not crowded because these are people you love to spend time with. I never knew that that would end as a child, I just assumed I would do this forever and it saddens me deeply when I think back on those days and know they are gone forever. People die, and get married, and move away, and some just go crazy and forget they are not above family no matter what they think. How I wish I could go back to those days for one Thanksgiving, I could play football in the street again with my brothers and cousins and tell them what I was gonna kill with my new pellet gun when I got it for Christmas and watch as aunts and grandmas play board games that they really don't know how to play so they make up the rules to suit them. It was the best times of my life and now its gone but that's how things go sometimes so we keep those memories and make the best of what we have today.
This Thanksgiving some how found me alone, it wasn't really planned I guess it just ended up that way with the way schedules lined out. I figured alone in the woods is better than alone at home so I packed up and headed to Jack county Texas to meet up with some swine and deer and maybe even a Thanksgiving turkey.
Think of the worst idea you've ever had and now find comfort in knowing that its not the worst idea ever. I had the worst idea ever when I decided at 5:00 on Wednesday before Thanksgiving to stop at Walmart and pic up a few things for the trip. This is what crowded is, not a large family gathered together enjoying a meal, this was madness. I can love a person but I hate people together in a group, in a group an otherwise nice friendly person can turn into a real bear, and get between an old lady and whatever she needs to make her secrete recipe Thanksgiving casserole and she may charge you like a wounded bear. I had full intentions of hitting about three aisles grabbing a little food for three days and be gone, instead I ended up in what was the equivalent of a giant fire ant mound that somebody had poked with a stick. I found it best to leave my cart in a spot and make quick runs down aisles and return to my cart with the bounty. This plan was going great until I returned to find a woman shopping in my cart. Lucky for me she was probably having a nice dinner with family and my hot pockets and honey buns didn't interest her. I did my best to hold my tongue through several cart crashes and even when someone else was eyeing my loot, its frozen fake meat people you don't want it, now go on so I can go make something die. That may be one of my greatest stories of survival and will be noted in my mind to never ever under any circumstance take that chance again.
Finally made it to the dark woods of Jack county and it welcomed me back with open arms. Here is where I find happiness here is where I want to be if I can't be with my family for Thanksgiving.
Thanksgiving morning dawned cold, mid 20s is cold around here, and the sun found me watching my little patch of oats and turnips waiting for old "Mossback" to show up. No sooner had it got light enough to see and I catch movement in thick briars I strain my eyes and notice its white, which could mean only one thing, Big Spot was coming in. Big Spot has been a frequent visitor to this place for some time now, I have pictures of him going back to spring and he's made his way through thick brush in front other hunters before but not stopped for a shot. On my last hunt to Mertzon Texas my friend Mr Brown asked me about getting him a spotted hog and I said that there was a nice one around and that we should put in a few days after him soon. Man I wish Brown was here now because this hog stayed in the wide open of the little field for over an hour. Had I had a bow in hand instead of a rifle I believe Big Spot would be big BBQ right now.
The water under the feeder in the corner of the field had froze and when the feeder went off the corn just scooted out across the ice. This made for an entertaining watch because Spot figured out if he broke the ice to get the corn it would then fall in the water and he would have to stick his face in the cold water to get it out so he would very gently try to stick his tongue out and grab one kernel without pushing his nose through the ice. Anyone who thinks a pig a big stupid animal should spend more time watching them. Spot was doing a fair job of keeping the corn on top the ice but the anatomy of his face would fail him at times. When your snout is longer than your tongue it makes it hard to get your tongue where your snout has not already been. This would break the ice, so Big Spot took to laying his head on the side and sticking his to tongue out the side of his mouth and raking in the kernels. I was impressed, this hog figured out how to get food and not get his face frozen and all those people at Walmart can't figure out how to get in and out of a parking lot in a orderly fashion without cussing each other and honking and crashing, who's the smart ones again. This went on for awhile and finally Spot ate his fill and drifted into the thick briars.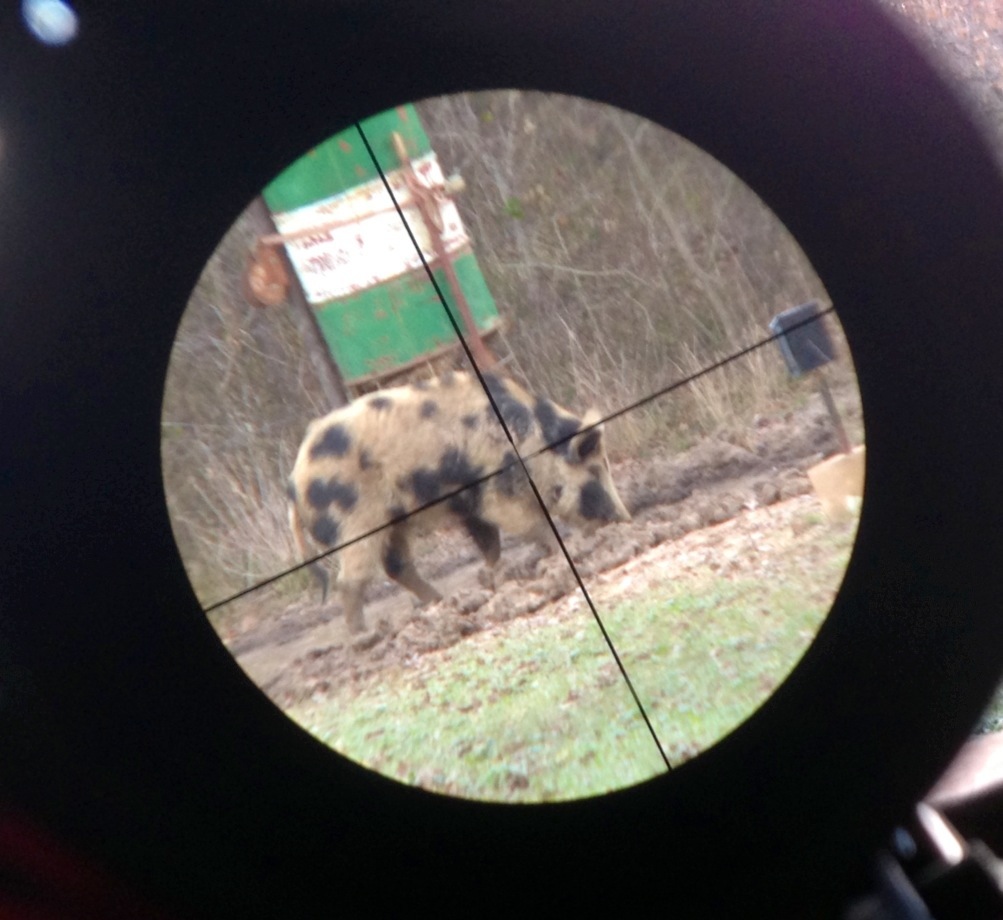 No sooner had he left a little eight point fed into the field and was making a hand on the oats and clover not twenty yards from me when something caught his attention. He threw his head up and laid his ears back while bristling up all his hair and went into a fighting posture. I was thinking this guy has either found a spike to fight or he don't know how little he is because he's about to get beat up. I glanced in the direction he was walking and a six point was on the other side of the food plot gate and he looked like he wanted to fight too. Now all this is happening fifty yards away so I'm pretty excited to get to see what I think will be a little sparring and maybe some pushing, boy was I wrong. These two met at the gate, which is just a goat wire gate with a pole on one end, and hit their racks together a little and then as if someone rang a bell to start the fight all hell broke loose. The six point came through the fence with enough force to knock the eight onto his back and when the eight stood up he was tangled in the fence. The six went at him and also caught the gate and the whole outfit came loose. The post was broken and the gate was tangled around two deer and a briar patch. I had no intentions of shooting either of these deer but I honestly thought that one if not both would be so tangled that they would die trying to get out. I watched as the six came loose and the eight ended up on his back from being sent into a flip like a dog that hit the end of his chain. Once on his back he had big trouble for the six point went at him hard and gored him up a little but had not the six done this I don't think the eight would have tried so hard to get away and freed himself. Both deer finally come lose but not before taking out my gate and 20′ of fence. I was glad to see that I would not have to fight a whitetail buck or kill one. The eight was bleeding out his mouth and was roughed up a little, the six had some cuts on his legs but both deer will live to fight another day. Hopefully not through my fence.
Little eight just before he started a fight he couldn't finish.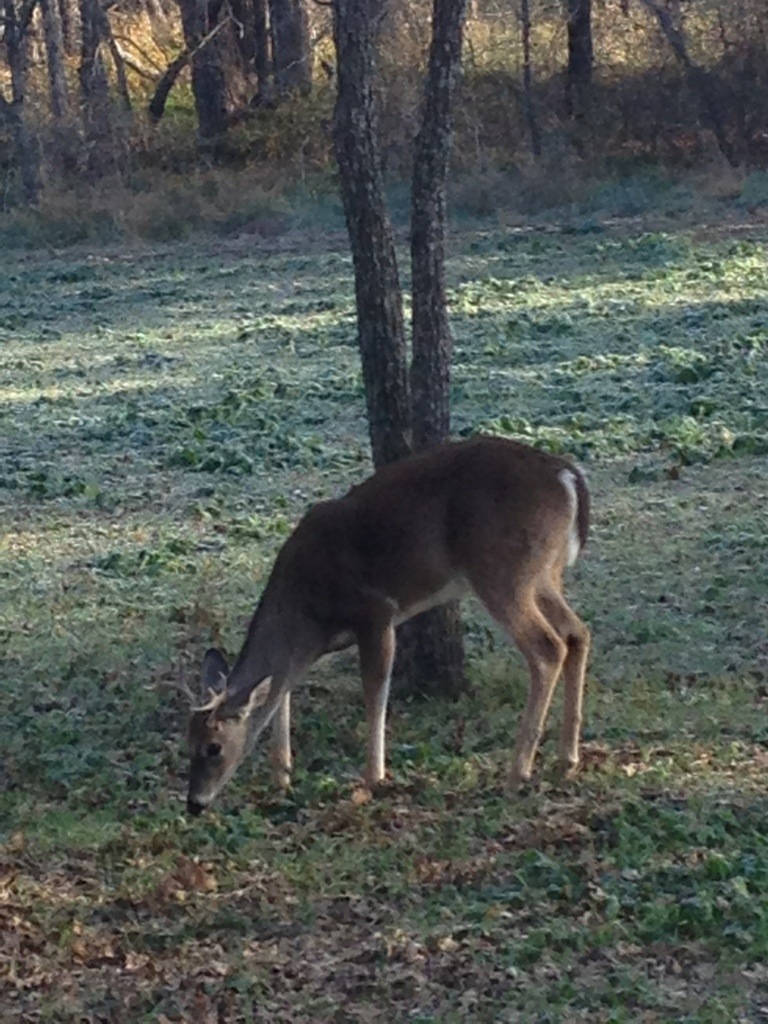 I'm usually not bored when I'm alone in camp but I sure wouldn't be today because now I had fence and a gate to build. I worked around on feeders and gathered wire and post for the fence and before I knew it it was time to go sit in the blind again.
I got in early and had a welcoming party waiting on me when I got there, only they weren't very welcoming. Seems a half dozen squirrels thought it rude of me to scare them off their corn, they obviously had forgotten who put it there to start with. I listened to them chatter on alerting the whole county to my presence before I had had enough and tried my best to take one out of the tree. As is usually the case when I shoot at squirrels I was down one arrow and had no squirrel to show for it but I got close enough with my shot to send them to their holes.
An hour later I catch movement and guess who, Big Spot, he is really testing my will power at this point but I had plans for him and they didn't involve me shooting him so once again I watched as he gobbled up corn at 20 yards, luckiest pig in Jack county. Darkness came with only few deer in the distance and a coon that was enjoying the free meal so I headed to camp for Thanksgiving supper.
Let me say here right off the bat I'm glad my grandma ain't Marie Callender cause that was the worst Thanksgiving dinner ever. Seems in my haste to exit the chaos some call Walmart I grabbed a chicken dinner instead of a turkey so for the first time in my life I didn't have turkey on Thanksgiving but after eating what they expected to pass as chicken I'm not sure it would have mattered much anyway. I polished it off while listening to the Dallas Cowboys on the radio and had a honey bun for desert. It wasn't the same as grandmas turkey dressing and chocolate pie and watching the Cowboys but it was hot and I was cold so I called it Thanksgiving dinner and was glad to have it, after all turkey wasn't even eaten at the first Thanksgiving but I highly doubt anything that resembled what Marie made me was either.