This is a short trip to Mertzon, its south of home almost 300 miles. I got the call Friday noon to go shoot some does off of managed deer land where the deer are near or over capacity. I figured whats another 300 miles when I drove 1560 two days ago. I was 40 miles from the Canadian border a week ago and now Im an hour from Mexico, its just gas money I guess, right?
When we got in camp we were the last ones in and bets had been made on wether I would really show, seems no one thought that a guy like me could have a wife so great that she thought it ok to drive all over the United States shooting deer and getting fat at cafes, but guess what guys, I do. I don't know how I pulled it off but I did and I can't be more thankful for her.
Alex and I have done this hunt the last five years and he really enjoys it. This is a great group of guys that understand how things should work. They eat great, they sit around the fire, lying mostly but still having good conversation and they welcome everyone like they've known you forever. I've seen several young men take their first deer here.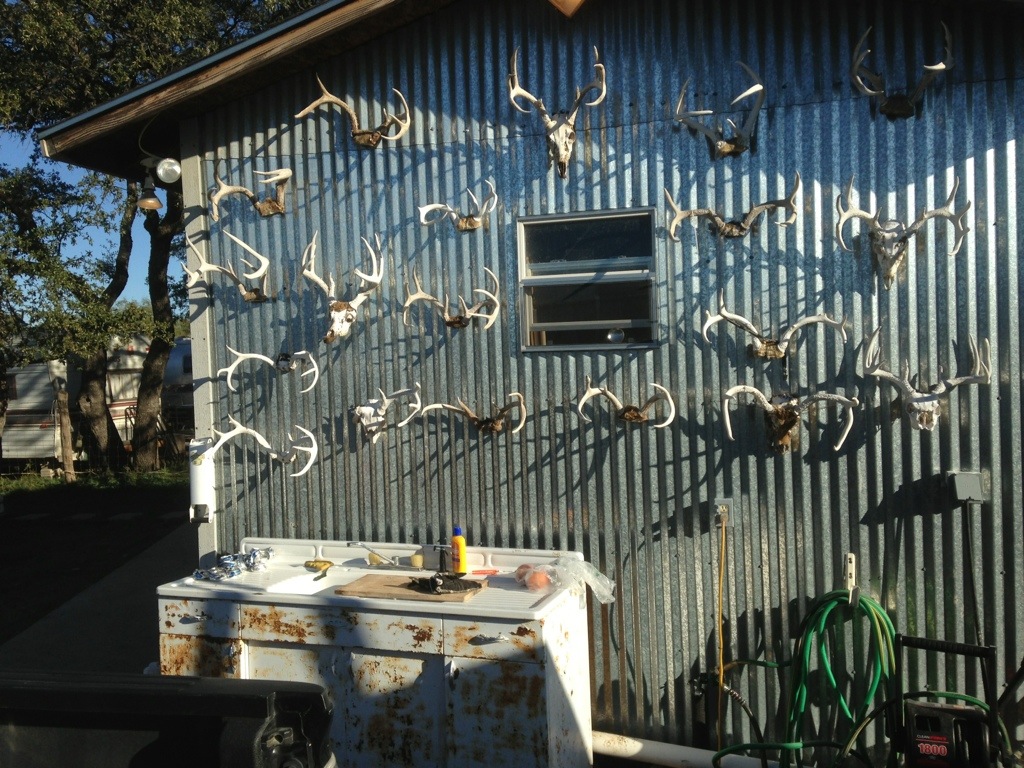 Alex and I sat together Saturday morning, he don't mind sitting with me but I can see he likes to be alone too and he's well capable of handling any situation he would face but I enjoy being in stand with him even though he don't need me there anymore. This is not hard hunting so I won't act like we have to use our skills and stalk deer and outsmart them, that's just not the case. This is basically killing, it sounds bad but its true. The deer numbers have to be regulated for a multitude of reason I won't go into but the fact is, deer need killing and Im here to kill em.
Before good light Saturday morning we could see deer around the feeder, as the sun got higher we could make out that it was a good buck. Why is it that I travel so far to find a buck in Montana and see so many does and come to southwest Texas for some doe shooting and see this guy?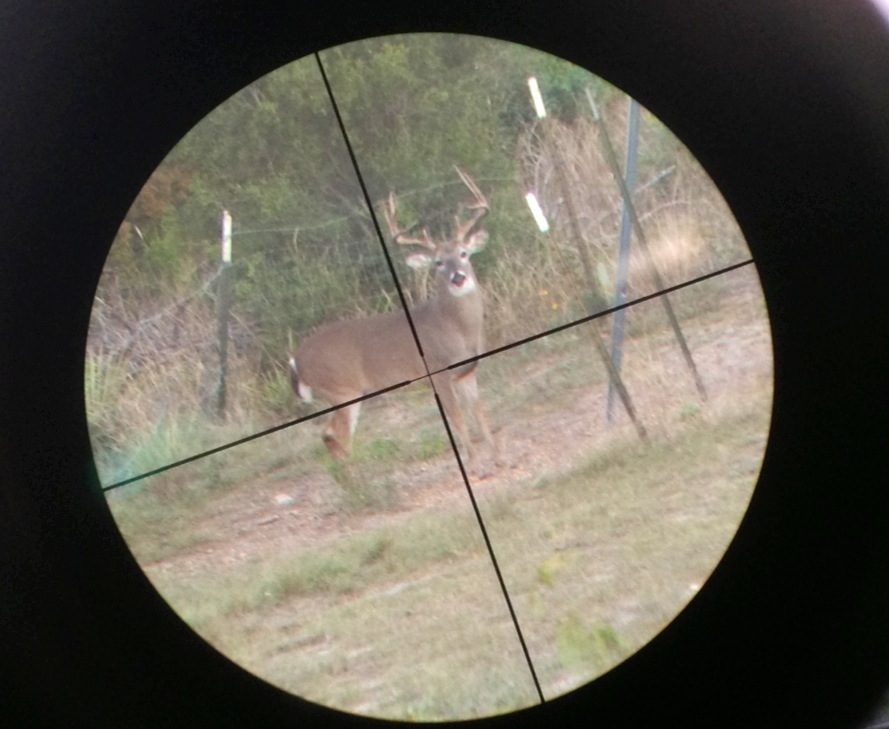 That's hunting I guess, it was nice just to see a big deer but we needed does and the morning ended with out one. Alex's stomach had been growling since 7 AM and by 9 it was time for a burrito so back to camp for breakfast and see what everyone else had gotten.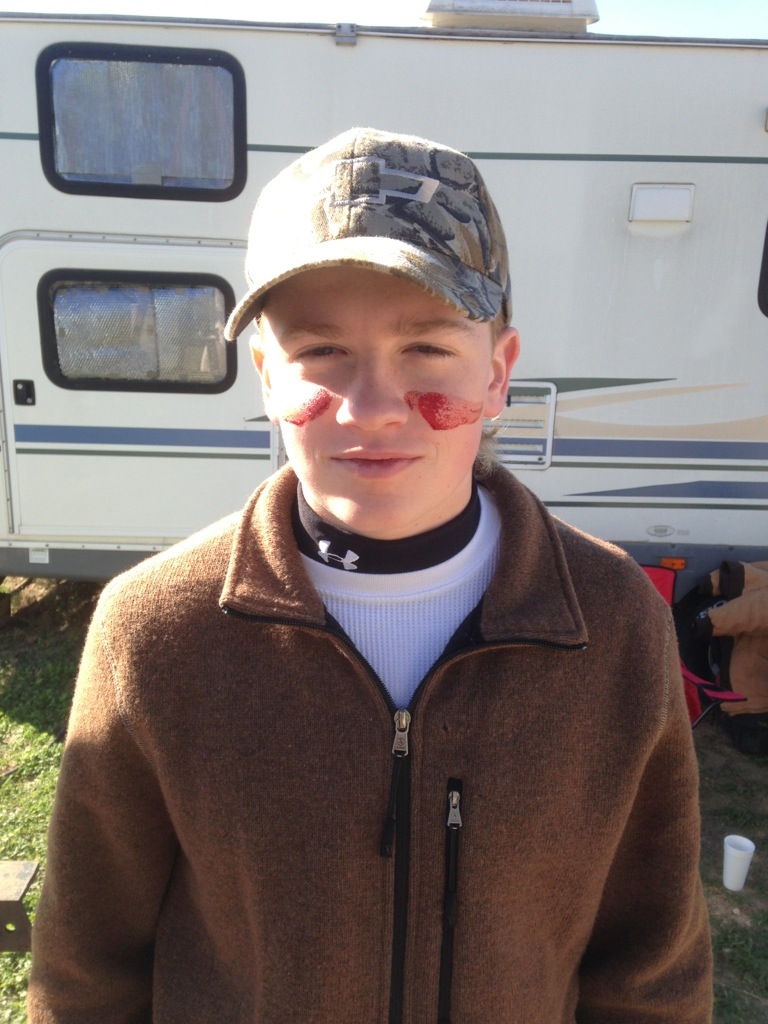 There were three does taken Saturday morning and one by a young man who's first deer it was, so he got blood on his face to welcome him into the club. I've never met this guy in my life but I'm proud of him, we all congratulated him on his first and started skinning deer. I had two done before the coffee finished brewing then watched while the young guys worked on the last one. We had some breakfast and did some shooting out to 500 yards and the guys had fun with that.
Saturday evening me and Alex decided to split up and cover more ground so I climbed in a little box that Alex had taken a couple deer from in years passed and he went to a set up with double feeders. It didn't take long before the shooting started. Alex text me that he had gotten one and I also had gotten one, not exactly a display of marksmanship on my deer but I got it done. I was hearing other shots and knew that the other guys were having some luck too.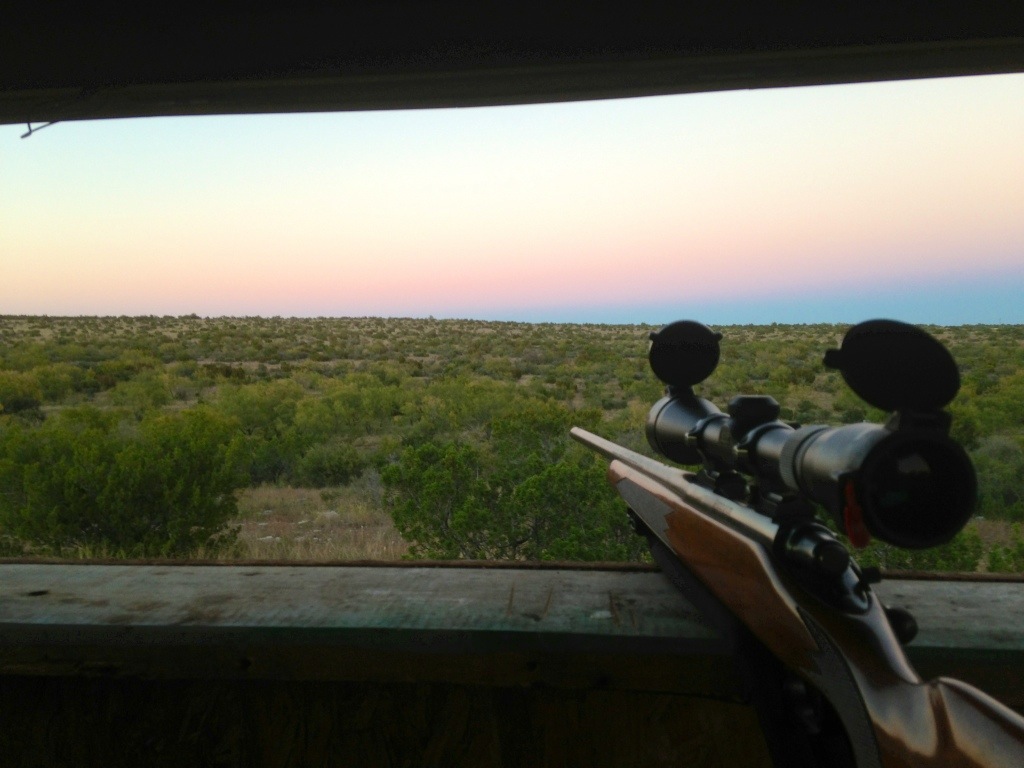 I don't know exactly how many were killed but I know I cleaned three more and I think the total for the weekend had came to about a dozen, with a goal of 80 by years end we had a good start.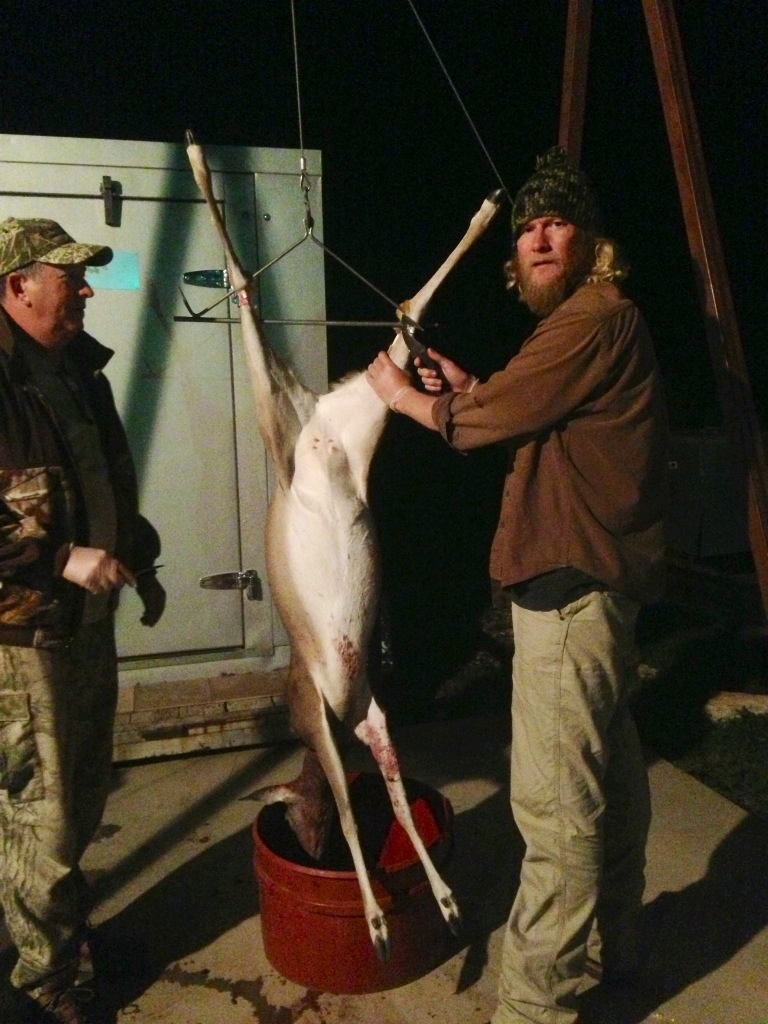 The whole time I'm cleaning deer I smell food and knew something good was cooking. First round was jalapeños with cream cheese and bacon, then fresh back strap from the morning hunt and that was just the appetizers. After I cleaned the deer I walked over to the fire to find the grill covered in meat and the potatoes were already baked in the other fire box. These guys don't mess around when it comes to food. I told you this was not hard, we eat like kings, we sit in nice chairs while hunting, we laugh at each other, sleep in big campers, and shoot guns. Hello America, are you listening, if more of you would do this you wouldn't be worried about your kids and where they are or what they're doing, you wouldn't have prisons full of people, and you damn sure wouldn't have hungry kids around. The deer we shoot are eaten by us or donated to family and friends that want them or to Hunters for the Hungry where it is served at homeless kitchens and crisis centers. What I do has nothing to do with my ego or making myself feel like a big man because I killed something. What I do is about family, friends, raising kids RIGHT, and enjoying life, call me what you want but next Saturday night ask yourself where your kid is, I know exactly where mine are, waiting for the next sun up to shine on the woods so they can enjoy it.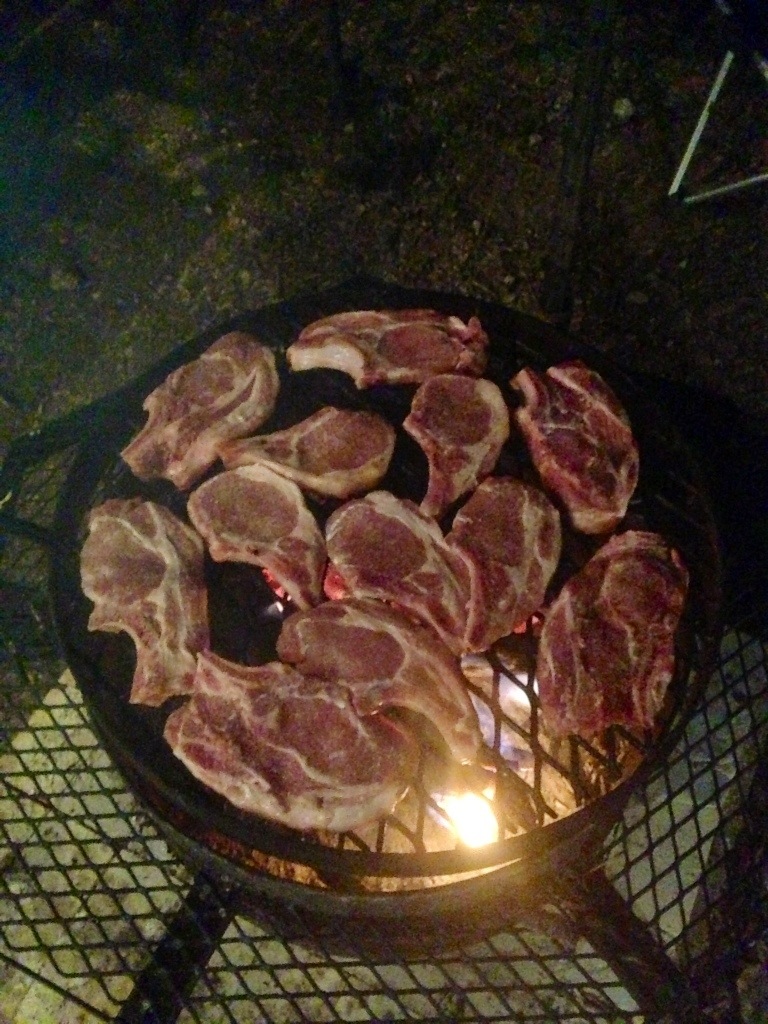 The meal was great, nobody looses weight out here.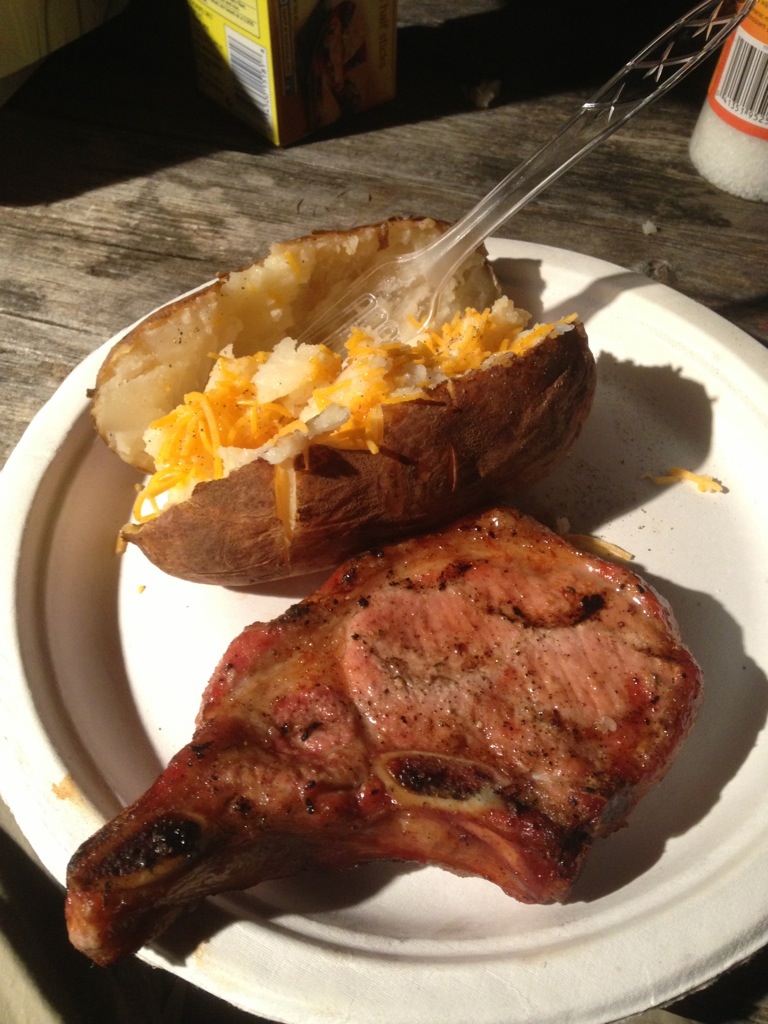 I was tired, the last two weeks and then the drive down here and then a meal like that was more than I could handle. I went to bed and slept pretty good. An early wake up in the morning and then leave for home around noon, it always seems like I just got here.