This is a beautiful place and with the snow and rocks it looked like a painting but it was starting to wear me down with the miles of hiking a day and not eating right. I don't exactly look like the guy on the Under Armor commercial but Im not really that out of shape either but I am a flat lander and my legs and calves were starting to cramp a little at night. If you read my story about Tucumcari New Mexico you know that I fell and hurt my ribs just a couple weeks before I arrived in Montana and they hurt, in fact they were getting worse but why think about it, they would hurt no matter what and I'm doing what I love so ribs can heal later I don't have time to be hurt right now.
The snow was starting to melt already and it was making animals very hard to see, with the contrast of the white snow on the dark rocks I was having trouble picking them out but we did see deer, 10 in fact but still no bucks and I'm starting to wonder if we are doing something wrong. We were seeing deer so that made me think what we were doing was working but there's no bucks with the does, they had to be somewhere and wherever that was we weren't finding it. I'm not a fan of walking up deer, I like to find them before they find me and get them totally unaware and at times we would see them first but more times than not they would come out of the bottom and stop on the far side. I could get off a shot when they stopped but this is not what I'm used to. That's the way these boys around here do it so that's what we will do.
I was getting really frustrated with the deer situation we had talked to bar tenders, other hunters, friends and family of Bo's and even the nice lady that rang up my groceries and they all said the same thing, you picked the wrong year to deer hunt here. Thanks for the encouragement and honesty but I'm not gonna stop yet. Deer were there and I needed to find em, it would only take time and lots of gas money is all.
After yet another walk of a couple miles one way we stopped and glassed for awhile. We had some jerky and water and just rested. I found another legal size big horn sheep all alone and couldn't take my eyes off him. I needed to be glassing the entire valley down below but I couldn't make myself, I just wanted to watch that sheep.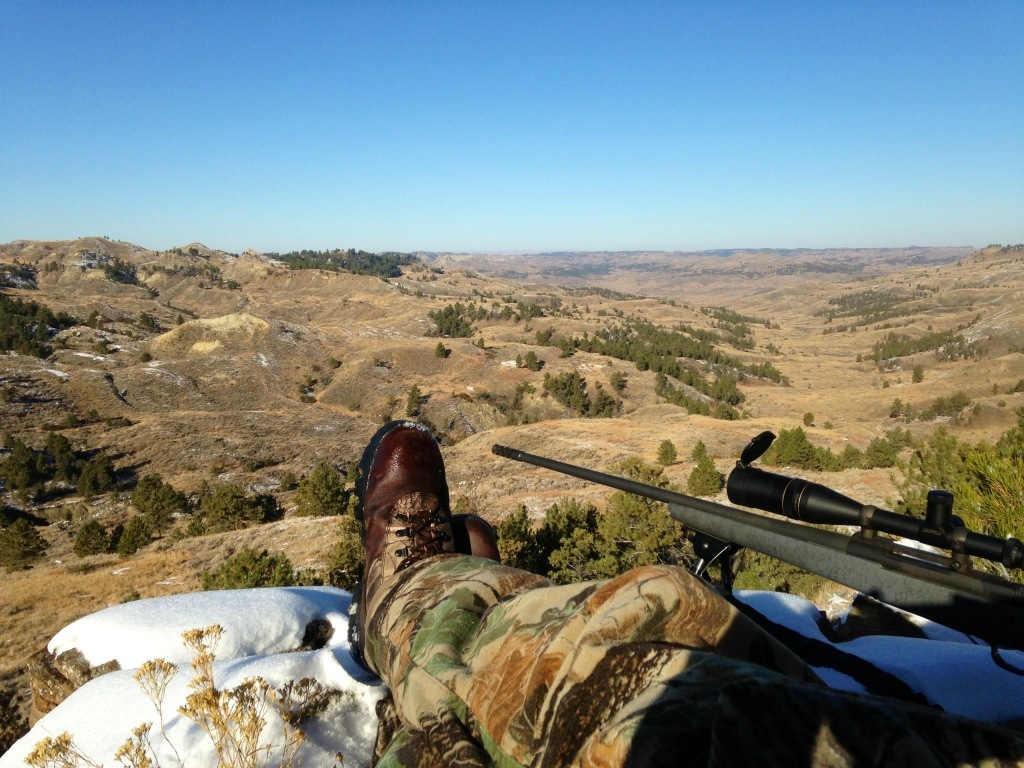 I finally caught movement in the bottom of the deepest and likely longest place we had been in all week and when I put binoculars on it I seen it was elk. A spike, a cow, and a yearling calf. The spike made his way around a hill which I thought was good, it would be one less set of eyes in the event we put a stalk on the cow, remember we only had a cow tag and a deer tag. I looked hard for any way to get closer to those elk without being skylined or winded I don't think it could be done. We sat for a half hour watching and waiting to see her next move, hoping she would get closer. The range finder had her at 530 yards and what had to be a couple hundred feet below us, I could dial up that range easy enough on the scope for Bo and help guide him through the shot. This is not an easy shot by any means but it is a distance I practice at but not really a shot Bo has practiced much, either way I thought I could help him through it but one thing concerned me, I knew the wind where I was but there were a couple of cuts into the canyon that I didn't know what the wind direction was or how strong and we finally made up our minds to let her come closer or let her walk away, she chose the latter. It may have been for the best because that would have been a heck of a packing job to get her out of that hole. We moved on up the ridge a ways and I spotted yet another big horn ram. This was amazing, how was it that I could find three legal size big horn sheep and six ewes but I can't find a mule deer buck?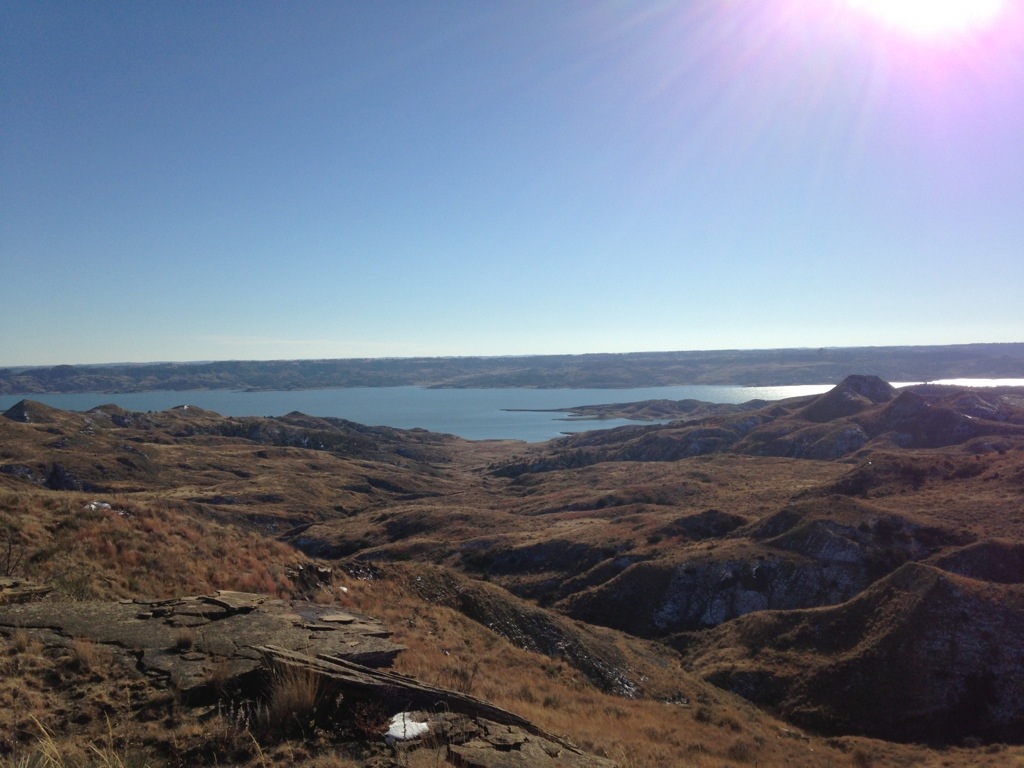 The snow had melted for the most part by the evening and it was a little muddy. The temperatures for this time of year in Montana were very warm now. We splashed down the sloppy road and kept on going, we wouldn't stop now, we couldn't stop now, it had become a game I felt like we couldn't win but we were gonna play anyway.
We met another hunter on the road that was elk hunting as most of the hunters we seen were. I thought this would give me an advantage because I was the only one that seemed to be deer hunting and elk hunters wouldn't mind telling me where they seen any deer. The problem with this was the more people we seen the more the story got repeated about the deer population being so low. This was blamed on everything from wolves, mountain lions, coyotes, disease, and even the Montana Fish and Wildlife, I don't know the cause but I know there's not many deer here for the amount of land there is and the ones that are here don't seem to have horns. All we can do is just keep at it so on to the next road. This road was nasty, it was holding water in places and hadn't been driven down in a few days, which I liked, but we couldn't get far so we stopped to glass and I found an elk rear end sticking out of a clump of pine trees a mile away. After looking for several minutes we picked out two more and several muley does too so the stalk was on. We couldn't be so lucky as to have a buck and a elk cow in the same place but we hoped for at least one or the other. It took a half hour or so to get close enough to pick out bodies and wouldn't you know it, the elk were all spikes and the deer were all does. I've never hunted and found so much game I couldn't or didn't want to shoot. The spikes made their way over the hill and I looked to glass the hill behind me and of course what is standing fifty yards away 5×5 bull. We just sat till dark watching as the big bull went over the hill and the sun sat on yet another day.