Day four would take us about 45 minutes from the house where we had spent opening day in hopes of finding the tall racked muley Bo had scouted the week before. When you've never been to an area before its hard to tell what good deer and what average deer are but from the pictures Bo had taken through his spotting scope I could tell this deer would be good for any where and would sure enough be good for me. I like big deer as much as the next guy but never haven taken a mule deer I wasn't super picky, if I go home without a deer then that's a decision I would live with and give me more reason to keep hunting mule deer in other places.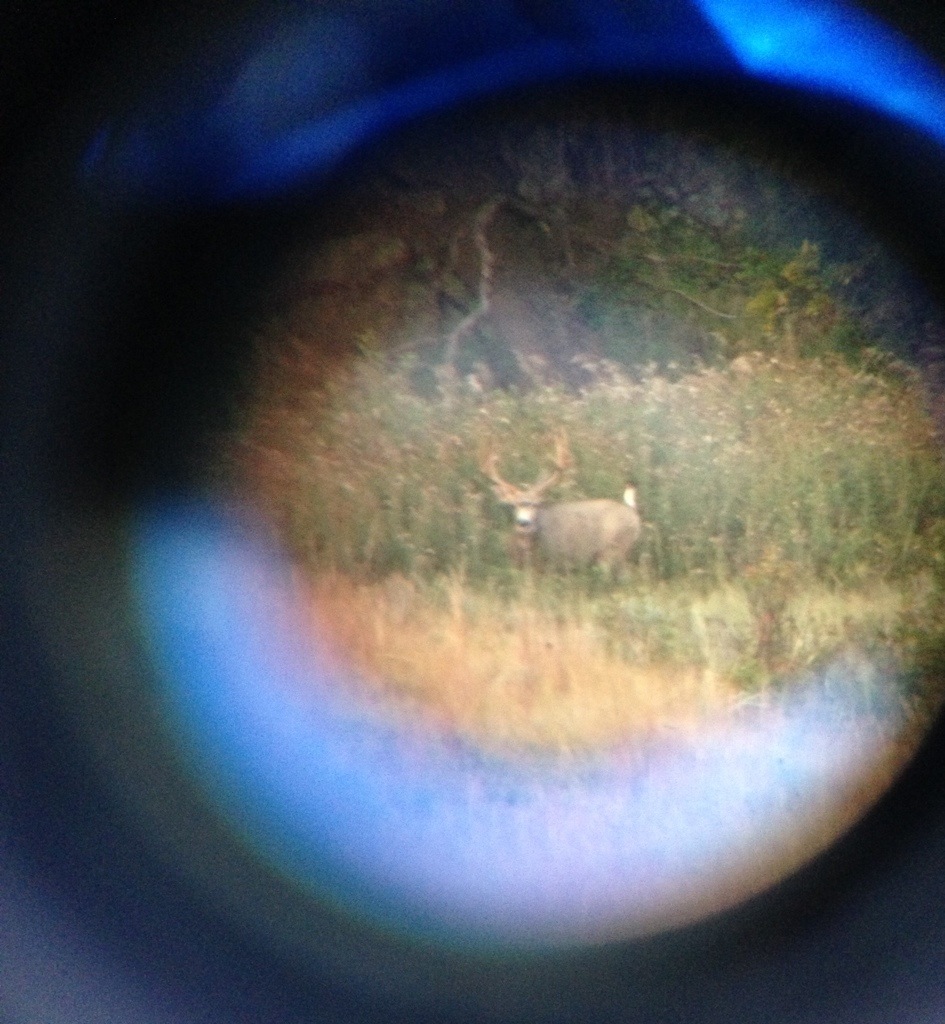 We glassed the draw from 1000 yards out and couldn't see a sign of any movement so we slowly made our way down the draw from half way up opposite hill sides glassing as we went but turned up nothing. We met for a plan and headed to the truck. We had gone a few hundred yards in the truck and just as we passed the near end of the big draw where it made a corner, the only place we couldn't see earlier, I caught movement of a rack in the bottom. I told Bo stop and I put the binoculars on it and it looked like he had already moved fifty yards, but it was indeed a buck. I should have known that there were two deer there and not just the one but it didn't dawn on me at the time that the original deer I seen and the one I glassed were different. Bo said he would be happy with that deer and I knew he would so it was settled, Bo would try to get a shot. We backed up some and Bo got out, I would stay put glassing from the truck. I wasn't sure where Bo was exactly but knew he would get a shot because the buck was preoccupied with looking up at the truck.
I heard the first shot but didn't hear bullet impact, if you don't know when you are a distance from a gun when its fired you can hear the bullet impact, I heard the second shot hit and didn't see the buck come out of the draw so I got out to find Bo. I did what you should never do and left my rifle assuming since I heard the hit and the buck stayed in the draw it was over, I was wrong. When I got to Bo he said the first shot was low because of some grass in the way but second shot he went down. We got to the bottom of the draw and the brush was waste high, we no sooner got in there another buck jumped out and Bo handed me his rifle which I had never shot but since I was a fool I would have to make do. The second buck was smaller than Bo's so I let him run up the hill. As I turned back Bo said here he is and when we got to about ten yards the buck jumped up like nothing was wrong and bolted out of the brush headed for the top of the hill. I will say here I don't like running shots and I don't like jumping deer but a wounded animal is something that has to be taken care of as quickly as possible for the animals sake. I found the buck in the scope and just as he was starting to "pogo" I call it, a mule deer doesn't run like a white tail they bounce on all fours and look like they're on a pogo stick, I put the crosshairs on his neck and swung through the shot. Its never good in my mind to find something dying funny but seeing a mule deer buck do a summersault from the top of his bounce was humorous. I think I caught Bo off guard with the shot and apologized for shooting his deer but no apology needed he was glad of it and actually said that was pretty fancy shooting.
Bo's shot wasn't that bad just a little far back but a killing shot we should have given the deer time to expire but the way it reacted we were sure it was down. We cleaned him up and got loaded for the next adventure and quite an adventure it would be.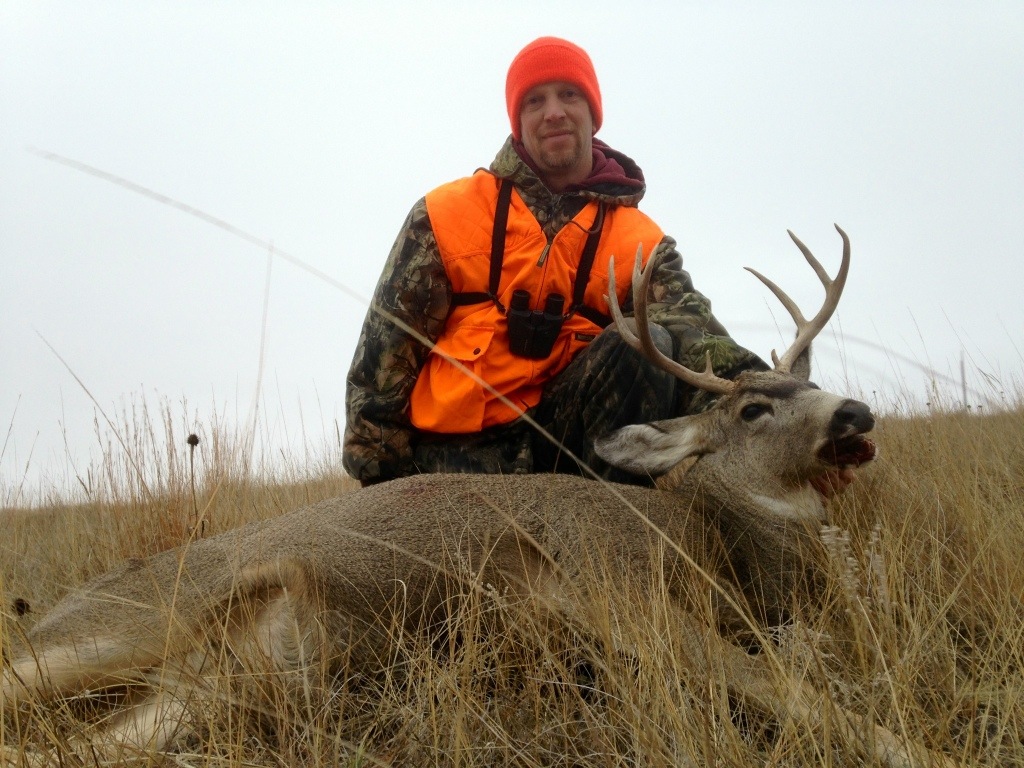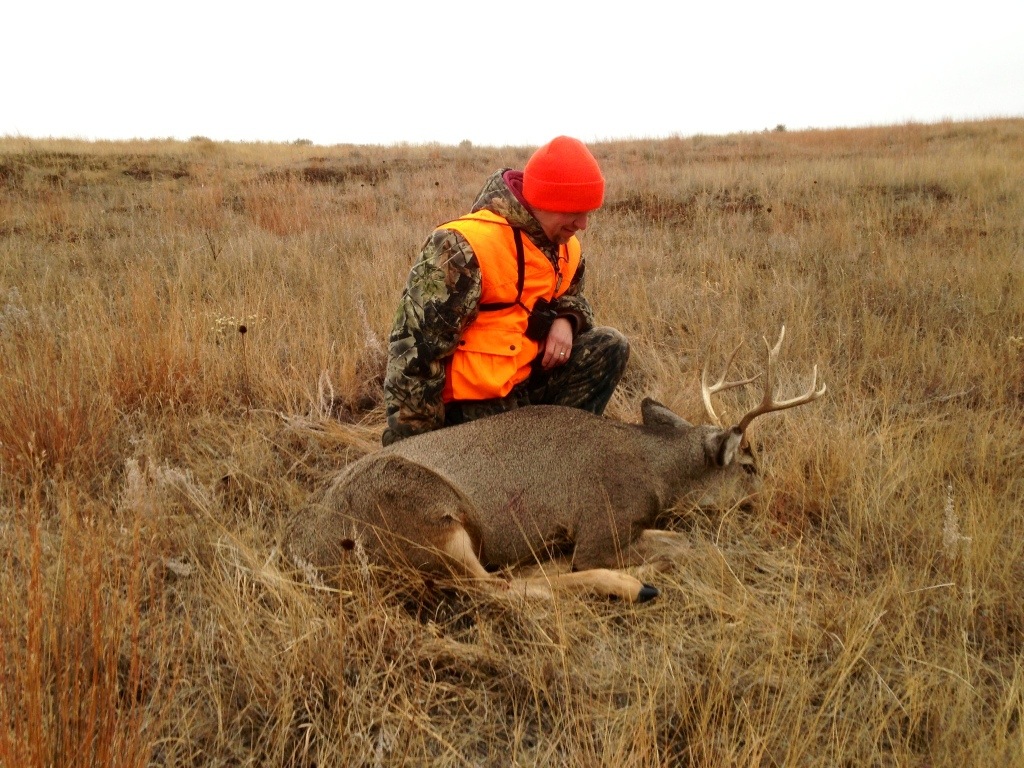 We decided after that we would try our luck at Ft. Peck Lake, this a huge lake and huge land area surrounding it where Bo elk hunts. He had a cow elk tag and I still had a deer tag so we fueled up the truck and readied the gear for the three hour drive. As we were leaving town the Buck Commander himself Willie Robertson landed in Sidney and was going to hunt a ranch a few miles down river from the corn field I had hunted earlier, before we even got to Ft. Peck Willie already had pictures of his buck going out to people. I'm working on my fifth day and ol Willie knocks one down on the fifth hour he's in town, that's ok he wouldn't get to see the country and wildlife I would enjoy over the next few days.
It started snowing on the drive out and temps were gonna be in the 20s, this may be what we need to get the deer moving. Next stop Ft. Peck Lake.