The main focus of this trip for me and Nate was to get all tags filled first, then do some coyote hunting. I'm convinced I have a New Mexico coyote curse put on me because in three trips to this ranch I have not successfully called up and killed a coyote. I don't consider myself an expert coyote hunter by any means but have called and killed a truck load in my life but something about the ones here make me look like a fool. I won't spend much time on the coyote hunting part of the trip, mostly because there's not much to tell. We would call one in and he would wind us and leave or he would show up where we didn't expect it or, at one point Nate had one too close to get a shot on because he wouldn't stop running. Its always something with me and the coyotes and it frustrates me to the point I wanna stop trying but that's not my style so I keep going and I keep getting my tail whipped. I had made several sets on both days we were there and it just wasn't meant to be. I will not quit trying, in fact there maybe a trip planned to return just for coyotes. The old saying goes, I can mess up as many times as I want but the coyote can only mess up once, I'm starting to wonder.
Since tags were filled and apparently I'm no match for New Mexico coyotes we loaded the Rangers and went to an area that Denny calls "the badlands" for some exploring. I really enjoyed this part of the trip and we seen some great looking country. You felt like you were in a wild west movie and there were Indians behind every rock. Not really having a plan we just roamed around taking pics of the landscape and stopping to look for fossils and flint in likely looking areas. I picked up a couple fossilized shells of some kind and a piece of flint and I think most everyone found a small piece of petrified wood but Cory took the prize in my opinion when he picked up a small piece of fossilized bone.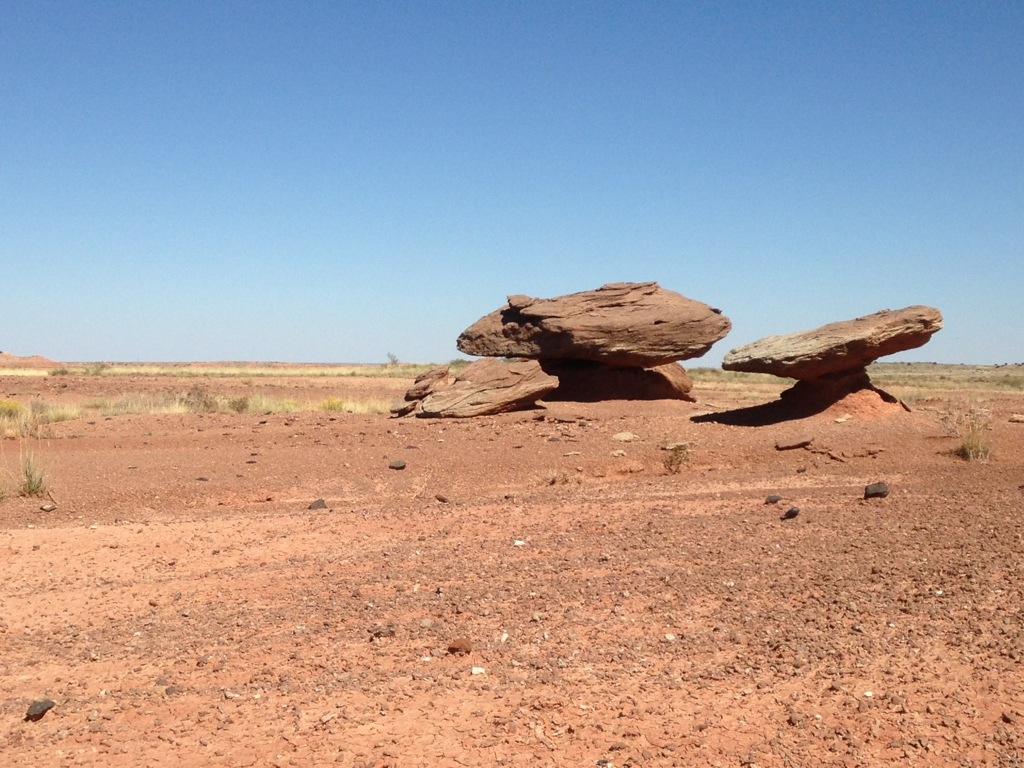 When you have equipment no matter the quality or age of the equipment you will have equipment trouble, its just part of the deal. We had two Rangers a long way from a good road and eight tires that had made it through miles of cactus so you know something is gonna happen, you deal with and expect it. Cory had some trouble with his cooling fan and this caused his machine to over heat so we stopped and let it cool and added some water.
This is not even really trouble when you take into consideration where we were and what we had went through and the distance to help, this became apparent to me as I will tell you a situation later. We spent most of the day driving to new areas and talking about the land and when the last time some one might have been here.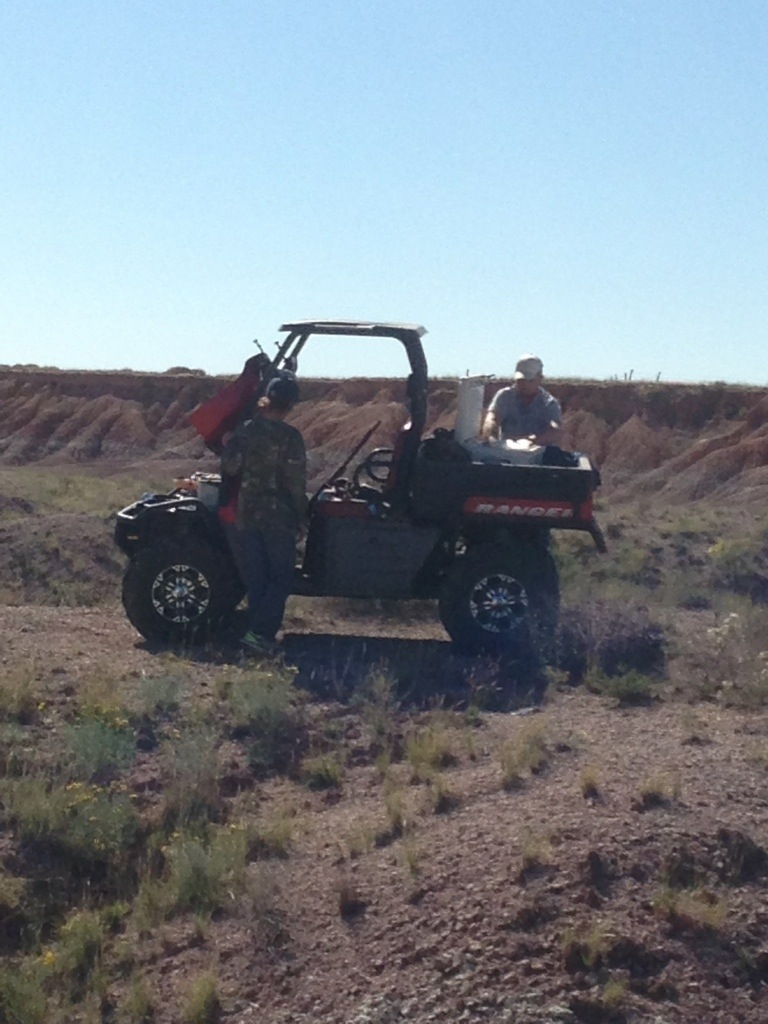 I told you I would tell about a situation we had but here's your warning it ain't pretty and I will try my best to not gross anyone out but I tell it how it happened.
At the first stop in the badlands to look around I noticed a small wash out or ravine where the recent rain had carried some small rocks down and thought this would be a likely place to find something of interest. I walked to the edge of it and looked down, this is not a deep ravine or giant canyon, it was a harmless looking wash out but as I was looking down something gave way. I'm not sure if the edge broke off or the rocks slipped or I'm just clumsy but whatever it was I found myself feet up and head down. This is not a good position to be in unless your jumping off a diving board and the next thing I know I'm at the bottom and I don't feel good. I don't even remember falling just that I put my hand down but that didn't work because the first thing that hit the edge was my ribs and it knocked my breath out. I started to crawl out, still a little dazed and short of breath but thought I was fine. When I got to the top I heard Cory asking if I was ok but I couldn't get my head clear and started to remember I heard a "pop" when I landed and figured this was the cause of the throbbing pain in my ribs. I got to my feet but I wasn't well and immediately started to sweat and it wasn't hot outside. I'll tell you here if you don't know me that Ive broken most every bone except my spine at some point and both arms twice, hands, fingers, toes, ankles you name it and I have never gotten sick, I have fainted but not gotten sick. Once I got my hat and jacket off I tried to lay back down and get my breath. I could hear the guys talking, and looking back now there were some funny comments, don't get it wrong, I wouldn't expect anything less from this group for the hell I give them but at no point did they not think this was serious, it could have been real serious and they knew it. I don't remember laying my head on the steering wheel of the Ranger but I did and my sunglasses fell off, when I raised my head that was it, I started throwing up. I heard someone say, hey guys he ain't right he just puked on his Ray Bans. Its funny to me now that that was what made the situation serious. All the guys were there for me, but Hoss deserves a prize for what he did, I heard him say as I was on about my third heave that there was no blood in it so that was good but there was Ray Bans in it and that was bad, he reached in and pulled my sunglasses right out of my breakfast. Boys you gotta friend when you find a man to fish your glasses out of what is left of the burrito his wife made for you. Hoss's wife Terri always makes sure the whole crew is well fed and I can't thank her enough for it, professional coyote hunters like myself can't work on an empty stomach after all. One of the guys brought me water and I started to feel a little better and wiped the eggs off my glasses and did my best to make a joke or two to help lighten the mood, I didn't want anybody to be more concerned than they were already and I'm sure I scared the hell out of poor Cody, he's just a young man out having fun with his dad and friends and the next thing he knows some guy is launching scrambled eggs across the desert and slowing down progress. We took a break after I got going again and the boys had lunch, I did not, cold water for me was just fine. I don't think I hit my head but I can't explain being sick, maybe just the pain I don't know but two days later the sickness and dizziness is long gone but I'm sure at least one rib is cracked. This is a small little incident that is really no concern now, a few busted ribs is nothing compared to what could have happened. This land is relentless and unforgiving, a man alone in this situation could easily die. There is no phone service, no road within miles and without a helicopter, help for a serious injury would be hours away. I was never in serious danger with the equipment and company that I had but it did make me realize how things can turn bad in a hurry. Don't take this as some life threatening event where I narrowly escaped death, it was not, it was a accident that happened and woke me up. I do most everything at 100 mph and always feel like I never get enough done, I'm lucky to be able to do what I do and for the family I have at home that lets me and if for no other reason than just them I need to slow down a little. Thinking about Denny and how he leaves alone on a horse at daylight and doesn't return until dark in this land is one more reason to respect his kind. Nobody but coyotes would find a man alone that was unable to function out here. This seems so old fashioned or impossible given the world we live in today of iPhones and GPS but its not, it could happen and within sight of the interstate. Interstate 40 runs within 20 miles of the very spot this happened and you can see the 18 wheelers as they travel along it but that means nothing in this terrain, 20 miles might as well be 2000.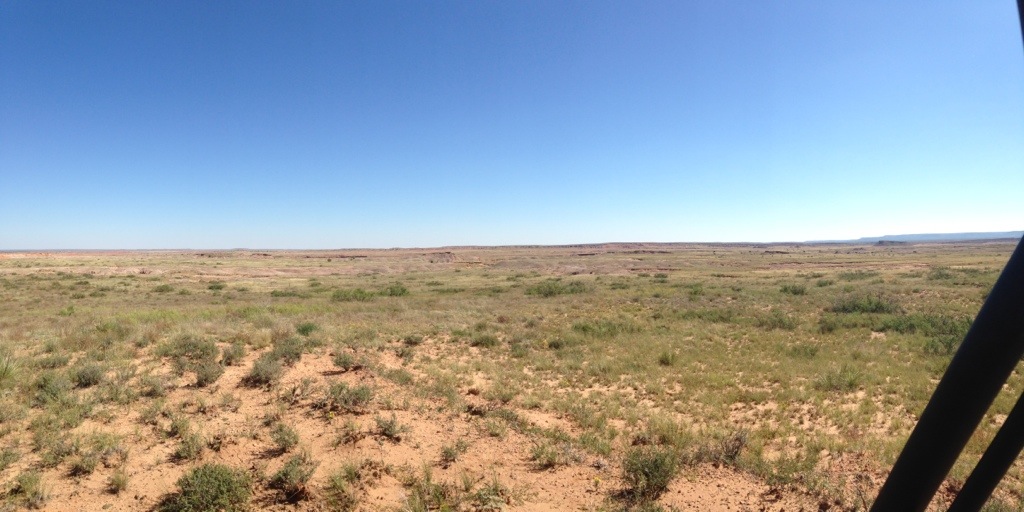 Between the accident, the wind and the whippin we had taken from the coyotes we decided it best to have one last meal of antelope burger and sausage from last years harvest on the hunt on this very ranch and try to get some sleep and make our way East back to Texas at daylight, I couldn't take it and had to make one last stand for a coyote so we picked out a spot and with the sun setting at my back and a big herd of antelope off in the distance I looked down the barrel of my favorite rifle as my calls fell on deaf ears, or did they, maybe one came by and I didn't see him, maybe he just snuck through the grass, maybe I will never kill a New Mexico coyote, but I wouldn't want to end a trip any other way. I'll be back coyotes and cactus and antelope and sunsets, I'll be back.