Since I'll be gone most of the month hunting I tried my best to not go hunting this weekend but man when its 55 degrees with a cool north wind and I got the yard chores done I can't help it. I told Mary I'd buy her some lunch before I left so we went up the road to a little Mexican restaurant called Cha Chas, now before I say this is my favorite place just know that every cafe I'm at is my favorite place at the time. I'm hungry and they feed me how could I not make them my favorite, that being said Saturday afternoon Cha Chas was my favorite place.
Steak omelet with cheese enchilada and beans.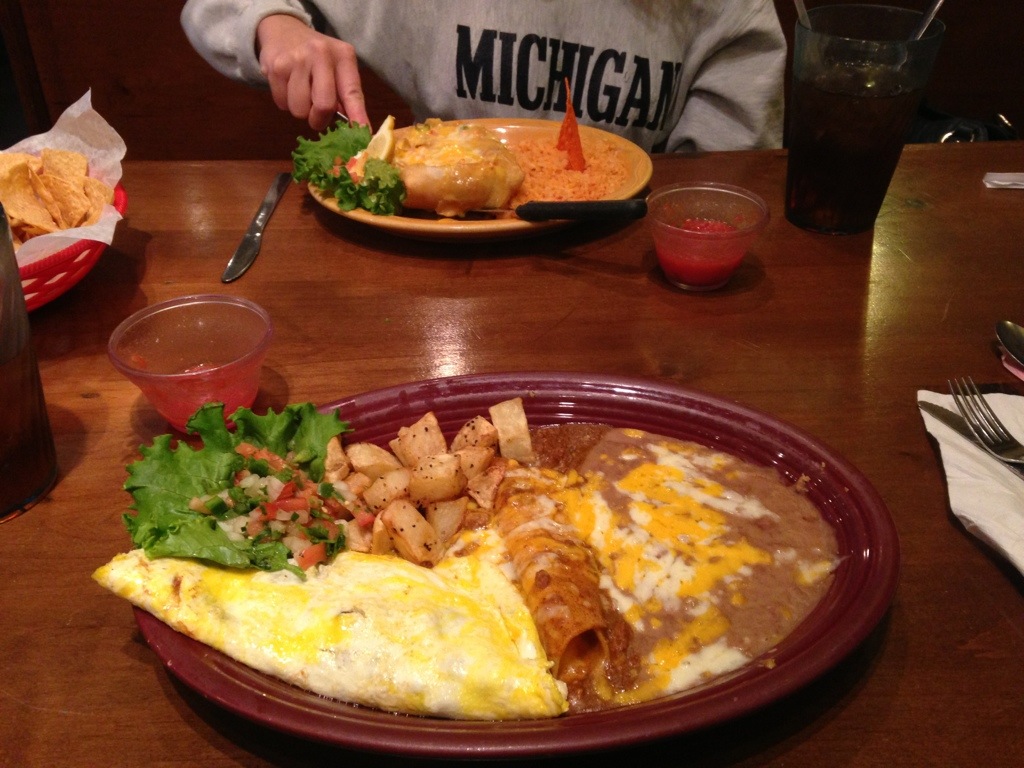 Got that knocked out and truck loaded and I'm off. Its two hours to the land and I planned where I would sit and what the plan was all the way there depending on wind direction and as it usually does it changed three times before I decided but being mostly from north I had a plan and was settled into a little ground blind in my nice one acre food plot that I had planted two weeks ago. When I arrived I pulled my game cam and was scrolling through pictures of the last week when I noticed a certain pig had been a frequent visitor and if he kept his pattern he would be in grave danger in about an hour because I had a pretty good hiding place and a good wind direction and that combination would not end well for him if I did my part.
At 6:30 after several deer had come by but not offering a shot I glanced to my left and look who it is right on time big nasty was on his way. Every squirrel and bird around let me know long before he got there that something was coming because every one of them made there way to the trees and sounded their alarms. I got my bow up and made myself as little as possible behind the brush. He came in to 30 yards and started feeding circles, as he got nearer I drew my bow but as I leaned out for the shot he had already turned so I held to my limit, which isn't much I'm pretty weak, as he quartered away at 24 yards I picked out a rib back of center and let the arrow go. He was gone in a instant but I seen about 10-12″ of arrow out the entrance side and knew I had gotten 16-18″ of penetration and that would be enough to do him in.
I gave him a half hour or so and in the mean time I let the local raccoon population know that they were not welcome to destroy my food plot and corn so I shot very near them and lost all my arrows but one. After that I made my way down the blood trail and fifty yards into some very nasty tangle of briars and vines and dark shadows that do not make finding a black hog easy. Remember the part where I only had one arrow left, well that combined with the fact that I only had a small pen light and no pistol I was hesitant to proceed but figured I'm the dominant predator right? I'm the top of the food chain, I walk on two legs and carry a weapon and make fire and then I heard a gargling grunt from deep within a dark pile of brush and I changed my mind on that whole deal and figured hell nobody else is here to see me run, so I did, right back to where I came from.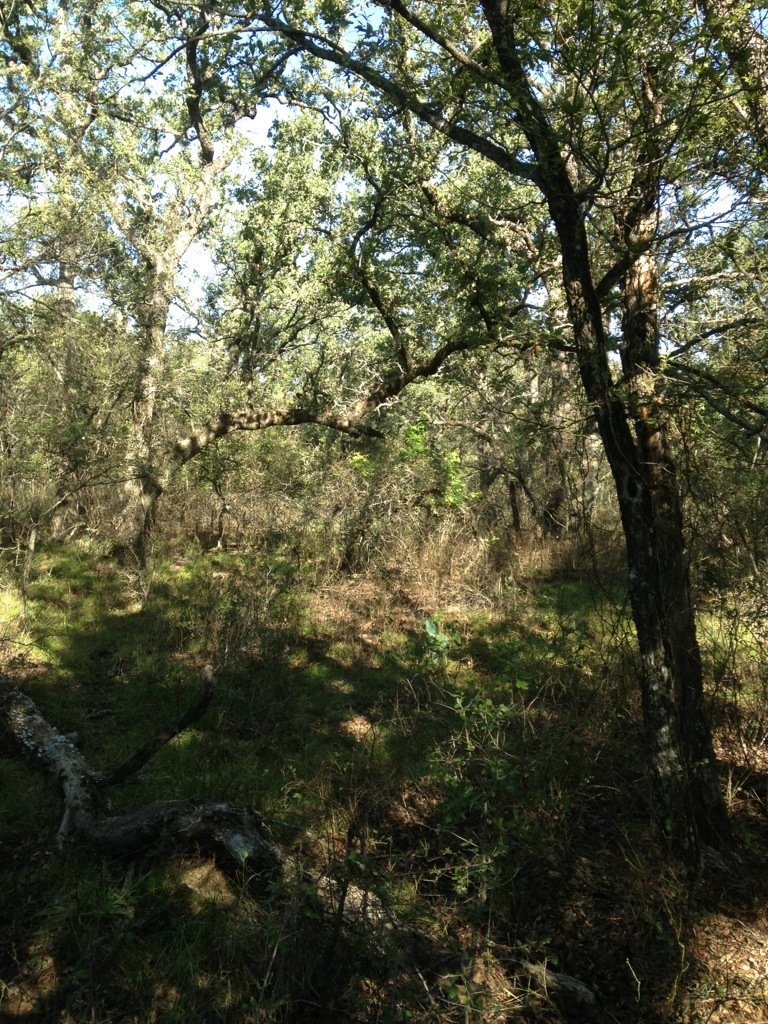 I decided day light would help to make me the dominant predator again so I went to bed. Morning was cold and I knew the hog would still be good to eat if I found him before the sun got to high but with out the high sun it is very hard, if not impossible to pick out what is a rotten log or a hog waiting to ambush me for poking a hole in him, but it had to be found so at 8:45 I set to it.
I got a text from my brother Nate asking if I needed help and he would be on the way and would arrive in half hour. I found good blood for another 25 yards from where I had last seen it the night before and then nothing, but I stayed the course and picked it up again. The briars were getting thicker and the shadows worse but I was sure he had died in the night so I didn't worry much about having to fist fight this beast with a bow I couldn't draw in this tangle and a pocket knife. Nate arrived just in time and we made our way through the jungle a short distance when Nate said I smell him. You can smell a big pig at quite a distance but in this case it was uncomfortable because if he isn't dead and we can smell him then he can smell us and if he had a breath left he would use it to do his best to take us out but as I looked under a big fallen tree there he laid, dead.
After looking around his lair, I guess you would call it, it was apparent he lived there and had for some time. The trail leading in and out of there were heavy and the ground clean of debris and smooth and packed hard. It was really neat to see and gives a little bit of personality to this creature. He wasn't just a stinky hog that lived his life roaming around looking for food, this guy had made a home and had a plan on when and where to eat and I'm sure with his size he wasn't bothered much, it made me a little more proud to take him. I had walked straight into his living room and used a single arrow to take him out from the ground.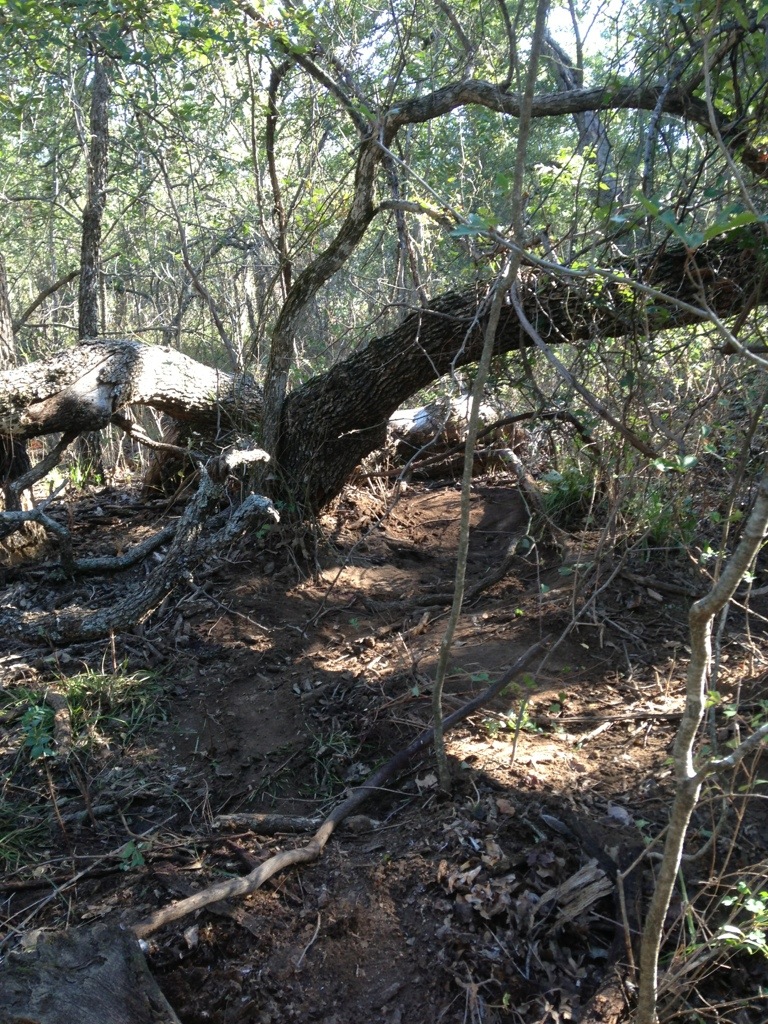 All of that may have seemed like the hard part but I assure you when you have around 250 pounds of dead weight in this jungle the hard part has just begun. Although he never said it I think when Nate seen the size of the hog he was wishing he would have never came to help and I can't thank him enough for being there because with out him there's a chance the hog would still be right there in his little home he had built because I couldn't move him alone. We pulled and wenched and cussed and kicked, we broke limbs and blazed trails to get him in the open enough to tie him off to the the Ranger and drive him back to camp. My best guess on weight would be 230-250 pound range maybe more but by the time we got him out I would say he weighed more like 900 pounds.
I could not have done it without help and I would do the same for anybody I hunt with. Nate had to head back home and I finished up cleaning duties and went to get ice. On the way to town I heard a hog grunt, how could that be I'm going 70 down the highway, then I remembered the last time I had eaten was at Cha Chas 24 hours ago and my stomach was letting me know about it.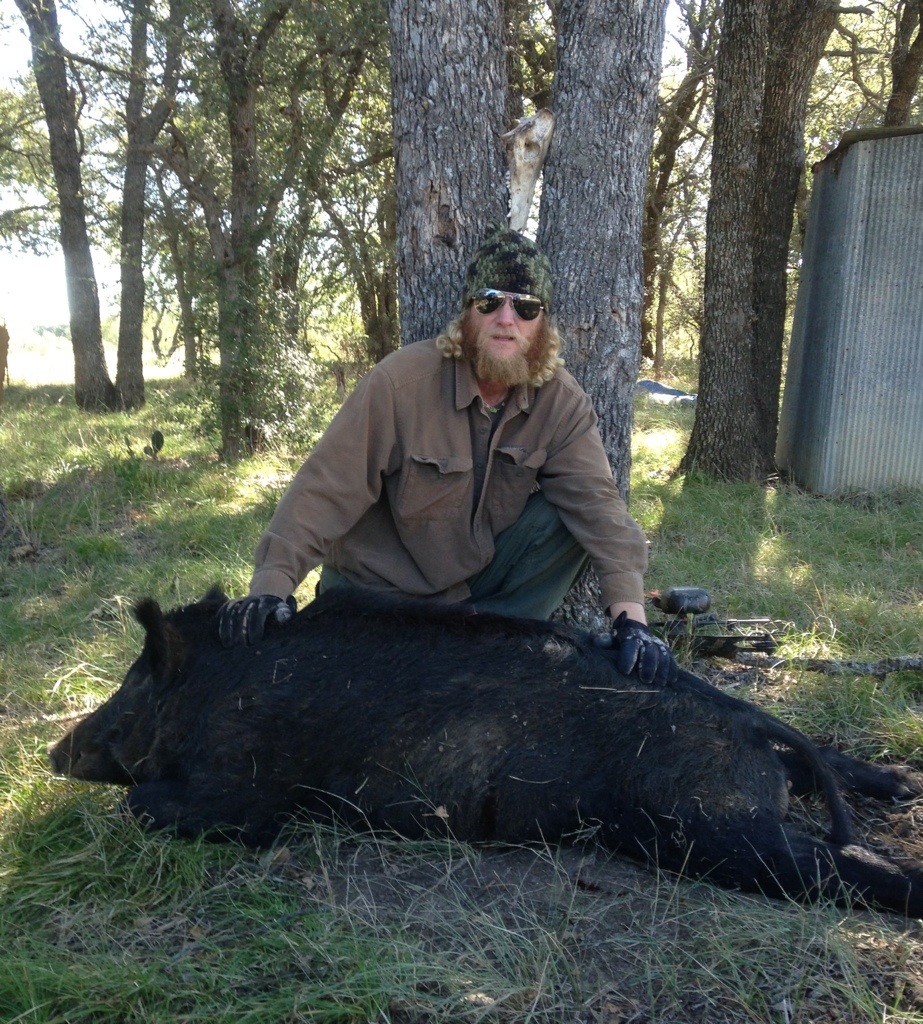 Howells Western Cafe, its my favorite as you now know, and I stop here often. Even though it was 1:00 I wanted breakfast and that's fine because they serve full menu anytime so here is Annie Oakley combination omelet and Pat Garrick's biscuits and gravy, I often wonder how I don't weigh more than that hog did. Howells is a local favorite in Springtown where you go after church and I'm no cafe rookie and I knew at 1:00 on Sunday seating would be scarce but I'm alone and will sit in the corner on a bucket for good food. The place is old and they run it very smoothly for a small place.
You know its old when this is in the restroom, this ain't gum balls kids.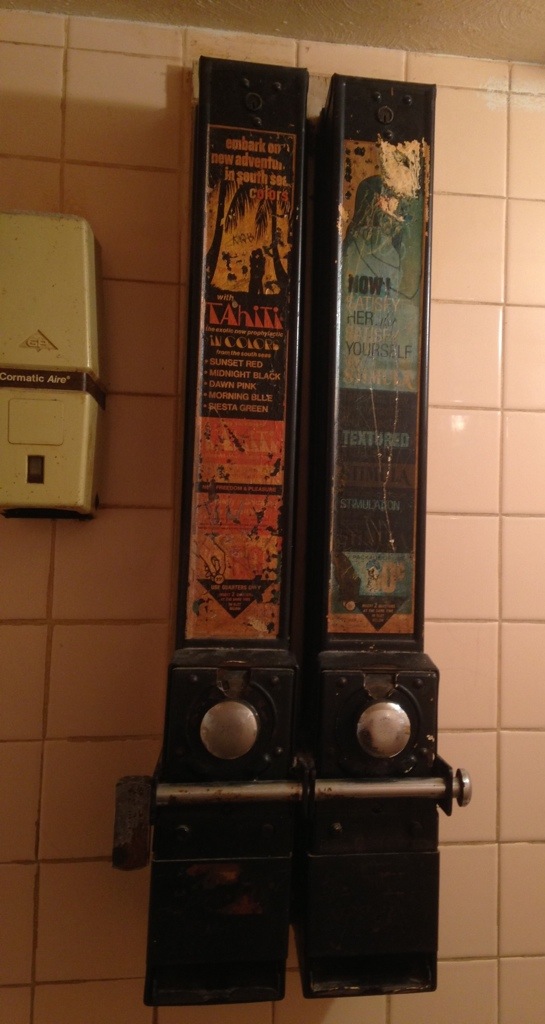 Church ladies smell nice with all their perfume and pretty blue hair, they go to the cafe to talk about the service and gossip about other old ladies, I love it, its what they look forward to and I give them something else to talk about. If ever you are lucky enough to get to wrestle a big stinky pig then have the good fortune to get to clean it you will acquire a certain stench that church ladies can smell when you walk into a cafe. Now I know they just left church and for the most part they are good people, southern church going folks with hidden judgements, but guess what lady I know your kind and when I walk in looking like I do and smelling like a wet dog that slept with a wet hog you judge me. Its ok Im not here for anything other than food. We are the same people, I cleanse my soul on Sunday a little different way than you but we are both here for the biscuits so don't look scared.
After the meal I sat for awhile and just watched the people and listened to the sounds of a busy cafe, dishes clanging, one blue hair told the other she has cut back on her alcohol intake, I smell like a pig and I get judged by alcoholic, ain't that nice. Anyway I could sense my table was needed although I was not rushed and I went to pay. I have been here so much the lady at the register gave me a free shirt and said see you next time. Thank you ma'am I will add that to the collection, I maybe the only person to have a cafe T-shirt collection and its impressive too.
I made the drive home without falling asleep and in time for the Cowboys kick off. I had been gone 26 hours total and yet it seemed like days.
THE END!!!