We started the weekend in Springtown watching Graham roll over yet another team.
First food stop was one of my favorites, Dairy Land in Jacksboro where I am a regular. Jacksboro is the closest town to the land we hunt and for a town of 3,000 it has a surprisingly good amount of eateries.
Here is the Harold Special, enchiladas, beans, rice and grilled sirloin with onions.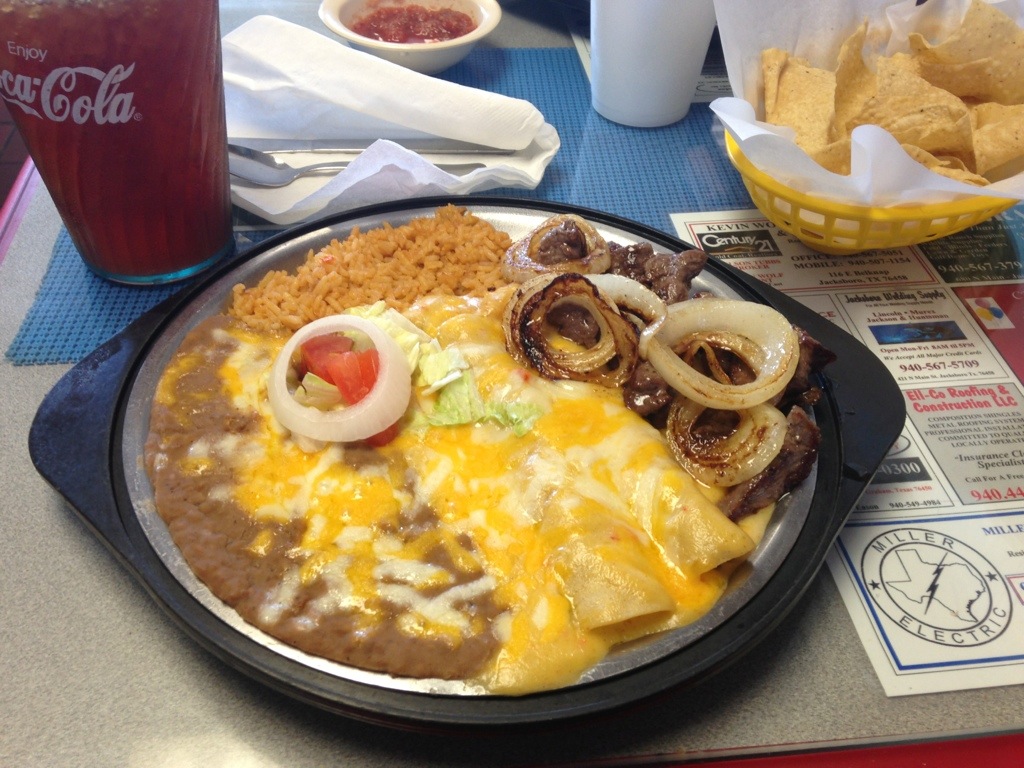 As the sun comes up Saturday morning me and Alex are settled in and waiting, he was about a quarter mile south of me. He text me that a copperhead came in the window of his blind and as he was whooping it with an arrow a hog came out and I guess he wasn't enjoying the fight anymore than Alex was and quickly made his exit. Not long after that he had a small flock of turkeys come by and didn't have a shot.
My morning was not quite as eventful but I did shoot close enough to a couple squirrels to scare em away, which by the way was not the plan.
So back to camp for some of Cafe Chris's charizo and eggs.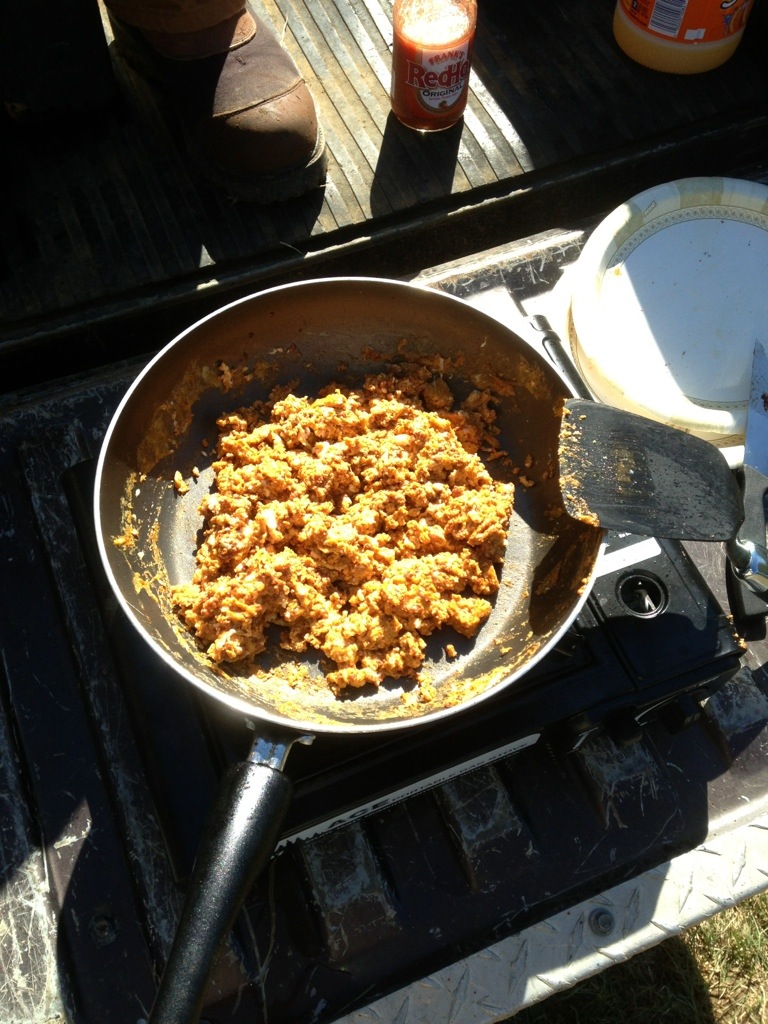 The evening found Alex in a tree a mile from where we were that morning and I was back in the same place as the morning. Alex again had turkeys around his tree but drawing a bow on forty eyes is tough and again he had no shot. I had a small flock come by and I picked out a nice fat one and made a good hit, she went a few feet and was down. A nice doe come by an hour later but being right handed I couldn't shoot that far to my right and she got a pass. We stayed around camp Saturday night and had some hotdogs and got gear ready for Sunday morning.
Saturday during the day I made a ground blind out of some brush and wire at a place that we had seen some big gobblers and sense the wind was swirling and I didn't feel comfortable with my set up for deer I decided to make Sunday morning a turkey hunt. At 8 o'clock right on time I spot 9 big gobblers coming down the road so I got ready, one after the other they came through the fence in a little low spot except one. There's always gotta be one that's different, why he didn't just follow the rest I don't know but this caused trouble and I knew it. He came closer and closer to me and I couldn't move. Now if you are a turkey hunter you know being on the ground ten yards from a turkey is exciting but if you think you can move an eyelash without them seeing it your wrong. So as I stare at the eight big gobblers not twenty yards in front of me I'm cutting my eyes around at the big dumdum that couldn't follow his buddies and he's got me made. He warns his friends that there's pending danger, he hadn't seen my shooting the day before so he didn't know I wasn't that dangerous, but either way they were off and running. Feeling a little defeated I checked in on Alex by text and he was busy scaring squirrels and dulling broadheads. No sooner had I thought about what I did wrong on the gobblers I look up and 200 yards out is a flock of hens coming straight in and I instantly made a plan. I would stay behind the tree until I hear them in range, draw my bow, hold on a spot and let one move to the spot rather than trying to follow one and get it in the right position. With the amount of birds in the flock it was a matter of time before one would cross where I was aiming, now I just had to hope I could hold at full draw that long.
I heard the turkeys inside of twenty yards but couldn't see them from behind the big tree so I drew my bow leaned out enough to clear the tree and just like I planned a nice hen moved directly in my line of sight and I let the arrow go. She was down immediately and the rest of the flock was off in a hurry. That was two birds on the weekend and I had some good juicy turkey breast to fry up so the weekend was a success to me. Alex, well he didn't take my success as well as I did, something about me telling him he couldn't shoot and I was a better hunter, weird huh?
We cleaned the second bird, Alex told me about all the ways he was gonna shoot a squirrel but the squirrel wouldn't cooperate, I just grinned because I remember when I was a young bow hunter, and it wasn't that long ago and yes I still remember, when your young everything is a potential target. You hone your skills on rabbits and squirrels it makes you a better deer hunter, a better hunter overall. I talked him into helping with a few things so we loaded up and took a drive. I stopped to look for an arrow that I shot at a squirrel that may not have found its mark and just as I stepped into the grass I caught a glimpse of a rattler coiled up. I told Alex stop and look about six inches in front of my boot. He said rattler right? And went to get his bow. I had stepped back about one step and Alex popped him in the head for a nice clean kill.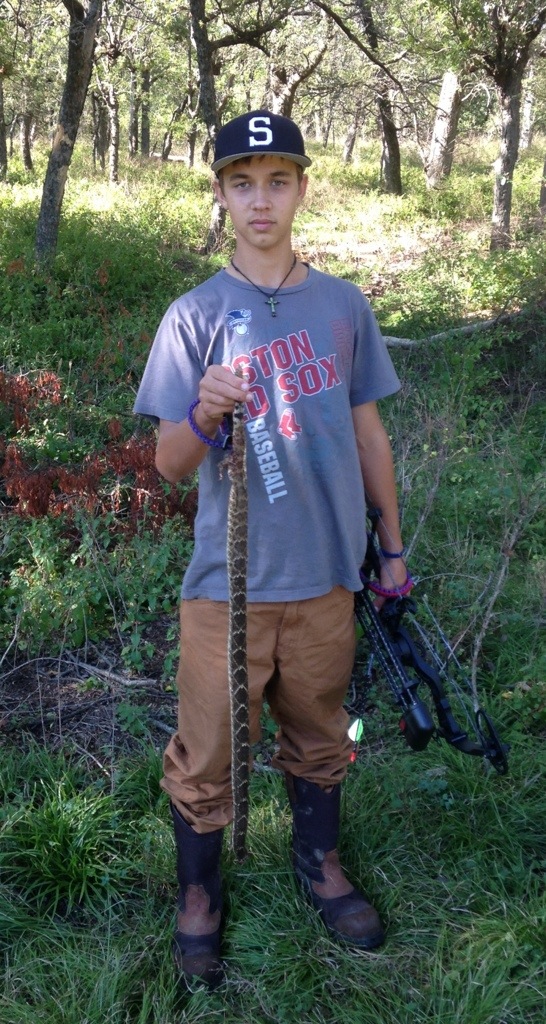 That was the end of the weekend as far as hunting went so we packed up camp and headed out.